Why You Should Start Retirement Planning by Age 25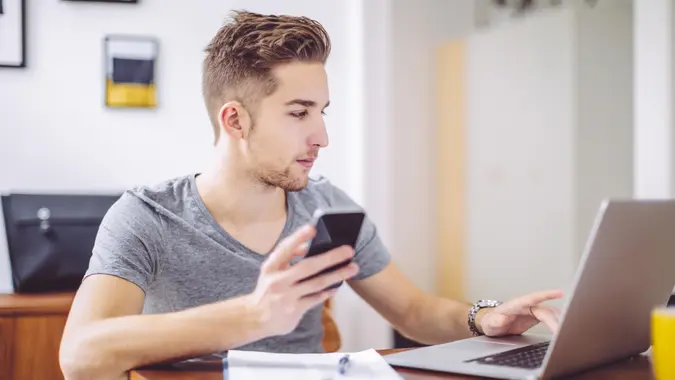 Eva-Katalin / iStock.com
The last few years have been financially challenging for many Americans, the pandemic took an economic toll on many, and inflation as well as rising rates are continuing to hurt wallets. All of this has made retirement planning difficult for many as savings have been dwindling.
Despite these challenges, the motto of saving early to plan better still seems to ring true to the public.
Indeed, a new GOBankingRates survey found that more than 37% of Americans start saving for retirement by age 25. Surprisingly, in terms of generations, the 18-25 age bracket takes the lion's share for retirement planning, with 29%. Meanwhile, 7.5% of Americans under 18 say they have started planning.
While retirement can feel really far away for someone in their 20s, it's very important to get started early to fully realize the long-term benefits of contributing to retirement, said Kelly Lannan, senior vice president, emerging customers at Fidelity Investments.
Are You Retirement Ready?
"Younger generations have time on their side," Lannan said, "so staying invested and continuing to contribute — even through market volatility and recession fears — can help their retirement savings grow long term and recover from any downturns. And we're not talking huge amounts here either; even if they're contributing just 1%, that's better than nothing."
How To Get Started
When you're in your 20s, Lannan said, there are some specific steps you can take to get started.
First, put your savings on autopilot. Always make sure you're paying yourself first by setting up automatic savings.
"A good rule of thumb is to save 15% of your income," Lannan said. "If that feels like too much, that's OK too. Start where you feel comfortable and try to increase the amount you contribute by 1% each year."
In addition, she said to make sure you're taking full advantage of your company's match for your contributions to workplace savings plans, such as 401(k)s and Health Savings Accounts, by contributing at least enough to get it.
Take Our Poll: Are You Concerned About the Safety of Your Money in Your Bank Accounts?
Are You Retirement Ready?
Balance Risk vs. Growth
Finally, be mindful of your timeline.
"When you're young, you have the benefit of being able to take on a little more risk with your investment mix," Lannan added. "Think about how you can balance an appropriate level of risk and growth potential to help you meet your goals."
This advice applies no matter when you start planning for retirement, with some caveats. As you approach retirement, experts recommend being more conservative in your approach and taking fewer risks. But, no matter your age, experts agree that you should start to save for retirement now, rather than later.
It's Never Too Late
In the GOBankingRates survey, 28% said they have not started saving at all. That includes 21% of people ages 55-64 and 24% of those 45-54. About 40% of people in the 55-64 age group who have started saving waited until age 36 or later to do it.
"No matter your age, it is never too early or late to start saving," said Holley G. Cary, CFP, vice president and senior financial planner at First Horizon Advisors. "If you are in a cash-flow crunch, even saving a few dollars on a regular basis will help establish a habit, and you will begin to see results as balances build."
Are You Retirement Ready?
Cary adds that you can just start by creating a spending plan and then setting a savings goal. She also noted that the tax advantages of a Roth IRA or 401(k) are also very beneficial when considering future income streams for retirement and beyond.
"As you age," Cary said, "consider examining your lifestyle and creating an ongoing, written and quantified plan to save for the future. We all worry about our financial futures and creating an organized, well-designed savings plan can alleviate the concern of outliving our money or not being able to enjoy a lifetime of the things we love to do."
More From GOBankingRates
Are You Retirement Ready?