I'm a Financial Expert: Why the Future of Social Security 'Keeps Me Up at Night'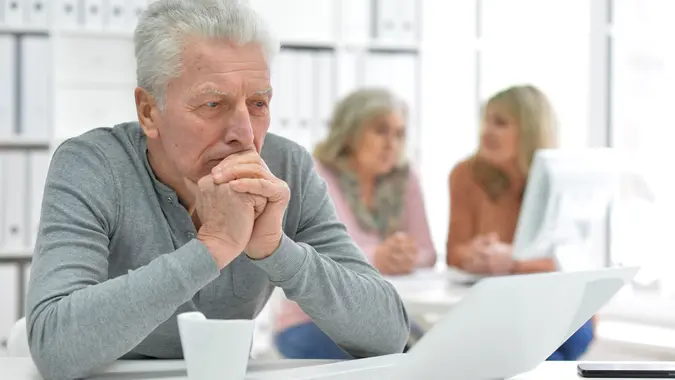 Ruslan Guzov / Shutterstock.com
Social Security emerged when people tended to have short lives and lots of kids — and the model made sense back then. That's because the program is essentially a pyramid scheme that requires fresh recruits to pay for the promises made to those who came before.
But America looks much different now than it did at the dawn of the social safety net in 1935, and it's hard to look ahead to 2035 without pessimism.
"As an expert in financial risk, the future of Social Security is a topic that often keeps me up at night," said Dennis Shirshikov, professor of finance, economics and accounting at the City University of New York and the head of growth at Awning, a real estate investment company.
"One of the primary reasons for concern is the rapidly changing demographics in our country. With more people entering retirement than those entering the workforce, we're likely to see a strain on the program's resources. It's like a seesaw on a playground, where one side is getting heavier while the other side is becoming lighter. Naturally, this imbalance could lead to a problematic scenario where the current setup becomes unsustainable."
Social Security Depends on Youth — and America Is Graying
Social Security relies on the payroll taxes of younger workers to fund the benefits of current retirees. This model worked in the 20th century thanks to comparatively high birth rates and low life expectancies. But the country is graying, and soon too many retirees will rely on too few young taxpayers.
Are You Retirement Ready?
Expert: How 'Stealth Tax' on Social Security Hurts More Retirees Each Year
Declining Birth Rates and Longer Lives Turn a Pyramid Into a Chubby Pillar
A Census Bureau illustration representing the population's age demographics from 1900 shows a distinct pyramid shape. A large, wide base of young people makes up the foundation at the bottom, and it gradually tightens into a triangular point as the aging population dwindles at the top.
A century later, the population illustrations for the 2000, 2010 and 2020 Census reports began to look much different as the massive baby boomer cohort moved up the pyramid. The most recent model doesn't look like a pyramid at all — it's more like a bulging cylinder. The top of the image has dramatically widened to reflect a larger share of older Americans and the bottom has tapered in to account for fewer babies being born.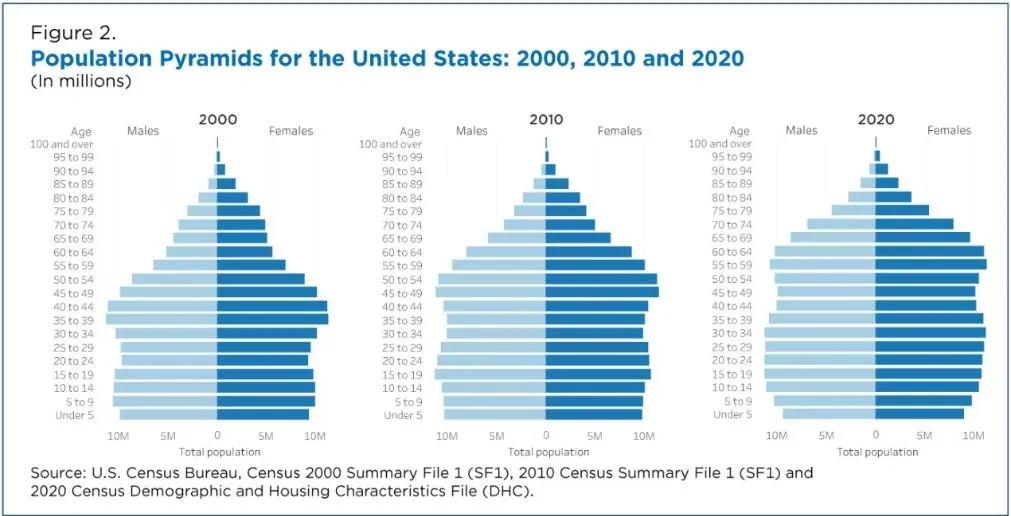 If the picture were an object, you'd expect it to tip over — and that's exactly what worries many experts.
"One of my primary concerns about the future of Social Security lies in the demographic shift we're currently experiencing," said Amber Dixon, CEO of Elderly Guides. "With an aging population and a lower birth rate, fewer workers are contributing to the Social Security fund. This imbalance could potentially result in insufficient funds for future retirees."
In 10 Years, There Will Be More Seniors Than Children for the First Time
In 2018, a U.S. Census Bureau report warned, "In less than two decades, the graying of America will be inescapable: Older adults are projected to outnumber kids for the first time in U.S. history."
Are You Retirement Ready?
That was half a decade ago, and the agency already had shortened the timeline that seniors were expected to outnumber minors from 2035 to 2034. Middle-aged adults already outnumbered kids by that point, and the trend is moving toward a future that the current Social Security model simply can't sustain:

"The increasing life expectancy means people are now living longer in retirement," Dixon said. "This longer lifespan puts additional strain on the Social Security system, particularly if it's not adjusted to account for these changes."
The most recent Census Bureau data shows that America's median age climbed from 35.2 in 2000 to 37.2 in 2010 to 38.8 in 2020. Between 1920 and 2020, the population of adults 65 and up grew five times faster than the overall population.
The Program Will Soon Have Too Few Workers To Support Its Beneficiaries
Between 2020 and 2030 alone, when the last baby boomers turn 65, the number of older adults will have increased by nearly 18 million. According to that math, roughly one in five Americans will be 65 and older by the start of the next decade — and a much greater percentage will live into very old age.
In 1960, just 1 million Americans lived to be 85 or older. By 2000, it was 4 million; then 7 million in 2020; and, by 2040, the Urban Institute projects the 85+ population will number 15 million.
Tugging on the other end is a declining birth rate, which already has created an imbalance in the worker-to-retiree ratio. In 1970, 3.7 workers pooled their tax dollars to support every retiree. In 2020 it was 2.6; by 2040, just 2.1 workers will be responsible for supporting each Social Security beneficiary.
Are You Retirement Ready?
That's less than 17 years away.
"Looking toward future impacts, it's evident that the current state of affairs calls for a reassessment," said Brad Banias, a former Department of Justice attorney and the founding partner of Banias Law and Pro Se Pro, which helps Social Security applicants and others petition the government for claims. "And while I can't foresee the future, it's reasonable to predict that any future changes will have to balance preserving the program's original purpose while adjusting it to fit our changing economic landscape."
More From GOBankingRates