15 Best IRA Accounts for September 2023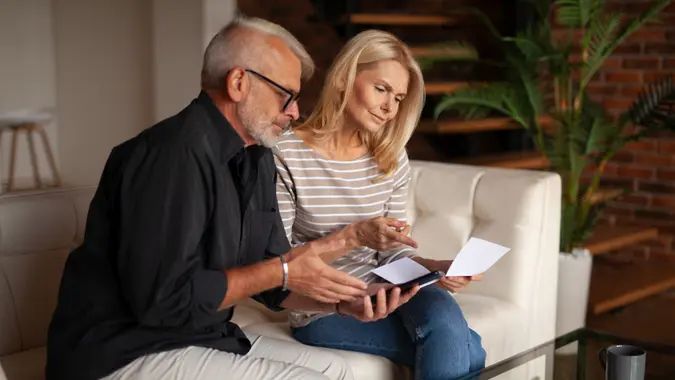 Andrii Zastrozhnov / Getty Images/iStockphoto
An IRA is a retirement savings account that offers tax advantages. Several types of IRAs are available, including these three primary ones:
Each type has its advantages, and all offer the potential for more growth than taxable accounts.
This month's best IRA accounts were selected based on fees, customer support options and technology features.
Read: The Simple, Effective Way To Fortify Your Retirement Mix
Best IRAs for September 2023
Quickly compare the best IRA accounts for September 2023 by referring to this chart. Below the chart, you'll find more information about the best IRA companies.
Broker
Minimum Deposit and Fees/Commission
Promotion
Merrill Edge
-$0 self-directed plan
-$0 self-directed plan
None currently available
Fidelity
-$0
-$0
None currently available
SoFi
-$0
-$0
None
Vanguard
-$3,000
-$20 for accounts with balances less than $10,000
None
Charles Schwab
-$0
-$0 for robo-advisors
None
Betterment
-$0
-0.25% per year on balance over $25,000; $4 per month for balances under $25,000
None
1. Best for Bank of America Customers: Merrill Edge IRA
IRA holders benefit from Merrill's association with Bank of America, the second-largest bank in the United States. Bank of America customers easily can transfer money to their investing accounts.
Merrill Edge doesn't have the fanciest platform for managing your IRA, but it's usable for a broad range of investors, from those with experience to newbies who are just starting to learn how to manage their funds.
Minimum Deposit: $0 self-directed plan
Fees/Commission: $0 self-directed plan
Promotion: None as of writing
2. Best for the Average Investor: Fidelity Investments
Fidelity IRAs provide account holders with access to a dizzying array of mutual funds and exchange-traded funds. Even better, there are no trading fees.
Are You Retirement Ready?
With a Fidelity IRA, you can access more than 10,000 mutual funds, over 3,500 of which have no transaction fee. You also get access to a variety of reports and educational materials — written in easy-to-understand words — to help you make wise decisions.
On top of everything else, Fidelity won the 2023 J.D. Power Award for Self-Directed Investor Satisfaction.
Minimum Deposit: $0
Fees/Commission: $0
Promotion: None
3. Best for Beginners: SoFi
SoFi doesn't have all the bells and whistles you get with other brokers, but it offers everything you need to manage your IRA. Its simplicity makes it ideal for new investors.
If you are new to investing, SoFi has a range of tools to help you evaluate your investment goals and choose the right IRA. Financial planners also are available for a complimentary consultation.
Minimum Deposit: $0
Fees/Commission: $0
Promotion: None
4. Best for Mutual Fund Investing: Vanguard
Vanguard is best known for its mutual funds, and for good reason. The company has more than 125 of its own mutual funds and more than 70 exchange-traded funds.
The company stands out because of its low-cost fee structure. Customers pay 82% less than the industry average — even though there is a $20 annual fee for IRA accounts. You can waive the fee by signing up for electronic statements or by meeting minimum balance requirements.
Minimum Deposit: $1,000 for any Vanguard Target Retirement Fund or Vanguard STAR® Fund; $3,000 for almost any other Vanguard fund
Fees/Commission: $25 per accounts
Promotion: None
5. Best Overall: Charles Schwab
Charles Schwab is a major brokerage that consistently achieves high praise in areas such as commissions, fees and product offerings.
Are You Retirement Ready?
Charles Schwab IRAs come with 24-hour support and a wide variety of resources and tools to help you create your financial plan. If you're new to investing, you'll get the guidance you need. Seasoned investors enjoy the lack of a trading fee and maintenance fees.
Minimum Deposit: $0
Fees/Commission: $0 for robo-advisors
Promotion: None as of writing
6. Best for Goal Setters: Betterment
Betterment is perhaps the least recognized name on this list, but it has a solid reputation for robo-advisors. The platform is easy to use and offers several tools to help investors decide what to do with their money.
When you open a Betterment account, you can start with a professionally designed portfolio that aligns with your financial goals and needs. A premium plan also is available, with advanced features and an option to upgrade for unlimited access to a human financial advisor.
Minimum Deposit: $0
Fees/Commission: 0.25% per year on balances of at least $20,000; $4 per year on balances of under $20,000
Promotion: None
How Do You Open an IRA Account?
The way to open an account depends on the specific IRA provider you choose. Contact the brokerage for specific instructions. Here's what to expect:
Sign up for a brokerage account online.
Provide your driver's license or another photo ID, your Social Security number and other personal information.
Give the account number and bank routing number for the savings or checking account from which you'll fund the IRA.
Fund the account.
How Do You Choose the Right IRA?
The best IRA for you depends on your individual needs, but some common factors to consider include fees, risks and level of support.
For example, are you comfortable directing your own investments, or do you prefer the assistance of a robo-advisor or a professional financial advisor? Select an IRA from a brokerage whose services most closely match your needs.
Are You Retirement Ready?
Other factors to consider when choosing an IRA account include:
Income. The tax deduction for contributions to an IRA account is phased out as you reach the income threshold.
Account minimums. You need enough money to meet the account minimum.
Fees. They can add up over time and take a chunk out of your retirement savings. Find out if you pay fees or commissions for trades and services.
Investor education. The more you understand about investing, the easier it is for you to make decisions about your portfolio.
Customer service. Know how you can reach a representative when you have questions about your account.
Is an IRA a Good Investment?
An IRA can be a good investment, in part because of the tax benefits it offers. The money grows tax-deferred, so you won't pay taxes on that money until you withdraw it.
Here's an example of how it can grow if you open an IRA account at age 35 with a starting balance of $5,000. If you contribute the maximum of $6,000 each year and see a 7% return, you can have $644,500 in the account when you retire at age 65.
Letting your retirement fund grow tax-deferred is to your advantage if you expect to be in a lower tax bracket during retirement than you are during your career. In addition, the contributions you make to the IRA might be tax-deductible.
If you're still not sure which IRA to choose, seek the advice of a professional. A financial advisor can help you define your financial goals and choose an IRA to help you meet them.
Are You Retirement Ready?
Final Take
As you build a retirement savings plan, an IRA might be a useful tool for your situation. But landing on the right IRA for your situation involves a bit of research. Take the time you need to explore all of your options before moving forward with an IRA to stash away funds for your retirement.
Sarah Sharkey, Barbara Nefer and Andrew DePietro contributed to the reporting for this article.
Information is accurate as of Sept. 18, 2023.
GOBankingRates is a personal finance and consumer interest rate website owned by ConsumerTrack Inc., an online marketing company serving top-tier banks, credit unions and other financial services organizations. Some companies mentioned in this article might be clients of ConsumerTrack Inc., which serves more than 100 national, local and online financial institutions. Rankings and roundups are completely objective, and no institution, client or otherwise, paid for inclusion or specific placement. Any opinions, analyses, reviews or recommendations expressed in this article are those of the author alone and have not been reviewed, approved or otherwise endorsed by the companies included in the article. All fees and rates are subject to change at the issuers' discretion. Some interest rates might be short-term or promotional offers only, and it is possible additional terms and conditions must be met to obtain the interest rates listed. Rates and availability might vary by region. Verify terms and conditions before opening an account.
GOBankingRates bases its assessment of "best" and "top" products on the above-stated parameters to create a baseline for comparison. This assessment is an approximation of "best" and "top" designed to help consumers find products that might be appropriate for them. There could be other options available as well. Consumers should consider various options appropriate for their circumstances.
Our in-house research team and on-site financial experts work together to create content that's accurate, impartial, and up to date. We fact-check every single statistic, quote and fact using trusted primary resources to make sure the information we provide is correct. You can learn more about GOBankingRates' processes and standards in our editorial policy.