Social Security: Follow These Steps To Apply for a Social Security Card Via Form SS-5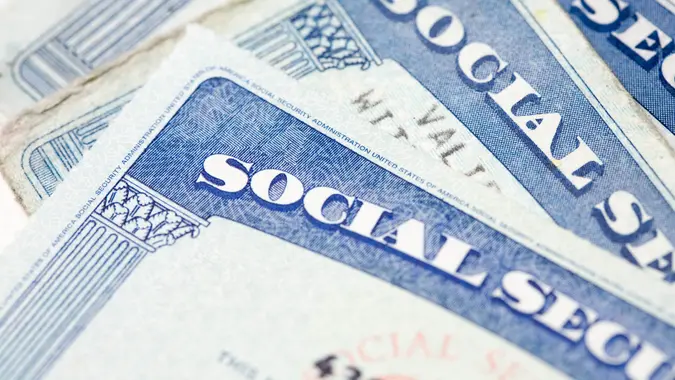 Kameleon007 / Getty Images
A Social Security number is one of the most essential pieces of personal documentation, used for employment eligibility verification, your personal tax file, credit card and loan applications and receiving federal benefits, to name a few. A Social Security card lists your name and Social Security number and acts as your identification.
Social Security: Women Get $354 Per Month Less Than Men – Here's Why
See: With a Recession Looming, Make These 3 Retirement Moves To Stay On Track
If you need to apply for an original card, are in need of a replacement or want to correct any information on the card, you can use Form SS-5, available here on the Social Security Administration website.
If you are applying for an original card, you'll need two official documents to prove your identity, age and citizenship status or lawful immigration status. For a replacement card, you'll need one official document to prove your identity as well as additional paperwork if you were born outside the U.S. 
To change information on your card, such as an incorrect birthdate or a name update, you must note why you are making the change and provide documentation that supports it. For example, you can use a birth certificate to correct a birth date or a marriage certificate to show your new married name.
The SSA website lists what some of these proof-of-identity documents can include, such as a passport, birth certificate, driver's license or military identification card. 
When you're ready to apply, print out Form SS-5 and fill it out using blue or black ink only. There are 18 lines you'll need to fill out, including your full name as it should appear on your Social Security card and your name at birth (if it's different); your nine-digit SSN; place and date of birth; citizenship status; ethnicity and race; sex; your mother's and father's names and their SSNs; and your mailing address and phone number. Then, you'll need to sign and date the form.
Take Our Poll: How Much of a Tax Refund Do You Expect in 2023?
Identity Theft: How To Keep Your Social Security Number Safe From Fraud
Once completed, you can mail the form with the required documentation, which will be returned to you at the mailing address noted in your application, or you can take it in person to your local Social Security office. If you have questions or need assistance, you can call the general Social Security phone number at 800-772-1213 (TTY 800-325-0778).
More From GOBankingRates