Social Security Cuts: Here Are 4 Ways Retirees Should Prepare Their Bank Accounts for Upcoming Changes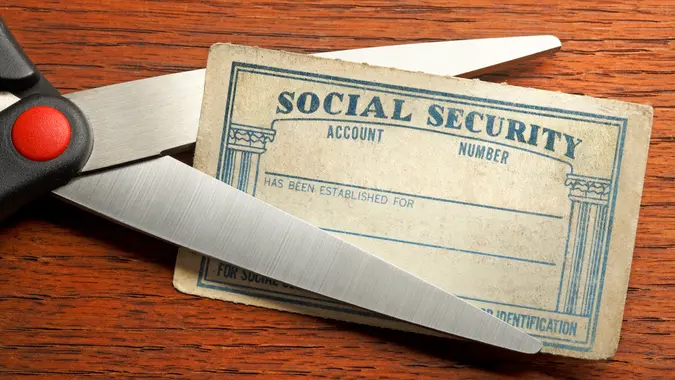 DNY59 / Getty Images/iStockphoto
Social Security analysts paint a grim picture of what will happen after the program's Old Age and Survivors Insurance (OASI) Trust Fund runs out of money in a decade or so. When that happens, Social Security will be solely dependent on payroll taxes for funding — and those cover only about 77% of current benefits.
According to an analysis by the Committee for a Responsible Federal Budget (CRFB), the typical newly retired dual-income couple will see their Social Security benefits drop by more than $17,000 a year when the trust fund is depleted. A typical newly retired single-income couple will see a cut of $13,100 a year.
The Social Security Administration itself has for years warned that benefit reductions caused by insolvency would double the poverty rate of beneficiaries who are between the ages of 62 and 76 once insolvency takes place. The agency projected that insolvency would force 875,000 additional beneficiaries into poverty, "resulting in a total of 1.76 million poor beneficiaries between the ages of 64 and 78 in 2039."
Even some of the fixes being proposed by lawmakers and 2024 presidential candidates could cause more harm than good. One such proposal — raising the full retirement age from 67 to 70 — essentially amounts to an "across-the-board benefit cut," according to the Center on Budget and Policy Priorities. That's the case "whether a worker files for Social Security retirement benefits before, upon, or after reaching the full retirement age," the CBPP stated.
Are You Retirement Ready?
The prospect of deep retirement benefit cuts next decade makes it essential that retirees and near-retirees prepare accordingly. Here are four ways to prepare your bank account for upcoming changes.
Bulk Up Your Savings
This sounds like an obvious answer, but the fact is you're going to need to bulk up your retirement savings to help offset potential cuts in Social Security benefits. Over time the additional money will provide an extra cushion for your nest egg.
Cut Back on Unnecessary Expenses
Retirees on fixed incomes should do this anyway, but it's especially important with the prospect of lower Social Security benefits. Among the expenses you should consider getting rid of are those attached to a second car, dining out and traveling during peak times when everything costs more. Put the savings into your retirement account.
Add More Risk to Your Portfolio
This strategy is best for those who are still working because you have more time to recover from short-term losses, but it can pay off for younger retirees as well. Putting some of your money into higher-risk investments often results in much higher returns and a bigger bank account in the future — something you'll need should Social Security benefits get cut. Consider hiring a financial advisor to help guide you on various risk/reward scenarios.
Plan To Work Longer
With Social Security cuts a distinct possibility, you should consider postponing retirement to keep earning a paycheck, contributing to your retirement accounts and building up your nest egg. Even if you already have retired, you can always return to the workforce — especially if you haven't started collecting Social Security yet.
Are You Retirement Ready?
Along the same lines, you should wait as long as possible to file for Social Security benefits. Ideally, you won't claim benefits until you reach age 70 to get the highest possible monthly payment.
More From GOBankingRates