Social Security: How Big Is Mitch McConnell's Check?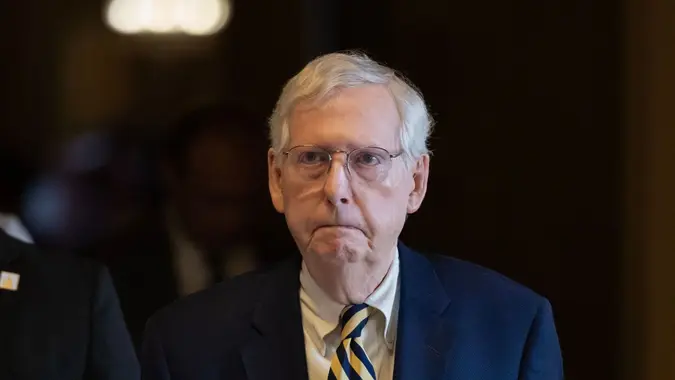 MICHAEL REYNOLDS/EPA-EFE/Shutterstock / MICHAEL REYNOLDS/EPA-EFE/Shutterstock
Amid an intensifying debate as to how to handle Social Security insolvency as well as his own recent health concerns, 81-year-old Republican Senate Minority Leader Mitch McConnell has stated that he "plans to serve his full term in the job they overwhelmingly elected him to do," according to the Associated Press.
A July 26 incident in which McConnell froze during a press briefing has sparked debate about age requirements of high-standing government officials and the health of the minority leader in particular. The episode has fueled rumors that McConnell, who was first elected to the Senate in 1984 and has served as Republican leader since 2007, might step aside from his leadership post before the 119th Congress.
To the general public, McConnell might seem too old to be a serving senator, but as Pew Research notes, the current median age of Senate members is 65.3 years, up from 64.8 in the 117th Congress.
Per CNN, McConnell is the 12th longest-serving senator ever and, at 81, has been eligible for Social Security for almost 20 years. But does he collect it?
Social Security benefits are calculated on an individual basis and can change over time, but they are personal financial information, so the size of Social Security checks is typically a private matter and may not be publicly disclosed.
According to Congressional Research Service, before 1984, federal civil service employees and Members of Congress didn't pay into Social Security and were therefore ineligible for benefits. However, Members of Congress first elected in 1984 or later are covered automatically under the Federal Employees Retirement System (FERS).
Are You Retirement Ready?
All senators and those congressmen serving as members prior to September 30, 2003, may decline this coverage. Representatives entering office on or after September 30, 2003, cannot elect to be excluded from such coverage. 
If McConnell is collecting Social Security, we can only speculate that he is getting the maximum benefit of $4,555 in 2023 given his substantial government earnings history. If he decides to not run in the next Congress, which begins in 2025, he will earn the maximum benefit and a generous pension when he retires.
Or he may simply forgo collecting Social Security altogether, as is the prerogative of anyone, but especially the wealthy like McConnell who might not need the monthly income during his retirement years.
As the top Republican in the Senate, McConnell earns $193,400 a year. According to Celebrity Net Worth, McConnell's total assets are estimated at $35 million. Much of this comes from his years earning a competitive government salary and an estimated $5-$25 million that he and his wife, businesswoman and former government official Elaine Chao, inherited following Chao's mother's death.  
Social Security benefits are based on an individual's earnings history and the age at which the person starts claiming benefits. The maximum benefit amount one can receive from Social Security is determined by the Social Security Administration (SSA) and is subject to annual adjustments based on inflation and other factors.
More From GOBankingRates