Social Security Crisis: How Much More Do You Need to Save to Prepare for 20% Cuts?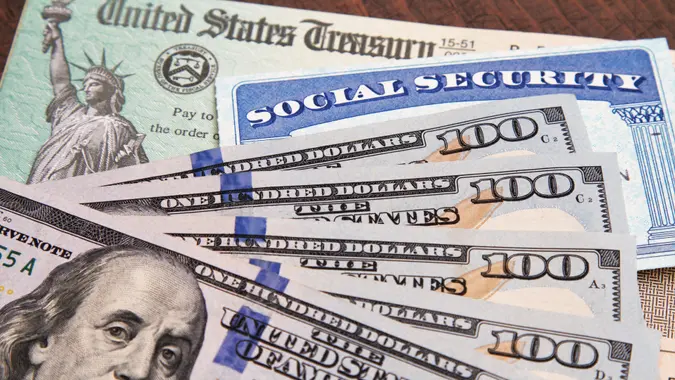 NoDerog / Getty Images/iStockphoto
Experts say that the Social Security Administration could cut Social Security retirement benefits (OASDI) by 20% as early as 2023, GOBankingRates reported.
Financial experts have been advising clients to account for the lack of Social Security in their planning for several years. But folks who don't use a retirement planner or haven't been in a position to save much for retirement might want to revisit their plans now.
If you are like the average American who earns a median salary of $35,000, how much more will you need to contribute to your retirement to make up for Social Security cuts? For the calculations, the current full retirement age of 67 was assumed, which may change in the future.
According to the Social Security Quick Calc, anyone retiring between 2033 and 2073, if Congress intervenes and Social Security benefits are not cut, would receive $1,285 per month in benefits. If cuts occur, that number would drop to $1,028, or just $12,336 per year.
Are You Retirement Ready?
Once that figure was ascertained, the GOBankingRates retirement calculator was used to determine how much more you'd need for retirement savings if you are 10 years out from retirement, all the way up to 50 years out. The calculations used the median savings amount for people in different age groups based on Vanguard data.
The GOBankingRates retirement calculator shows that someone with a median income of $35,000, who wants to continue earning that amount in retirement, needs to save $611,848. If Social Security is reduced by 20%, that number jumps to $616,512.
Take a look at the chart below to see how much more you'll need to save each month to reach your retirement goals.
| | | | | | |
| --- | --- | --- | --- | --- | --- |
| Expected Retirement Year | 2033 | 2043 | 2053 | 2063 | 2073 |
| Your Age Right Now | 57 | 47 | 37 | 27 | 17 |
| How Much More You Need to Save Monthly Now | $39,900 | $16,019 | $8,821 | $5,728 | $3,925 |
| How Much More You'll Need After Cuts | $40,289 | $16,176 | $8,904 | $5,777 | $3,955 |
| How Much Extra You'll Need to Save Per Month | $389 | $157 | $83 | $49 | $30 |
To do your own calculations based on your salary, savings and investments, you'll first want to see how much Social Security you'll receive in retirement. Visit the Social Security Quick Calculator, enter your earnings and your projected retirement date.
Are You Retirement Ready?
Then, use the GOBankingRates Retirement Savings Calculator to determine how much more you'll need to save for retirement in light of Social Security cuts. The higher your salary right now, the greater your Social Security benefits will be. That also means the 20% cut will have a more profound impact on your retirement plans.
It's also easy to see from our figures that the earlier you begin saving for retirement, the less of a difference that 20% cut will have, since you'll be generating income from other sources.
If your data shows a projected shortfall, it's a good idea to speak to an investment advisor to help you take steps to generate the income you'll need for an enjoyable retirement.
More From GOBankingRates
Are You Retirement Ready?
Are You Retirement Ready?