Commerce Bank Review: Rewards Banking Plus One-Stop Financial Services
GOBankingRates Score
Commerce Bank
Our Take: Whether you're a student shopping for your first bank or an experienced bank customer, it will be tough to find a bank that offers a more comprehensive range of products and services to help you manage every aspect of your finances than Commerce Bank does.
Customer Service
Opening Deposit Requirements
Range of Services
Ease of Use
How did we calculate this?
Pros
Full range of financial products and services under one roof
Basic banking products perfect for students
Bonus rewards with some accounts
Cons
Physical branches limited to a handful of cities
Low rates compared to competing banks
About Commerce Bank
Francis Reid Long founded Commerce Bank in Kansas City, Missouri, with $10,000 in capital, which he used to help companies that were leading reconstruction efforts after the Civil War. Following World War II, the bank funded major growth in and around its Kansas City base, eventually expanding throughout the Midwest. Today's Commerce Bank has full-service banking locations in nine regions across Kansas, Missouri, Illinois, Oklahoma and Colorado, and $31.5 billion in assets.
Of course, the best reason to choose a bank is that it has the products you need to achieve your financial goals. This Commerce Bank review evaluates the financial institution's offerings and how Commerce stacks up against its competitors. In addition, GOBankingRates named Commerce Bank one of the Best Regional Banks of 2021 in its annual Best Banks rankings.
Commerce Bank Products
Commerce Bank's products cover just about every category you might need to manage your finances, earning it a spot on the GOBankingRates list of Best Regional Banks of 2020. Deposit accounts include checking and savings, money market and certificates of deposit. Customers also have access to a range of credit cards, loans and insurance products, plus investment brokerage services. Here's a more detailed look:
Product
Features
Checking Accounts

Basic free account; interest and relationship accounts available
Monthly service fees can be waived by meeting account activity requirements
Reloadable mySpending Card for alternative to checking account

Savings Accounts

Pays rewards for saving 11 months in a row
Up to five accounts per account holder
Auto transfers from checking account into savings account

Money Market Accounts

Rewards and premium accounts available
Rewards account pays up to $200 per year in savings bonuses
Premium account earns tiered rates based on balance

CD Rates

Fixed rates
Terms of three months to five years

Loans
Credit Cards

Rewards cards with cash back
Travel rewards card
Secured Visa for customers establishing or rebuilding credit

Insurance

Term, universal and whole life
Tax-advantaged, single-premium multi-benefit policy
Long-term care and disability insurance

Investments

Estate and retirement planning
Hybrid asset management account for banking/investing
Brokerage accounts
Commerce Bank Checking Accounts
No matter what your financial situation, Commerce Bank has a checking account to help you manage your everyday spending. Whereas Commerce Free Checking is a basic, no-frills — and no fee — account, CommerceInterest Checking and CommerceRelationship Checking pay interest and give you access to some nice perks. In the event a checking account doesn't meet your needs, the mySpending Card, which is prepaid and reloadable, might.
Features
Basic and interest-bearing options
Optional overdraft protection from another deposit account or a Commerce credit card
All checking accounts eligible for automatic transfers into myRewards savings and money market accounts
Pros
Free checks with CommerceRelationship Checking
Free use of Commerce ATMs with all accounts and a rebate of other banks' fees, up to $10 per month, with CommerceRelationship Checking
No fee for Commerce Free Checking
$10 CommerceInterest Checking monthly service fee is easy to waive
Cons
High account balance or combined balance needed to waive CommerceRelationship $20 monthly fee
No free checks with CommerceInterest or Commerce Free accounts
Commerce Bank Savings Accounts
Commerce Bank has just one regular savings account. It's called myRewards Savings, and it pays you for making monthly deposits. In fact, you can earn up to $50 per year for making your own deposits 11 months in a row — and you can earn this reward on two accounts per household.
Features
Can maintain up to five different accounts for different goals
Automatic transfers from a Commerce Bank checking account

0.01%

APY
$3 monthly service fee waived for first 60 days after account opening and in statement periods when minimum balance or electronic deposit requirement is met
Pros
Eligible for annual matching deposit (up to $50, maximum two accounts)
$0 minimum opening deposit
Ability to open accounts for specific purposes
Low $3 monthly service fee
Cons
$300 minimum average daily balance to waive fee
Limited to four or fewer withdrawals per year to be eligible for annual average matching deposit
Limited to three free funds withdrawals or transfers per month
Commerce Bank Money Market Accounts
Two money market accounts let you grow your money faster, no matter how much you're able to save. The myRewards Money Market account rewards you with up to $200 each year in bonus rewards when you maintain a qualifying Commerce Bank checking account. The Premium Money Market account pays Commerce Bank's best rates.
Features
Alternative to traditional savings account
Tiered rates for Premium Money Market account pay higher interest for higher balances
Bonus reward of 0.50% APY on myRewards Money Market account
Pros
$0 opening deposit for myRewards Money Market account
Low, easily waived fees of $6 for myRewards account
Check-writing privileges
Can earn up to $200 bonus with myRewards Money Market account
Better earnings with high balance
Cons
Withdrawals or transfers limited to six per month
Low 0.01% to 0.03% APY Premium Money Market account rate
High $5,000 minimum average daily balance to waive $10 monthly fee for Premium account
Commerce Bank CD Account
If you're looking for an alternative to savings accounts, consider CDs. Although Commerce Bank's shorter-term CDs have higher minimum deposits and lower rates than the longer-term ones, they also let you access your money sooner.
Features
Terms ranging from three to 60 months
Minimum deposits range from $1,000 to $2,500, depending on term
Interest rates range from 0.02% to 0.15% APY, depending on the term
Pros
Interest compounded daily
Better rates than Commerce Bank's money market accounts
Guaranteed return
Insured by the Federal Deposit Insurance Corp., up to $250,000 per depositor
Cons
Relatively high minimum deposit
Low rates compared to online banks
Banking Experience
When it comes to branch locations, Commerce Bank has a small footprint. But its well-designed website, robust digital banking options and excellent range of services make it easy to manage your finances no matter where you live.
Customer Service
A 24-hour information line — 800-453-2265 — lets you bank by phone, listen to or change account information, and report lost or stolen cards. That number also will enable you to speak with a customer service representative Monday through Friday from 8 a.m. to 8 p.m. CT, and from 8 a.m. to 4 p.m. CT on Saturdays.
You can email customer service using the link on the Contact Us page of the Commerce Bank website.
Accessibility and Branch Availability
Commerce Bank has branches in nine regions for those who prefer to bank in person. Use the branch locator to find your nearest branch or the branch that has features you need, such as a coin counter or the ability to receive a debit card on the spot.
Mobile and Digital Experience
Digital banking gives you three ways to manage your accounts: the Commerce Bank website, the mobile app or your Quicken app, which integrates with Commerce Bank's digital platform. Log in to your account to transfer funds, pay bills, set up account notifications, view statements, lock credit and debit cards — even see images of your written checks. The Commerce Bank Mobile Banking app also lets you deposit checks, and it's available for iPhone and Android. The app is rated over 4.5 stars in the App Store and on Google Play.
Security is guaranteed. You're not responsible for online theft of your account information or funds via Commerce Bank's digital services.
How To Open an Account
You can open an account at a branch location or online. Here's what you'll need, in addition to your identifying information:
Social Security number or Tax ID
Two forms of ID, such as a driver's license and passport
Your mother's maiden name
For accounts that have a minimum opening deposit requirement, you'll need cash (at branch locations) or a check or debit card to fund the account.
Key Information

Customer Service: 800-453-2265Customer Service Hours: Information line 24/7; live representative, 8 a.m. to 8 p.m. Monday through Friday and 8 a.m. to 4 p.m. CT on SaturdayRouting Number: 101000019Promotions: Newest Commerce Bank Promos and BonusesLogin: Commerce Bank Login Help
Commerce Bank Fees
Most of Commerce Bank's fees are in line with fees from competing banks. One notable exception is the inactivity fee, which many banks don't charge. Still, that fee, monthly service fees and overdraft fees are avoidable.
Fee
Amount
Monthly Maintenance Fees
$3 to $20, depending on account; can be waived if balance and/or deposit requirements are met
Overdrafts and Insufficient Funds
$37
Overdraft Transfer
$12
Deposited Item Returned
$13
Wire Transfer

$13 incoming domestic; $35 incoming international
$40 outgoing domestic; $60 outgoing international

Non-Commerce Bank ATMs
$2.95
Inactivity

$8 per month after 12 months for checking and money market accounts
$5 per month after 18 months for savings accounts
Commerce Bank vs. Competitors
Before you choose your first bank or switch from your current one, it's helpful to shop around. Here's a look at how Commerce Bank compares to some of its competitors:
| Bank | Best For |
| --- | --- |
| Commerce Bank | All your financial needs under one roof |
| KeyBank | Live customer service availability |
| U.S. Bank | Full-featured mobile app |
| Bank of America | Choice of physical branch locations |
Commerce Bank vs. KeyBank
Commerce Bank and KeyBank have a lot in common, but KeyBank has better customer service options, including 24/7 phone access to live representatives as well as a live chat. Where Commerce Bank shines in comparison is in its myRewards accounts that offer bonus interest.
Commerce Bank vs. U.S. Bank
Mobile app budgeting tools and a virtual assistant give U.S. Bank an edge over Commerce Bank's digital banking features. Commerce Bank evens the score with a more comprehensive product line that includes insurance and student loans — products U.S. Bank doesn't offer.
Commerce Bank vs. Bank of America
Bank of America will appeal to more folks who like to bank in person, as it has branch locations in 37 states plus the District of Columbia. If good rates are more important to you than in-person banking, Commerce Bank might be a better choice because it makes rewards bonuses easier to earn compared to Bank of America.
Final Take
Commerce Bank is a soup-to-nuts solution for managing your finances at every stage of your life. Although branch locations are confined to a small geographic area, the bank's digital banking platform is robust enough that many customers never will need to bank in person.
Editor's Favorite

Bonus rewards for the myRewards savings and money market accounts elevate Commerce Bank above many of its competitors.
FAQ
Here are answers to some of Barclays' more commonly asked questions.
What states have Commerce Bank?

Commerce Bank has full-service branches in Kansas, Missouri, Illinois, Oklahoma and Colorado.

How much can I withdraw from a Commerce Bank ATM?

You can withdraw up to $1,000 per business day.

Does Commerce Bank have overdraft protection?

Yes. Overdraft transfers into your checking account carry a $12 fee, per occurrence.

Does Commerce Bank have free checking?

Commerce Free Checking has no service fee. However, the account doesn't provide free checks. CommerceRelationship Checking does provide free checks, and the $20 monthly service fee is waived when you meet minimum balance requirements.

Does Commerce Bank have free checking?

Although there are no free-money offers at this time, past 

Commerce Bank sign-up bonuses

 give a clue as to promotions you might see in the future. In August, for example, new customers could earn up to $250 for opening an account.
Rates are subject to change; unless otherwise noted, rates are updated periodically. All other information on accounts is accurate as of 12/10/2020.
This content is not provided by Commerce Bank. Any opinions, analyses, reviews or recommendations expressed in this article are those of the author alone and have not been reviewed, approved or otherwise endorsed by Commerce Bank.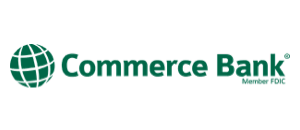 Take Advantage of our Best Offer(s)