Simple Bank Review: Integrated Banking and Budgeting Puts You in Charge of Your Money
Simple Bank
Our Take: Simple is more than just a banking brand -- it also sums up the company's approach to banking. You won't find a large menu of accounts and other financial services at Simple. Instead, you'll get uncomplicated checking accounts and certificates of deposit combined with powerful tools for budgeting and managing your money.
Rates
Fees
Customer Service
Services & Accessibility
How did we calculate this?
Pros
No-fee checking accounts
Easy-to-use budgeting tools built into the app
A Safe-to-Spend balance that lets you buy with confidence while also meeting your savings goals
Ability to set and save for specific purchases and financial goals
Cons
Limited number of financial products and services
No physical branches to visit -- ATMs only
No online or mobile bill pay
About Simple Bank
Simple is a pretty new fintech company, having been founded in 2009. The company launched commercially in 2012 and partnered with BBVA USA two years later. Its founders wanted to make banking less complicated and help customers feel more confident about handling money. That's one of the reasons why GOBankingRates has ranked it one of the Best Online Banks as well as one of the Best Checking Accounts in 2021.
Simple is still headquartered in Portland, Ore., while BBVA USA — a subsidiary of Spanish multinational Banco Bilbao Vizcaya Argentaria — is based in Birmingham, Ala., and has branches in Alabama, Arizona, California, Colorado, Florida, New Mexico and Texas.
Simple Bank Products
Simple's deposit products are limited to checking accounts and certificates of deposit, though it also offers personal loans. Here's a quick look:
Product
Features
Online Checking

No fees
24/7 account access via the mobile app
Visa debit card
Mobile check deposit from the mobile app
Ability to link external accounts
Instant funds transfer to other Simple customers
Transfer compatibility with PayPal, Venmo and Square
Ability to block debit card if lost or stolen
Simple budgeting features
Unlimited withdrawals
FDIC insured

High-Yield Checking

0.40%

 APY
24/7 account access via the mobile app
$0.01 minimum deposit
No fees
Unlimited withdrawals
Mobile check deposit from app
FDIC insured

CDs

0.40% APY
$250 minimum deposit
No monthly maintenance or early withdrawal fees
Account access through the mobile app
FDIC insured
Simple Bank's basic checking account is an online fee-free account. Once you've opened a basic checking account, you can open a higher-yielding Protected Goals account.
Simple Bank Checking Accounts
The basic online checking account gives you an easy, no-fee way to begin banking with Simple. In fact, GOBankingRates has ranked it one of the Best Checking Accounts in 2021. You'll also get the chance to open a Protected Goals account, which lets you earn higher yields and save money for specific purchases. Here's more:
Features
Visa debit card

0.40%

 APY
Direct deposit
Mobile check deposit from the app
Instant funds transfer to other Simple customers
Ability to write checks
Ability to block debit card if it gets lost or stolen
Simple budgeting features
Pros
Can link external accounts
APY is comparable to many high-yield savings accounts
Built-in budgeting tools make managing money easy
No fees
Cons
Simple Bank Certificates of Deposit
With a Simple CD, you can lock in rates for one year with no early withdrawal penalty. Here are more details:
Features
$250 minimum deposit
12-month rate term
Fixed 0.40% APY
Pros
APY is higher than many competitors
Can withdraw the entire balance and interest early without penalty
Ability to open a CD directly from the app
Cons:
Limited options with only one rate term available
Banking Experience
As the name suggests, banking with Simple is designed to be simple, and it all takes place digitally. If you have questions, you have the option of asking them on social media sites like Facebook and Twitter.
Customer Service is available via phone from 7 a.m. until 3 p.m. PST on business days and 7 a.m. to 12 p.m. PST on Saturdays. The number is 888-248-0632. There is also an international phone number — +1-424-652-5294 — for customers who need assistance when traveling abroad.
Mobile & Digital Experience
The Simple app has a rating of 4.6 (out of 5) in the App Store and a rating of 4.2 in Google Play. You can keep your banking information secure with two-factor authentication and fingerprint unlock for Apple and Android devices.
Convenience
Simple gives you the ability to manage your money in the palm of your hand. Although the bank has no physical branches, you can deposit checks through direct deposit, in the mobile app, or by mail. Simple is part of the Allpoint ATM network, which has more than 40,000 ATMs across the country.
How To Open an Account
Here's how to open a Simple account:
Create a username and password for the account and provide your email.
Provide your personal information.
Verify your identity.
Review and submit your application.
Key Information:

Customer Service number: 888-248-0632

Routing number: 062201601
Simple Bank Fees
Simple's lack of traditional banking fees is one of its biggest selling points. You won't pay fees for any of the following:
When you bank with Simple, you only really need to be aware of three potential fees: $5 for a box of 25 checks; service fees if you use a non-network ATM; and a 1% fee from Visa when you use your card internationally.
Simple Bank vs. Competitors
Before deciding if Simple is the right bank for you, take the time to compare it to other financial institutions. Here's a look at how it stacks up against competitors:
| Bank | Best For |
| --- | --- |
| Simple | Customers who want integrated banking and budgeting tools |
| Chime | Customers who like the option of early direct deposit and don't need full-service banking |
| Ally | Customers who want a full-service online bank with low fees and high-interest rates |
| Chase | Customers who want the convenience of a national bank with access to local branches throughout the U.S. |
Simple Bank vs. Chime Bank
Both Simple and Chime offer fee-free checking accounts and automatic savings options. Chime might be a better option if you prefer perks like getting your direct deposited paycheck early. What makes Simple stand out, though, are the budgeting tools that help you manage your money and spending habits.
Simple Bank vs. Ally Bank
Ally Bank is a full-service online bank that gives customers a range of banking products, including checking and savings accounts, investment products, mortgages and personal loans. Simple doesn't have the same range of products, but it offers the convenience of online banking with tools like Safe-to-Spend that simplify budgeting.
Simple Bank vs. Chase
As a large national bank, Chase has the resources to provide its customers with a full range of services — and convenient access to an extensive network of branches. Simple targets its offerings to the most basic banking services so customers stay focused on managing their money and taking control of their finances.
Final Take
Simple is more than a fintech company with a popular app. It's a banking solution for anyone who wants practical budgeting tools and automatic savings.
As with many digital banks, banking at Simple takes place in the mobile app. In Simple's case, the app is more than just a place where you track deposits and purchases. It automatically sorts your money so the balance you see is what you have available to spend.
If you want an easier way to budget and keep track of your money, take another look at Simple. You can open an account online today.
Editor's Favorite

Simple's in-app budgeting tools are hard to beat. The app does the budgeting for you, automatically sorting your money into what you need to pay the bills and what you can set aside for savings. The balance you see is what you can safely spend while still working toward your financial goals.
Simple Bank FAQ
Here are answers to some of Simple Bank's more commonly asked questions.
Who is Simple Bank owned by?

Simple is a subsidiary of BBVA USA.

Is Simple Bank FDIC insured?

Yes, Simple accounts are held by BBVA USA, which is an FDIC member.

Is Simple a real bank account?

Simple checking accounts work like any other bank account, except that its funds are held by BBVA USA.

Is Simple Bank free?

You won't face any monthly service fees, overdraft fees, NSF fees, stop payment fees or in-network ATM fees with Simple. You can also open an account free of charge.

Does Simple Bank offer free money for signing up for an account?

Simple does not currently offer free money to new customers; however, the bank has been known to feature offers and promotions in the past. You can check the website to get the most up-to-date details.
This article has been updated with additional reporting since its original publication.
Rates are subject to change; unless otherwise noted, rates are updated periodically. All other information on accounts is accurate as of Dec. 17, 2020.
This content is not provided by Simple Bank. Any opinions, analyses, reviews or recommendations expressed in this article are those of the author alone and have not been reviewed, approved or otherwise endorsed by Simple Bank.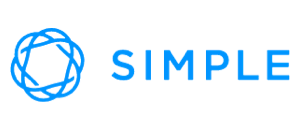 Take Advantage of our Best Offer(s)