Why a Costco Membership Is a Must-Have for Retirees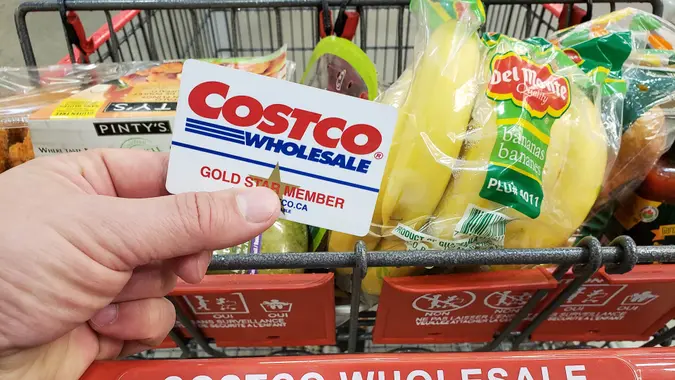 dennizn / Shutterstock.com
Making the transition to living on a fixed income and not relying on a paycheck can be a difficult one for retirees. That's why many of them quickly learn how and where they can find additional ways to save money, hunt for bargains and learn how to "shop smart."
So it's no surprise that 99% of baby boomers say they have heard of Costco, while 66% say they like the chain, according to a YouGov survey. For that generation, Costco is just behind Dollar Tree at the No. 1 spot for both fame and popularity.
Ratepunk CEO Justin Albertynas — who has a Costco membership — said that having a membership makes financial sense for retirees, as it offers budget-friendly shopping.
"Retirees often have a fixed income, and managing expenses becomes crucial," said Albertynas. "Costco's bulk-buying options allow retirees to purchase essential items in larger quantities at lower unit prices. This can save 20% to 30% on your products!"
To put this in context, a recent report by The Senior Citizens League (TSCL) found that a whopping 36% of older adults have lost their buying power, and need an extra $516.70 more per month than they are currently getting to return to the same buying power they had in 2000.
Here's a look at where retirees can save money with a Costco membership.
Make Your Money Work for You
Healthcare Savings
As retirees may require regular medications and healthcare products, Costco's discounted prescription medications and affordable healthcare products can help reduce their out-of-pocket expenses, said Albertynas.
"These savings can amount to hundreds or even thousands of dollars each year, depending on the medications required. By availing themselves of these savings, retirees can better manage their healthcare costs and ensure access to necessary medications without straining their budget," he added.
And it's also great for glasses. A Consumer Reports survey found that the average price paid for eyeglasses at Costco was $184, which was less than half the price paid at other retailers.
Travel Opportunities
Albertynas said he has "saved a ton with a Costco membership" on travel.
"Costco's exclusive travel deals enable [retirees] to explore the world at more affordable prices. With discounted rates on vacation packages, cruises and rental cars, they can plan memorable trips and fulfill their travel aspirations without overspending." According to him, retirees can save anywhere from 10%-50% on travel expenses compared to booking through other providers.
As Costco notes on its website, "We provide clear pricing on packages, rental cars, cruises and hotel reservations so you know what you'll pay. If additional fees will be charged, we alert you throughout the booking process so you know what to expect and understand the overall cost of your travel plans."
Make Your Money Work for You
Additional Services and Benefits
A Costco membership provides access to various services and benefits that can be advantageous for retirees. These include discounts on fuel, insurance and other services that help retirees save on everyday expenses and protect their assets.
"These additional benefits enhance their financial security and contribute to a worry-free retirement," said Albertynas. "For example, members can save up to 25 cents per gallon on fuel, potentially saving $100 or more annually for frequent drivers."
Overall, Costco's features cater to the unique needs and priorities of retirees by offering cost savings, quality products and opportunities for travel and leisure, Albertynas said. "By taking advantage of these offerings, retirees can make their retirement funds go further, enjoy a fulfilling lifestyle and feel confident in their financial well-being," he added.
More From GOBankingRates