Capital One Bank Review: Full-Service Menu and No Fees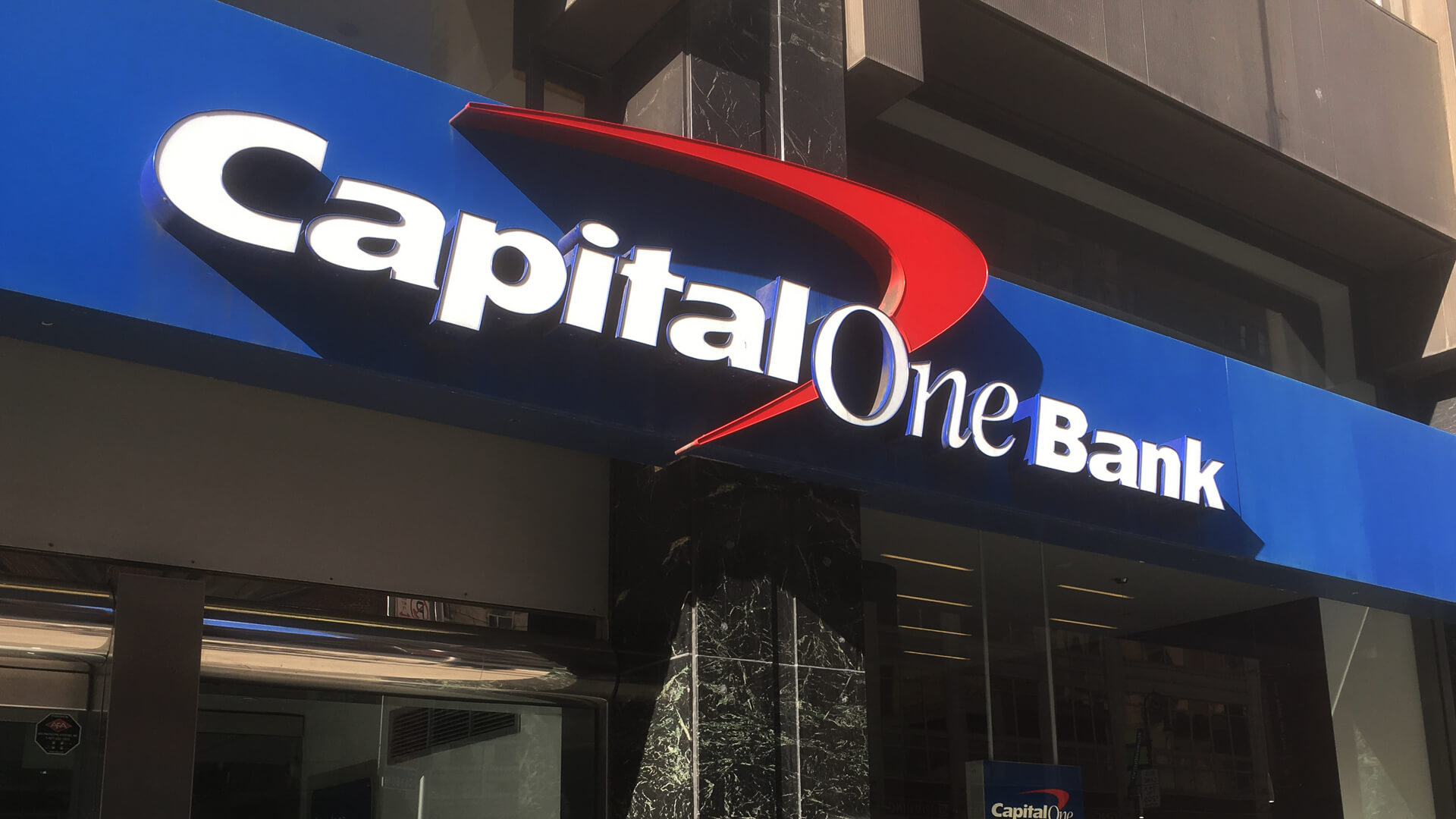 Heather Shimmin / Shutterstock.com
Capital One Bank is the commercial banking arm of the far-flung Capital One Financial Corp., presenting a wide range of banking services from under the same umbrella. Founded in 1988, the Virginia-based company touts a high-yield savings account with an annual percentage yield of 0.50%, which is quite larger than the national average.
As with any financial institution, you should investigate the different accounts offered by Capital One Bank before committing to a new banking relationship.
Who Is Capital One Bank Best For?
Anyone interested in having a one-stop shop for all of their banking needs might want to consider Capital One. In addition to checking and savings accounts, the bank offers certificates of deposit, individual retirement accounts, auto loans, and commercial and small-business banking.
For growing families that are still unsure of their financial needs, Capital One could be a good option to start with. While many major banks provide the convenience of hosting different accounts in one place, few will offer this benefit alongside a high-yield savings account with a high APY. Opening an account with Capital One can be quick and easy to do today.
Pros and Cons of Capital One Bank
Pros
Cons
Options for checking, savings, CDs, IRAs, auto loans and small-business services
No traditional branch locations
High interest rates on savings accounts
Lack of options for a money market account
Who May Want To Skip Capital One Bank
Capital One's physical locations come in the form of Capital One Cafes, which are joint sites with Peet's Coffee shops that could be described as banking lounges. However, there's a limited number of locations, so you might have trouble finding one near you.
Sponsors of
While Capital One has a network of over 39,000 ATMs across the U.S. for you to handle your banking, you might want to look elsewhere if having a traditional bank branch is a priority for you.
Who Is Capital One Bank Suitable For?
Best For
Worst For
Savers looking to earn a high APY
Traditional customers who prefer visiting a physical branch location
Growing families with changing banking needs
Savers in need of a money market account
Beginners looking for a versatile bank to open their first accounts
Consumers who aren't comfortable with online or mobile banking
Types of Accounts Available
There are a number of options available through Capital One Bank for different banking products, including a variety of CDs:
Capital One Bank Accounts at a Glance
Account
Features
Fees
Rates
360 Performance Savings

Excellent interest rate
Automated saving feature
No minimum balance

$30 outgoing domestic wire transfer
$5 statement copy charge

360 Checking

Four different options for overdrafts
No minimums

$35 per overdraft if you opt for next-day grace option and fail to supply necessary funds
$40 outgoing domestic wire transfer

360 CDs

Nine different options for maturity dates
FDIC-insured
Monthly and annual interest payments available

Early withdrawal penalty of three months' interest for CDs with terms of one year or less
Early withdrawal penalty of 12 months' interest for CDs with terms of over one year

6 month CD at 

0.20%

APY. 
1 year CD at 

0.20%

APY. 
3 year CD at 

0.30%

5 year CD at 

0.40%

360 IRA Savings
N/A
360 IRA CDs

Guaranteed returns
FDIC-insured
No minimums

N/A

0.50% APY for one-year online CDs
0.80% APY for three-year online CDs
1.00% APY for five-year online CDs

Kids Savings Account

No minimums
Automated savings plans
Can link to parents' accounts

N/A
MONEY Teen Checking

No minimums
Mobile app
Free debit card and fee-free withdrawals at Allpoint ATM locations

N/A
Online Savings Account
Capital One's 360 Performance Savings account offers a high APY that's advertised as being much larger than the national average.
Features
0.50%

 APY
Automated savings feature
No minimums
No fees
Pros
Capital One's online savings account is very competitive with some of the industry's top high-yield savings accounts, and it doesn't charge any fees or require a minimum balance that could prevent you from taking full advantage of the 0.50% APY. Throw in the ability to automate your savings with regularly scheduled transfers, and this account could become an important tool for your budgeting and saving for years to come.
Cons
There aren't a lot of drawbacks to Capital One's savings account, but you should be aware of the $5 charge for each statement copy within the first two years of opening the account. You'll also be charged $30 for any outgoing domestic wire transfers.
Interest Checking Account
Capital One's 360 Checking account offers most of the conveniences of a typical checking account, along with interest rates that blow many competitors out of the water and rival those of savings accounts.
Features
Interest rates that range up to a

0.10%

APY
Four different options for handling overdrafts
No minimums
No fees
Pros
The interest rates on Capital One's checking accounts are competitive with those of many savings accounts. You'll also have multiple options to choose from when it comes to overdraft protection: You can set your account to automatically decline the transaction, transfer funds from your savings account, or cover you and allow an extra day to deposit the necessary funds.
Cons
If you do select the option for an overdraft line of credit, you'll pay an annual percentage rate of 13.00% on any funds that you borrow due to overspending. Additionally, while the starting 0.20% APY for Capital One's checking account is certainly strong, you'll need to have at least $100,000 in your account before you qualify for the maximum APY.
CD Rates
If the yield on the savings account isn't quite enough for you — and you have the flexibility in your budget — you can opt to boost your returns with a 360 CD account from Capital One.
Features
Nine different options for maturity dates
High CD rates
Insured by the Federal Deposit Insurance Corp.
You can choose to have interest payments arrive monthly, annually or at the end of the CD term
Pros
Capital One's CDs were named among GOBankingRates' Best CD Accounts of 2019. With nine different terms, you can lock up your savings for anywhere from six months to five years. And, to add an extra layer of flexibility, you can get interest payments to arrive on your schedule. Monthly or annual payments are a good option if you want to receive interest from your CD as you go instead of as a lump sum at the end of the account's term.
Cons
Like with any CD, you're locking your money into the account for a fixed period of time, and you'll pay a penalty for accessing the principal prior to the end of your CD's term.
Individual Retirement Accounts
Capital One offers both 360 IRA Savings and 360 IRA CDs, allowing its customers to access tax-advantaged savings for retirement.
Features
Competitive interest rates
Both traditional and Roth options for savings accounts
Tax-advantaged method for saving
Online accounts work in tandem to help you save
Pros
If you're looking ahead to your golden years, you can check out the IRAs offered by Capital One to help you save on your taxes. You'll automatically get the IRA Savings when you open an IRA CD to help you manage your returns over the years. Those returns are guaranteed and deposited into your FDIC-insured retirement savings account.
Cons
If you want the tax advantages offered by IRAs, it will mean sacrificing access to your cash until retirement, so you'll have to plan accordingly.
Youth Savings and Checking Accounts
Growing families have shifting financial needs, and Capital One has a few products that can help introduce your children to saving money and banking on their own.
Features
No minimums or monthly fees
0.40% APY on the Kids Savings Account and 0.20% APY on the MONEY Teen Checking account
Free debit card with Capital One's teen checking account
Pros
Children who are starting out on their financial journey will benefit from simple, fee-free accounts with no minimum required balance. The bank's mobile app tracks activity for users with the MONEY Teen Checking account, facilitates an automatic allowance and allows teens to set specific savings goals. The app also provides useful parental controls for the Kids Savings Account.
Cons
There's a $25 fee for sending a debit card with expedited delivery, which might be hefty for younger customers. They'll also encounter a $5 charge when requesting statement copies. Additionally, foreign checks may be subject to fees at the bank's discretion.
Loans
Capital One offers new and used auto financing, which allows families to finance their next car or refinance their current auto loan.
Features
Auto Navigator Feature to help you see if you pre-qualify for financing
Auto loan calculators available
Pros
If you already have accounts with Capital One, getting an auto loan from the same bank allows you to keep all of your financial details in one place. You can also benefit from Capital One's user-friendly shopping guides.
Cons
Capital One's auto loans are only available through participating dealers, so your options might be more limited.
How To Bank With Capital One
Getting yourself set up with a Capital One account is simple if you have internet access and a smartphone, tablet or computer. Simply go to Capital One's website, visit the section on bank accounts, and then follow the prompts to open an account. You can also download the Capital One app on your tablet or smartphone and open an account from there.
Fees
Both the savings and the checking accounts offered through Capital One advertise themselves as being totally fee-free. While that doesn't mean you'll never get hit with a fee, it does mean that the only fees you'll be charged are associated with very specific transactions, such as requesting a cashier's check or making a wire transfer. However, you won't get hit with any charges for falling below an account minimum.
Availability of Funds
Electronic and cash deposits are available the same day. The bank's general policy is for check deposits to become available by the next business day, but in cases where the deposit bleeds into a second business day, you'll have access to the first $200 of the deposit within the first day. There might be reasons behind longer delays, but you'll be notified of the situation by Capital One.
Summary
Banking with Capital One should give you access to all of the banking basics that most modern bank customers have come to rely on, including online banking, a strong mobile app and the ability to send payments to friends and family. What's more, Capital One offers interest rates on both its checking and savings accounts that are very competitive, and it has a variety of options for CDs and IRA CDs that should help you make the most of your savings and even prepare for retirement.
However, while the Capital One Cafes might be ideal for some, they're definitely a departure from traditional bank branches. And, until there are significantly more locations, banking with Capital One is likely to be a largely online affair. If having an in-person relationship with your bank is important to you, it's wise to weigh the other pros and cons of Capital One Bank with your financial goals in mind. Should the benefits of a Capital One bank account appeal to you more than the drawbacks, it's easy to open an account today.
Unless otherwise noted, information on accounts and rates is accurate as of Feb. 28, 2019. This content is not provided by Capital One Bank. Any opinions, analyses, reviews or recommendations expressed in this article are those of the author alone and have not been reviewed, approved or otherwise endorsed by Capital One Bank.