Bethpage Federal Credit Union Certificate Account: A secure way to grow your money
Brought to you by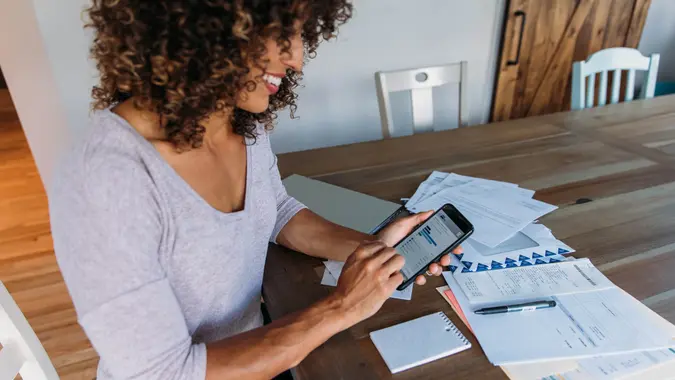 RichVintage / Getty Images
A recent study from GOBankingRates revealed that just 27% of Americans use credit unions and it's perplexing that they aren't more popular as they're rather ideal for today's consumer who values transparency, a personalized touch, low fees and, best of all, great dividend rates without being at the behest of for-profit corporate overlords.
Bethpage Federal Credit Union might just stir things up a bit with its Certificate Accounts that offer a competitive and above-market fixed dividend rate for a predetermined period of time. Account holders can enjoy an Annual Percentage Yield (APY) as high as %* on a 60 month certificate on as little as $50 if they're willing to let their money sit around for the certificate term.
How The Bethpage Federal Credit Union Certificate Account Works
Terms available: 3 months up to 5 years
APY: Depends on the term:
3 month-term: % APY*
6 month-term: % APY*
12 month-term: .00% APY*
18 month-term: 0% APY*
24 month-term: 0% APY*
30 month-term: % APY*
36 month-term: 0% APY*
39 month Bump-Up: 0% APY*
48 month-term: 0% APY*
60 month-term: % APY*
Dividend crediting frequency: Monthly or quarterly
Minimum balance to open account: $50
Account balance minimum: $50
Penalty for early withdrawal: Yes
The 39-Month Bump-Up Certificate Feature: Bethpage Federal Credit Union offers a 39-month term certificate that gives account holders the option to "bump up" the dividend rate a single time during the term to the current dividend rate of a 36-month term certificate. Regardless of whether you Bump-Up, your certificate account will auto-renew for a 36-month term at the prevailing rate with no Bump-Up option.
Ability to use account as collateral on a loan: Yes
NCUA-insured: Yes
Physical locations: Yes, in the state of NY only
How to access balance and interest information: Online and by phone
How to open an account: You can open in-person or online, though you must first establish membership with Bethpage Federal Credit Union by opening and depositing $5 into a savings account.
What to have ready when you apply: Your personal info including your Social Security number, home address, email address and a copy of your government/state-issued ID (driver's license or passport).
The Potential Drawbacks
If you're looking for heaps of details on this account, you may need to go the old-fashioned route and use the phone to call Bethpage or schedule an in-person or video appointment.
A % APY* for a 60 month certificate is exceptionally high, but you can only receive that rate if you're committed to letting your money sit in the account for five years.
Who is Eligible to Join Bethpage Federal Credit Union?
Anyone in the United States who establishes membership by opening a savings account and depositing $5.
The Ideal Candidate For This Account
Certificate accounts are engineered to make users money without them lifting a finger (or touching the funds), so really this is a great account for someone whose primary goal is to sit back and let the dividends roll in. But we cannot stress enough the importance of patience. Early withdrawal will cost you penalties.
About Bethpage Federal Credit Union
Since 1941, Bethpage Federal Credit Union has been serving its community-and vastly growing. It now serves over 400,000 members on a daily basis and reached $10 billion in assets back in 2021. Today, Bethpage Federal Credit Union has over 30 branches in and around NYC and Long Island, and is the largest credit union in all of New York and in the top 20 largest in the nation.
The Bottom Line
Based solely on its APY offerings, the Bethpage Federal Credit Union Certificate Accounts are a great option for those who want to sit back and watch their nest egg grow over the long term. The 39-month certificate with the Bump-Up option is a perk that makes this certificate stand out from the crowd and should incentivize hesitant consumers to commit to this long term. The ability to enjoy the APY with as little as a $50 deposit is another motivating factor, as it's uncommon to see such a low balance requirement as a ticket to enjoy such cushy dividends. In addition, Bethpage Federal Credit Union has so many members and such a large amount in assets that it is attractive-particularly if you're looking to be lured away from a big bank.
Advertiser Disclosure: This is a paid advertisement. The compensation does not affect the recommendation or advice and paid ads do not guarantee favorable reviews.
*Annual Percentage Yield (APY) is in effect as of October 7, 2022 and subject to change. APY assumes all dividends remain in the certificate until maturity, and a withdrawal will reduce earnings. Fees could also reduce earnings. Penalties may be imposed for early withdrawal. $50 minimum balance to earn APY and to open account.
Federally insured by NCUA