USAA Savings Account Review: High Interest Rates for Military and Family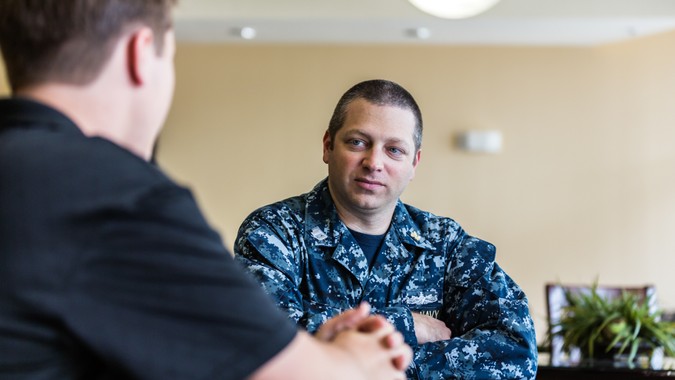 Willowpix / iStock.com
If you're in the market for a high-interest savings account, USAA Bank might be a good place to look. It offers no monthly service fees and has no minimum balance requirements for a low opening deposit of just $25. In addition, USAA offers a Savings Booster tool that you can use to find other ways to save and watch your money grow faster.
USAA offers two different accounts, the regular savings for those who want to save toward a goal and the Performance First account, for those who already have a head start on their savings. Keep reading to find out more about both, and see if one might be the best savings account for you.
USAA Savings Account at a Glance
APY
0.05% to 1.26% depending on the balance
Minimum Opening Deposit
$25
Monthly Service Fee
None
Minimum Balance Fee
None
Mobile Check Deposit
Yes
Recurring Transfers
Yes
Pros

No fees
Free, nationwide ATMs
Up to $15 in refunds for using other non-USAA ATMs
Rates competitive with large banks

Cons

Better savings rates at online banks
Few physical branches exist
Accounts only for members of U.S. military and their family members

Information accurate as of Oct. 10, 2018.
Sponsors of
In This Review:
What You Need to Know About USAA Savings Accounts
You must be a member to open a USAA savings account, and membership is reserved for active and former military and their eligible family members. If you are in one of those groups, you can start saving today and get competitive rates along with no fees — and more.
Best for: Active and former military, cadets and midshipmen, and eligible family members
Best Features of USAA Savings Account
The two USAA savings accounts come with no monthly fees and feature competitive rates in comparison to larger banks. You can open a regular USAA savings account with just $25, or opt for the Performance First savings account if you can deposit $10,000 or more.
USAA savings account interest rates:
0.09% APY for balances less than $1,000
0.10% APY for balances from $1,000 to $9,999
0.15% APY on balances of $10,000 or more.
USAA Performance First interest rates:
0.05% APY for balances less than $10,000
0.20% APY for balances from $10,000 to $24,999
0.25% APY for balances of $25,000 to $49,999
0.50% APY on balances of $50,000 to $99,999
0.65% APY for balances of $100,000 to $249,999
1.00% APY on balances of $250,000 to $499,999
1.16% APY on balances of $500,000 to $999,999
1.26% APY on balances of $1 million or more
Other Features of USAA Accounts
USAA offers its savings account customers other tools and features to enhance their banking experience. These include:
Fraud protection
Mobile or mail deposits
Online security tools
Savings calculator
Recurring transfers
Text Savings tool
Savings Booster tool
Consider a USAA Savings Account If You're Eligible
An important thing to know about USAA savings accounts is that you must be a member of the organization to open one. Eligible members include active and former military and eligible family members.
Membership is free, but if you're not in the military you're out of luck. There are also a limited number of physical branch locations where you can meet with a banker: In San Antonio and Colorado Springs, Colo., and at the U.S. military and naval academies. If you live outside of these areas and you need to go into a physical branch regularly to do your banking, you should probably consider another savings account that has a local branch.
Sponsors of
Click through to learn about the best military banks and credit unions.
This content is not provided by the companies mentioned. Any opinions, analyses, reviews or recommendations expressed in this article are those of the author alone and have not been reviewed, approved, or otherwise endorsed by USAA.