American Express Refer A Friend: How Referrals Work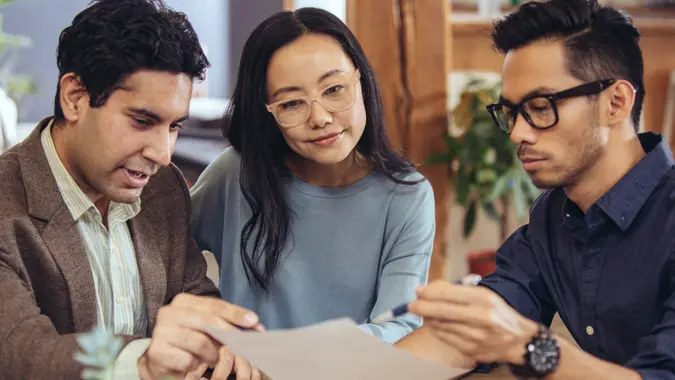 Weekend Images Inc. / Getty Images
American Express Cards are known for their generous benefits, not the least of which is the Membership Rewards program. Membership Rewards are points that Card Members can redeem for purchases, gift cards, travel or statement credits. They can even be transferred to partner hotel and airline loyalty programs, giving you plenty of ways to save, just by using your card.
One way to earn Memberships Rewards is to take advantage of the American Express Refer A Friend program. Keep reading to learn more about the program and how it can earn you up to $550 per calendar year in Membership Rewards points.
What Is the American Express Refer A Friend Program?
The American Express Refer A Friend program encourages American Express Card Members to share their positive experience with their card with family and friends who might be interested in getting a card of their own. The Card Member receives Membership Rewards points when the friend receives their new card. The friend earns Membership Rewards points when they make qualifying purchases in the first six months of membership.
How Does the American Express Refer A Friend Program Work?
The Refer A Friend program makes it easy for American Express Card Members to earn rewards. You simply invite friends to apply via an email or personal link you provide. The referral then uses the link to navigate to the American Express website to apply for a card. They can apply for any personal or business card they want — they're not restricted to choosing the same card you have. If they're approved and they accept and receive their new card, you receive 7,500 Membership Rewards points.
Referrals also earn rewards. After spending $2,000 on purchases in the first six month of membership, they receive 10,000 Membership Rewards points of their own.
There's no cost to either of you to participate in Refer A Friend. However, some cards do charge an annual fee.
How Many Membership Rewards Points Can I Earn Through Refer A Friend?
Members can earn up to 55,000 Membership Rewards points, Delta Bonus Miles or Marriott Bonvoy points per calendar year through the Refer A Friend program. Hilton Honors Card Members can earn up to 80,000 Hilton Honors Bonus Points per calendar year. The value of your points depends on how you redeem them. For example:
Online checkout with participating retailers: Redeem for $0.005 to $0.01 per point
Gift cards purchased through the American Express Membership Rewards gift card portal: Redeem for $0.005 to $0.01 per point
Statement credit toward card purchases: Redeem for $0.006 per point
Travel purchases made through American Express Travel: Redeem for $0.005 to $0.01 per point
Transfers to travel loyalty programs: Redeem for 0.8 points for each point transferred or one point for every two points transferred
Online shopping with participating retailers: Redeem for 0.005
To see how that works, say, for example, you've accrued 90,000 Membership Rewards points. They'd be worth between $450 and $900 if you redeemed them for online checkout, gift cards or travel purchases. If you redeemed them for a statement credit, they'd be worth $540 points. And if you were to transfer them to a hotel or airline loyalty program, they'd be worth 45,000 to 72,000 points.
The American Express Rewards Points Calculator is a useful tool for comparing redemption options and determining exact point values.
Who Is Eligible To Refer A Friend?
To be eligible to earn a referral bonus for referring a friend or family member, you must be the primary member on an eligible American Express Card. Although additional card members added to an account can make referrals, the points are credited to the primary card holder's account and count toward their 55,000-point annual maximum.
Your account must be open and in good standing on the day you're due to receive a Refer A Friend points reward.
Current program rules state that Card Members must make referrals by July 27, 2023.
Who Can I Refer to Earn a Refer A Friend Bonus?
You can refer anyone you wish, as long as they've not been referred by someone else and they're not already an American Express Card Member. However, American Express does stress that the program is meant for Card Members to refer people they know personally, and who are interested in applying for the card. It's important to let referrals know you might receive a reward if they're approved.
How Do I Refer A Friend?
You can invite friends and family to apply for a card by supplying them with an email invitation or a special link that identifies you as the Card Member making the referral. First, log into your account. If you have more than one American Express Card, select which you'd like to refer at the top right corner of the screen. Then click the "Refer Now" button on the Home screen.
Referrals can be made in one of two ways. The first is to share your personal link, which you'll see after you click "Refer Now." You can copy and paste the link into a text message or other communication.
The second way to make referrals is by email. Just enter your friend's name and email address on the referral form located above your personal link and click the "Send Email" button. American Express will email the referral to let them know you referred them. Email referrals must go through this email tool — American Express doesn't allow Card Members to send their personal link through outside email.
When your friend follows the link, they'll see a list of eligible cards. They can select any card they want, but they must have arrived at the page via your link when they apply. Otherwise, you won't receive the referral bonus.
If you have authorized users on your account, let them know they can make referrals, too. American Express won't notify you when they do, but if the referral results in the referred individual receiving a card, the points will be credited to your Membership Rewards account.
Will I Get a Membership Rewards Bonus for Every Referral?
Refer A Friend bonus Membership Rewards are awarded for every referral that meets all eligibility criteria.
The referring Card Member's account must be open and payments must be up to date on the day Membership Rewards points would be awarded. It can take anywhere from 8 to 12 weeks to get the points, so the best way to ensure you don't miss out is to always pay your bill on time.
The individual you refer also must be eligible. They can't already be an American Express Card Member, and they can't have accepted an invitation through another referrer's link. They must apply for their card through your personal link or the link they receive in the American Express email generated by the email tool. Note that referrals who've previously opted out of American Express marketing communications might not receive the email.
Your referral must be approved for an eligible American Express Card and accept and receive the card for you to earn points.
American Express limits the number of referral points Card Members can receive to 55,000 — or 80,000 Hilton Honors Bonus Points — per calendar year. Referrals you make after you've hit that limit won't earn additional Refer A Friend bonus points, but you can start earning again in the new calendar year.
Final Thoughts
The American Express Refer A Friend program gives current Card Members another way to earn Membership Rewards points — without making extra purchases on their card. The referral process is easy. You can do it through the email tool in less than a minute. But if you want to protect your friends' privacy, the personal link is a better option.
Information is accurate as of Sept. 30, 2022.
Editorial Note: This content is not provided by any entity covered in this article. Any opinions, analyses, reviews, ratings or recommendations expressed in this article are those of the author alone and have not been reviewed, approved or otherwise endorsed by any entity named in this article.
All information about American Express card offers has been collected independently by GOBankingRates and has not been reviewed or approved by American Express. These offers are not available through GOBankingRates.