What Is the Chase Trifecta? Learn How To Maximize Your Rewards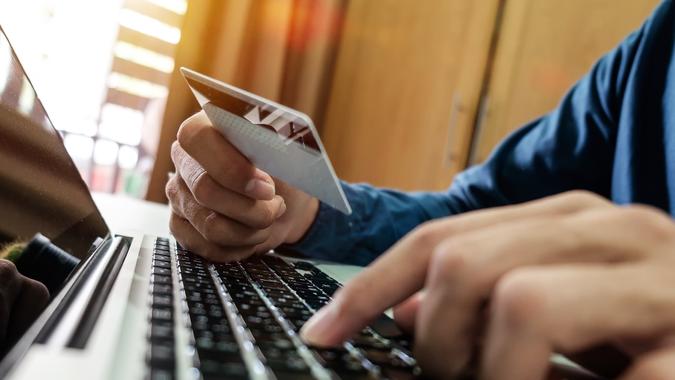 ©Shutterstock.com
Chase has a variety of rewards credit cards to fit your lifestyle and preferences. Are you looking to earn travel rewards? Do you want to earn cash back while grocery shopping or at the mall? Continue reading to compare Chase reward cards. Learn how to choose the right combination and maximize your Chase trifecta rewards earning potential.
What Are Rewards Credit Cards?
Who doesn't like rewards? How about getting money back or saving money whenever you spend? Rewards credit cards offer different types of rewards when you use them for purchases. These rewards can be in the form of travel miles, cash back or points.
You can get something for every dollar you spend using rewards credit cards. Some cards have limits on the number of rewards you can receive. Typically, you can use your rewards in several ways.
What Is the Chase Ultimate Rewards Program?
One of the most valuable loyalty programs around, Chase Ultimate Rewards, is a flexible program that lets you redeem points for cash back, travel booked and lots more. If you have a Chase Ultimate Rewards card and you pay an annual fee, you can use your card to transfer your points for hotel stays and airline travel.
Earn More Perks From Your Credit Card
Which Cards Make Up the Chase Trifecta?
With Chase Ultimate Rewards, you can maximize your earnings and cash redemption strategy. Chase offers more than 20 rewards cards. Three of Chase's credit cards that can give you the most value across different spending areas are Chase Freedom Unlimited, Chase Sapphire Reserve and Ink Business Preferred.
Take a look at each of these cards and see how they can fit into your Chase trifecta rewards strategy and unleash a boatload of value in many spending areas.
Feature
Chase Freedom Unlimited
Chase Sapphire Reserve
Ink Business Preferred
New cardmember offer
$200 bonus and 5% cash back on groceries
$50, bonus points in the first 3 months after spending $4,000 on purchases
$100,000 bonus points in the first 3 months after spending $15,000 on purchases
Benefits
Cash back offered:
-5% on travel
-3% on dining
-1.5% on other purchases
-Earn 5 times the total points on flights
-10 times the points on hotels and car rentals purchased through Chase Ultimate Rewards after spending the first $300
-$1,000 cash back or $1,250 toward travel rewards redeemed through Chase Ultimate Rewards
-Earn 3 times the points on shipping and other business categories
APR
-0% intro for the first 15 months on purchases as well as balance transfers
-14.99%-23.74% after the introductory period ends; balance transfer fees apply
16.99%-23.99% variable APR
15.99%-20.99% variable APR
Annual fee
$0
-$550
-$75 for each authorized user
$95
How Chase Trifecta Cards Work Together
You can use the Chase Freedom Unlimited, Chase Sapphire Reserve and Ink Business Preferred credit cards together to create a comprehensive rewards strategy. Each has its spending perks:
Use your Chase Freedom Unlimited card for purchases that won't earn you bonus rewards when you use them with your other cards.
Use your Chase Sapphire Reserve card for dining and travel purchases.
Use your Ink Business Preferred card for any business expenses (except travel).
These cards offer benefits on their own, but you may wonder how you can use them together to maximize your rewards. Here's an example of how to do it.
How To Use The Chase Trifecta Cards Effectively
Combine all of the points you earn with the Chase trifecta cards to redeem them for 1.5 cents each through the Chase travel portal or transfer your points to one of Chase's travel partners.
Earn More Perks From Your Credit Card
When you use points from your Chase Sapphire Reserve Card or combine your Chase Ultimate Rewards points from any other Chase card, you can earn 1.5 cents each toward travel reservations when you book them through Chase.
You can take advantage of this additional 20% savings value when you redeem your Chase points. Be sure to book your reservations through the Chase portal instead of transferring your points to one of Chase's 10 airline partners and three hotel partners.
Ways To Maximize Your Chase Trifecta Rewards
Here are some guidelines on how you can use your Chase trifecta credit cards to maximize your earnings on the Chase Ultimate Rewards portal.
Getting the Most Out of the Chase Trifecta

When you're ready to redeem them, transfer all of your points to your Chase Sapphire Reserve credit card. These points are worth 1.5 cents each, which you can use to book travel, including hotels and flights, on the member portal.
For all business expenses except for travel, use your Ink Business Preferred credit card.
Who Qualifies for the Chase Trifecta?
Using the Chase trifecta can be tricky. You have to simultaneously balance multiple credit cards while paying your balances in full and on time each month. And two of the cards come with annual fees.
To pull off this balancing act, you need to have a solid credit history before you apply for the Chase Ultimate Rewards program. Generally, you'll need a 670 or higher credit score to be eligible. Chase also looks at your credit report and income in addition to your FICO score when determining your eligibility.
To qualify for the Chase Ink Business Preferred credit card, businesses need to have been operating for three or more years to be eligible to apply using a business credit score.
If you are self-employed, a freelancer, unincorporated or have no credit in your business's name, you can still apply for the Chase Ink Business Preferred credit card based on your personal credit history and score.
Added Benefit of Using the Chase Trifecta
If you plan on making a large purchase soon, such as a vacation or household furniture, then you should start by applying for the Chase Sapphire Reserve credit card first. This card has the highest minimum spending requirement, which can equate to larger points values.
Getting the Chase Sapphire Reserve credit card first also has a major advantage — reimbursement of the $100 Global Entry application fee. When reentering the United States from abroad, Global Entry expedites your clearance and processing through U.S. Customs.
Since the Global Entry application process can take several weeks, you can start with the Chase Sapphire Reserve credit card and use your points for international travel when your Global Entry is approved.
TSA Global entry is good for five years, and this perk can offset the $550 annual Chase Sapphire Reserve credit card fee.
Chase Trifecta vs. American Express Trifecta
American Express also has a trifecta consisting of its American Express Platinum, American Express Gold and American Express Blue Business Plus credit cards.
A big difference between the two trifectas is that Chase's points are more versatile than American Express. Another disadvantage of the American Express trifecta is unlike with Chase, you can't transfer points from one household member to another.
Helpful Hint

Chase has several rewards cards to choose from. Compare all options when using your Chase Ultimate Rewards in conjunction with Chase's rewards credit cards to be sure that you get the maximum value out of the program.
If you want to truly maximize your credit card rewards, try using the Chase trifecta to increase your spending power. Whether you are a frequent flyer or a frequent shopper, you can win with Chase trifecta. Be smart about your spending. And, as a good rule of thumb — arm yourself with the proper knowledge before starting.
Editorial Note: Any opinions, analyses, reviews or recommendations expressed in this article are those of the author's alone, and have not been reviewed, approved or otherwise endorsed by any card issuer.
Editorial Note: This content is not provided or commissioned by the bank advertiser. Opinions expressed here are author's alone, not those of the bank advertiser, and have not been reviewed, approved or otherwise endorsed by the bank advertiser. This site may be compensated through the bank advertiser Affiliate Program.
Our in-house research team and on-site financial experts work together to create content that's accurate, impartial, and up to date. We fact-check every single statistic, quote and fact using trusted primary resources to make sure the information we provide is correct. You can learn more about GOBankingRates' processes and standards in our editorial policy.