Gas Stations Like Arco Are Illegally Charging You Every Time You Pay with a Card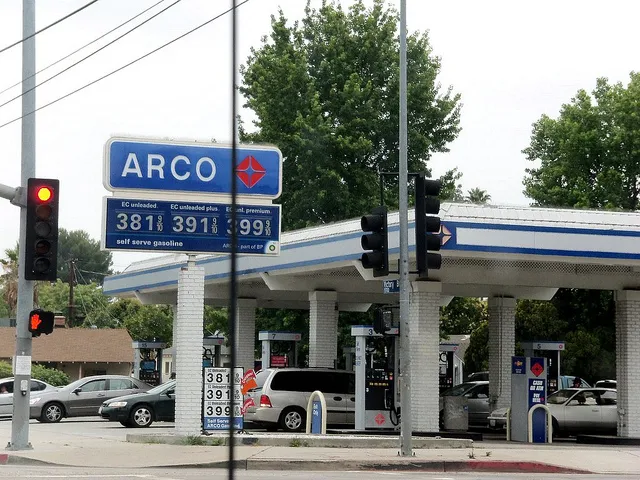 One morning, not too long ago, I stopped at the Arco down my street to get gas before heading to work. As I swiped my Visa debit card at the pump, a message prompted me to approve the required $0.35 charge for using a card. Like I have a choice. Hitting the green "yes" button, I accepted the charge to my bank account and filled up.
Fast forward a couple of hours, and it was breakfast time. I walked over to the small cafeteria next to my office, which serves as the one and only spot to grab food or coffee without leaving the building. Ugh, no cash! The woman who owns the business requires a minimum $5 purchase to pay with a card, so I grabbed a drink I didn't really need to meet the minimum and swipe my debit card once again.
I probably spent an extra $1 that day for the ability to charge my debit card — not a lot, but I'm subjected to similar fees and minimums on an almost daily basis. Then I found out I have been illegally charged those fees all along.
While recent laws have been put in place granting merchants more freedom to offload the cost of processing credit card transactions on their customers, none of these laws apply to debit cards. Even so, plenty of establishments are taking advantage of confusion over changing rules and their customers' general lack of awareness by imposing the same fees and minimums on debit transactions.
New Law Eases Credit Card Processing Fees for Merchants
A seven-year dispute over interchange fees between merchants and credit card issuers finally came to an end on January 27, 2013. Big banks and credit card networks, Visa and MasterCard, merchants argued, were charging unfair credit card processing fees and violating antitrust laws. The settlement that was ultimately reached included a $7.2 billion payout to merchants, making up for a bulk of the credit card processing fees they had been fronting, as well as a temporary reduction of interchange fees.
Another major component to the settlement, however, involved implementing new laws that allowed merchants to begin imposing "checkout fees" on customers who pay with credit cards, putting the cost of credit card processing fees on the buyer, rather than the seller.
According to NBC News, this surcharge is supposed to be equal to the cost of processing a credit card transaction — generally about 1.5 to 3 percent of the total purchase amount. The settlement dictates that merchant fees can't exceed 4 percent, nor can they charge similar credit card processing fees to debit card transactions.
Merchants Skirt the Law
Amad Ebrahimi of MerchantMaverick.com explained that ten states still prohibit these surcharges (which include California, Colorado, Connecticut, Florida, Kansas, Maine, Massachusetts, New York, Oklahoma and Texas), though "the laws are grey in that area, and vary on a state by state basis."
For example, California does not allow surcharges, but does allow for cash discounts. This means that essentially, a gas station, liquor store or similar establishment may not be able to charge more for credit card payments, but it can advertise a cheaper rate for cash-paying customers.
Indeed, California law, according to the Visa website, dictates:
"No retailer…may impose a surcharge on a cardholder who elects to use a credit card in lieu of payment by cash, check or similar means…"

Statute: Cal. Civ. Code § 1748.1(a) (West)

Discounts for Cash Payments are allowed in California

"A retailer may, however, offer discounts for the purpose of inducing payment by cash, check or other means not involving the use of a credit card, provided that the discount is offered to all prospective buyers."

Statute: Cal. Civ. Code § 1748.1(a) (West)

Statutes cover: Credit Cards only

Statute: (Cal. Civ. Code § 1747.02(a) (West) (defining "credit card"))
Statutes are very similar for the other nine states. Even so, my local Arco in Los Angeles is just one of the many establishments that imposes a fee to swipe plastic, despite the practice being outlawed in the state.
Merchant Fees Apply to Credit Card Charges Only
Further, in states where checkout fees are allowed, they may only be applied to Visa and MasterCard transactions, and only to credit cards. Debit cards are exempt from credit card processing fees, though merchants who impose them generally do so across the board, for any form of plastic.
Laws also dictate that merchants who choose to charge for credit card transactions must notify their customers by posting a sign at the front of the store, as well as discloses any fees at the checkout counter and on the receipt.
Same Rules Apply to Credit Card Minimum Charges
Instead of adding to credit card charges, some merchants will simply require a minimum purchase amount to swipe a card. While the practice has been made legal in recent years — up to $10 — representatives from both Visa and MasterCard have stated that minimums may not be imposed on debit card transactions, only credit. Again, it's a rule most consumers aren't aware of, and one that is rarely followed or enforced.
A Double Whammy
To make matters worse, customers are likely being double charged when swiping their cards at a number of businesses.
It's no secret that while merchants fought the battle over interchange fees, they also built these costs into their pricing. Edgar Dworsky, founder of ConsumerWorld.org, told NBC News, "It's predictable what's going to happen. We're at the top of the hill and we're going to start going down that slippery slope."
Unless merchants roll back prices, their customers will be paying twice. For debit users who shouldn't even be charged credit card processing fees in the first place, it is an especially aggravating and expensive practice.
How to Fight Illegal Debit Card Fees
So what can scorned card users who have been paying illegal credit card processing fees do? Visa suggests anyone who is subjected to checkout fees in a state where they're prohibited report the retailer to their state attorney general's office.
G. Keith Evans, Communications Director for MyUS.com, recommended that consumers who are faced with merchants who illegally impose a minimum purchase or surcharge call the customer service number on the back of their card.
"Banks that issue these cards are obligated to report infractions like these to Visa or MasterCard, who will quickly take action," Evans said. "Depending on the merchant's specific agreement, disciplinary actions can range from warnings for a first offense to hefty fines for a second offense," he explains, adding that additional offenses can result in a merchant losing the ability to accept credit cards at all.
Bakka Karriem, a Jamaica, N.Y., resident who is constantly faced with these illegal fees, turned to a number of local sources for help. "From Hair Supply Stores, 99¢ Stores, clothing and shoe stores, they all do it … I simply call or log on to the Better Business Bureau, Consumer trade commission and even the city and state mayor's office to get the ball rolling fast and furiously," Karriem said.
Although I struggle with the idea of possibly putting my local mom and pop out of business because I have to pay a little extra to swipe my card, the bottom line is that it isn't right for business owners to impose the cost of doing business on their customers.
Not to mention, plenty of big companies (like gas stations) are guilty of the practice as well, and the "slippery slope" Dworsky warned of is only getting slicker.
Fortunately, most merchants would rather eat the cost of interchange fees in order to retain their customer base and keep cardholders happy. Even so, plenty of others are willing to manipulate the law, but it's up to their customers to call them out.
Photo credit: Clotee Pridgen Allochuku