Hilton Points Value: What Are They Worth?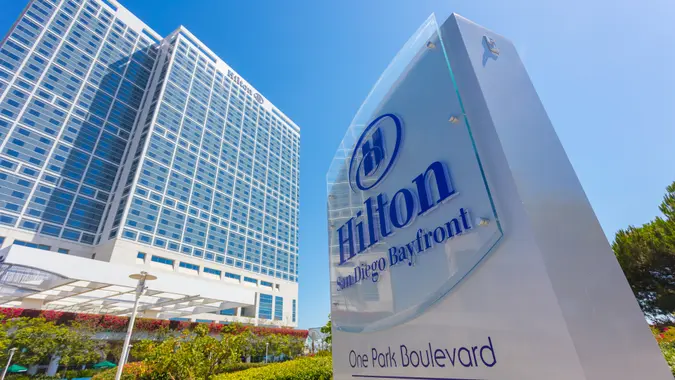 LPETTET / iStock.com
Since its founding in 1919, Hilton has grown to be one of the largest hotel and resort brands in the world. The company currently owns and operates 7,061 properties under 18 brands across 123 countries.
Hilton rewards customer loyalty through its Hilton Honors rewards program. Members of this program earn two Hilton Honors points for every dollar they spend when they stay at Hilton properties.
Unfortunately, Hilton doesn't share the exact value of its points, so you may be wondering, "What's the dollar value of a Hilton Honors point?" Hilton points value typically ranges from 0.31 cents to 0.39 cents per point, with the average being 0.372 cents. Their value varies depending on the property you redeem your points to stay at.
What Is the Hilton Honors Points Value?
Hilton doesn't share the true value of its points. Moreover, every Hilton property comes with its own pricing, both in terms of cash and points. Here are some examples of point values at some of Hilton's properties across the United States:
Embassy Suites, Downtown Orlando: You can stay at Embassy Suites in Downtown Orlando for as little as 42,000 points per night. Rooms generally start at $160 per night, giving each point a value of 0.38 cents when you use them at this property.
Hilton Garden Inn, Times Square: A room at the Hilton Garden Inn located in Times Square in New York City costs 79,000 points per night. If you pay cash, you'll pay about $246 per night. That gives points a value of 0.31 cents each.
Hampton Inn, San Francisco: You can use 43,000 points to book a room in the Hampton Inn San Francisco. Pricing for rooms starts at $169, meaning one point at this property is worth 0.39 cents.
The Porter, Portland: You can book a room in The Porter hotel in Portland for 32,000 points per night. Rooms in the hotel start at $124 per night. That works out to a value of 0.39 cents per point.  
The Gabriel, Downtown Miami: A room at The Gabriel in downtown Miami costs 58,000 points per night. You'll pay $224 if you pay cash for the same room. That means the value of one point at this hotel is 0.39 cents.
What Is the Average Hilton Honors Points Value?
To find the exact average value of Hilton Honors Points, you would have to determine the points value of over 7,000 hotels in the Hilton network, because the value of Hilton Honors points varies from one hotel to the next. The average value of Hilton Honors points across the properties assessed at time of writing was 0.372 cents each. However, your Hilton points value may be significantly higher or lower, depending on your destination. 
How To Estimate the Average Hilton Honors Points Value
You can take the following steps to estimate the average value of Hilton points.
Find five hotel offerings and their points value: Start by searching Hilton's website for five hotel offerings. Determine how many points you would need to spend to stay at each property for one night.
Find the cash value: Find the lowest potential price for the same rooms you found in step one — you can do this by comparing prices directly from Hilton and those on hotel search engines, such as Expedia or Priceline. 
Determine point value per location: For each hotel room, divide the cash value found in step two by the number of points found in step one. 
Find the average: Add all the results from step three together, then divided the answer by five to produce an average value per point.
How to Determine the Value of Points for a Specific Trip
Each Hilton Hotel has its own pricing and point value, so if you want to determine how much value you're getting from your points, you'll need to do a bit of math. Here's the formula:
Point Value = Room Price / Points Required
For example, if you book a $135 room for 39,000 points, the equation looks like this:
0.35 Cents = Point Value = $135 / 39,000 points
Can You Buy Additional Hilton Honors Points?
You can buy additional Hilton Honors points on the Hilton website, but you probably won't save money by doing so. Hilton Honor Points cost one cent per additional point. Points, on average, are worth 0.372 cents, so you will pay nearly three times the value of those points if you buy them individually. You are more likely to save money by paying cash.
If you don't have enough points to book the room you want, consider paying for the room in cash and saving your points until you have enough to redeem them for a different booking. However, if you're only a few points away, it may be worth it to spend a few cents to book your room using your points.
Final Take
The Hilton Honors program is a great way to get rewarded with free hotel stays and other perks, especially if you frequent Hilton properties. The best part is that it's free to join the program. Sign up on the Hilton website to start earning points toward free hotel stays — just don't expect to earn that free room quickly.
FAQ
Find the answers to some of the most common questions about Hilton Honors rewards points below.
How much are 50,000 Hilton points worth?

Considering the average value of Hilton Honors points is 0.372 cents, 50,000 points are worth about $186. However, the actual value of 50,000 points varies depending on which hotel you book.

How much are 100,000 Hilton points worth?

At 0.372 cents per point, 100,000 Hilton points are worth about $372. However, the actual value of your points depends on which hotel you book.

What is the value of 20,000 Hilton points?

20,000 Hilton points are worth approximately $74.40.

What are my Hilton Honors points worth?

The value of your Hilton Honors points varies for each location. Points are typically valued between 0.31 and 0.39 cents.
Information is accurate as of Dec. 14, 2022. Points value was determined by comparing the cost of a hotel room in Orlando, FL; Miami, FL; New York, NY; San Francisco, CA; and Portland, OR in points versus in dollars. Value varies by location and time.
Editorial Note: This content is not provided by any entity covered in this article. Any opinions, analyses, reviews, ratings or recommendations expressed in this article are those of the author alone and have not been reviewed, approved or otherwise endorsed by any entity named in this article.