How Your Credit Card Debt Compares to the Average American — and How To Improve Your Situation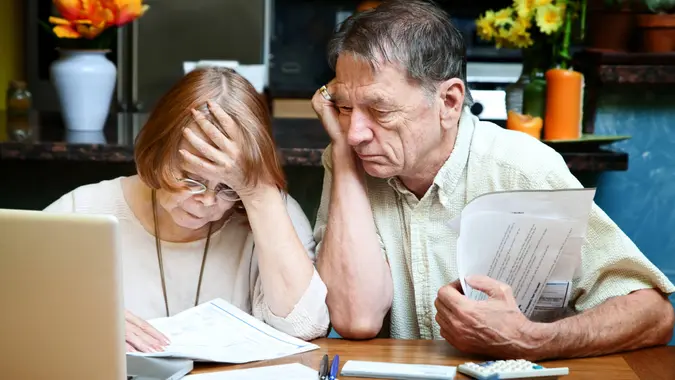 ©Shutterstock.com
Credit cards can have numerous benefits. They're convenient when covering expenses in a pinch and often provide more consumer protection than debit cards. Plus, many credit cards have generous perks that can help stretch your money further.
But high credit card balances mean substantial interest charges. The average American has over $5,000 in credit card debt. With interest rates soaring, the benefits of using a credit card don't outweigh the costs for the average American. If you fall into that category, things might seem overwhelming or even hopeless.
But that couldn't be further from the truth. With the right steps and some dedication, it's possible to improve your relationship with credit cards. As you work to pay off your balances, you will pay less interest per month, making it easier and easier to make progress.
Average Credit Card Debt for Americans
According to a press release from TransUnion, the average American had $5,474 of credit card debt in Q3 2022. That figure is up 13% from last year. However, this is just an average for all Americans. When you break things down further, such as by age and gender, there can be some significant differences.
Average Credit Card Debt by Age
When analyzing credit card debt by age, we find that debt increases until people are middle-aged. After that, it begins to drop. Below is a look at average credit card debt by age using 2021 data:
| Generation | Average Debt |
| --- | --- |
| Gen Z (18-23) | $2,312 |
| Millennials (24-39) | $4,569 |
| Generation X (40-55) | $7,236 |
| Baby boomers (56-74) | $6,230 |
| Silent generation (75+) | $3,821 |
Average Credit Card Debt by Gender
The difference in credit card debt between men and women is much smaller than the differences across age groups. The average credit card debt is $6,357 for men and $6,232 for women.
Tips for Improving Your Situation
Are you one of the millions of Americans saddled by credit card debt? While the situation can feel overwhelming, the steps below can help you improve things.
Start a Budget
If you don't already have a budget, starting one should be one of the first things you do. Why? Because it will help you find out where your money is going and control your spending. There are many budgeting tools available, from tools offered by your bank to smartphone apps. Once you find one that suits you, continue using it and plug holes in your budget as needed.
Then, you can redirect that money toward credit card payments. As you reduce your balances, you'll pay less interest over time. Hence, there will be a snowball effect that will make it easier and easier to make progress on your debt payoff. Payment history and credit utilization are two key credit score factors, so this step also can help you raise your credit score.
Ask for a Rate Reduction
One of the biggest problems with credit card debt is it becomes a vicious cycle. Because annual percentage rates (APRs) on credit cards are high, it can be challenging just to pay the interest each month. One way to address this is to ask for a rate reduction. Maybe you missed a payment or two in the past. But if you've been making your payments consistently for a while, the bank might be willing to lower your APR. That means less interest each month, which will make it easier to chip away at your balances.
Use a Balance Transfer Card
Balance transfer cards are useful if you've saved up a lot of cash and can quickly pay down your balances. They sometimes have a 0% APR for a year or longer, which can be a big help if you have significant credit card debt. This lets you consolidate your credit card debt and pay it off with little to no interest. Of course, approval isn't guaranteed, and you often must pay balance transfer fees. Still, this can be worthwhile as a short-term debt payoff strategy.
Get a Low-Interest Credit Card
Low-interest credit cards are another way you might be able to reduce the total amount of interest you pay. While balance transfer cards can help with this, their APRs are sometimes not so low after the introductory period. But low-interest credit cards can help you keep your interest rates low even after you've consolidated your credit card debt. Plus, many of these credit cards are great choices overall for everyday spending.
More From GOBankingRates