How Credit Card Use Has Changed Amid the Pandemic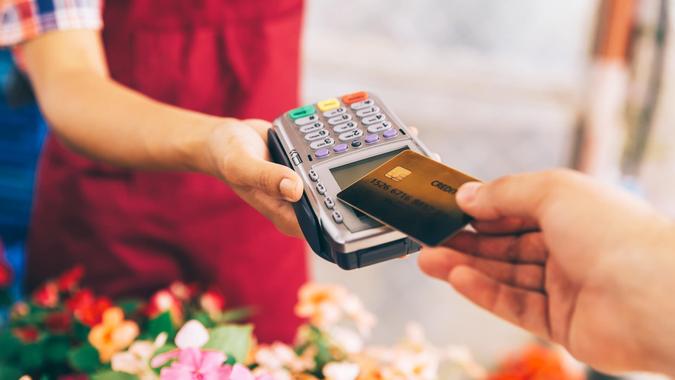 valentinrussanov / Getty Images
The pandemic hasn't only changed what we spent our money on, it has changed how we spend it. We shop online more, which could lead one to think that we used credit cards more, but in fact, in 2020 there were less active credit card accounts overall than in 2019. 
Find Out: Which Is Smarter: 'Buy Now, Pay Later' or Credit Cards?
Closing a Credit Card? Here's What You Should Do Instead
"The number of credit card accounts dipped in 2020 by around 2 million," said Chris Motola, financial and credit card analyst, MerchantMaverick.com. "While it's not entirely clear why, there's a pretty good chance this had to do with a combination of banks tightening their lending standards and customers being more cautious about taking on debt. So it's possible we had a contraction both in supply and demand during the pandemic. This is a pretty sharp reversal from preceding years. The numbers do appear to be back up for 2021, however, albeit the rate of growth doesn't appear to be as high as in 2018 and 2019."
Our credit card spending behavior changed in other ways, too. Here's a look at what industry insiders and finance experts have found in regards to how the pandemic changed our relationship with credit cards. 
Check Out: How To Safely Get Back Into Using a Credit Card If You've Had a Bad Experience With Debt
Card-Issuing Banks Cut Credit Lines
The fact that credit card usage dropped off during the pandemic may have less to do with consumer choice and more to do with what was going on behind the scenes on the lender side. 
"During the beginning of the pandemic, card issuing banks began cutting credit lines and closing accounts for cardholders," said Cristopher Carillo, co-founder of Allied Payments. "This was a precautionary measure by the banks to reduce their potential liability."
Read: The Top Things To Consider Before Applying for a New Credit Card
Touchless Payment Options Became More Popular
"While usage was down overall in 2020, one area that saw growth was 'touchless payments,'" Motola said. "This is a category that includes both payments through mobile apps and NFC (near field communication) payments. Much of this can be attributed to merchant behavior, as many upgraded their POS systems during the pandemic as a marketing tactic for nervous customers. Apple Pay is currently the leader in mobile payments, followed by Starbucks, Google Pay and Samsung Pay, respectively."
Find Out: 10 Signs That It's Time To Ditch Your Credit Card
Debit Cards Gained Market Share Among Card Users
"More consumers, 42 percent, prefer to pay with debit cards, followed by credit cards at 29 percent and cash at 23 percent, according to the latest data from the Federal Reserve," said Andrew Latham, a certified personal finance counselor and the managing editor of SuperMoney.com. "It may seem counterintuitive that debit cards continue to be more popular than credit cards even though the average credit score of Americans — at around 716 — is higher than ever."
The rise of debit cards is mostly a positive, particularly when considering the spectacular onus of consumer credit card debt in the U.S. 
"There is good reason for the popularity of debit cards," Latham said. "They provide many of the benefits of credit cards but lower the risk of falling into debt and getting stuck with high interest rates."
The only real con with debit cards is that "you miss out on the superior rewards and fraud protections you get when paying with a credit card," Latham said.  
Options: 10 Credit Cards To Consider for Travel Rewards
We Carried Less Credit Card Debt
"Consumers weren't carrying as much credit card debt in 2020 as they were in 2019," Motola said. "The average credit card balance was around $700 less than 2019. Purchasing volume was down for all the major credit card networks. The stimulus checks may have also helped customers pay down existing balances."
We Relied On Credit Card Perks More
"As the pandemic put pressure on supply chains and labor, traditional coupons and discounts became less plentiful, making the perks and rewards associated with private label and co-brand credit cards all the more appealing," said Val Greer, CCO at Alliance Data. "Alliance Data research shows that 55% of back-to-school shoppers that use credit used their card specifically to earn or redeem points, while 49% used their card to access a special discount or offer just for cardmembers.
"Customers are also drawn to the perks offered at acquisition, often applying for a new card to access a special offer," Greer continued. "To attract customers, brands must continue to provide engaging, convenient experiences and value props that offer distinct advantages to customers."
We're Shopping More Online — With a Credit Card
"Since the pandemic began, online shopping has been on the rise," said Nathan Grant, senior credit industry analyst with Credit Card Insider. "We did a survey in 2020 around the holidays and 51% of respondents indicated they'd rather shop online than in-store, an increase of 16 percentage points compared to last year. Of those, over 57% said they preferred using a credit card for payment."
Credit Card Usage Is Still Down
"Credit card use is still down compared to pre-pandemic numbers," said Jake Hill, CEO of DebtHammer. "You'd think it would go up, but many Americans saw the writing on the wall and prioritized saving so they weren't forced to rely on credit. Others took advantage of the stimulus payments and increased UEI. These factors allowed more Americans to focus on refinancing with their credit, using one card to pay down a higher interest account."
More From GOBankingRates
Last updated: Oct. 8, 2021