AAA Member Rewards Visa Credit Card Review: Simple, Flexible Rewards System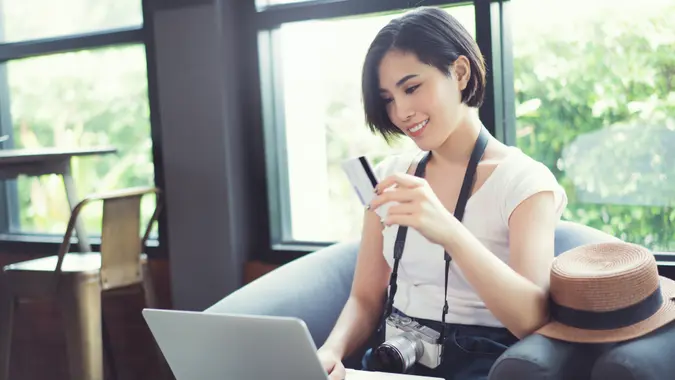 torwai / Getty Images/iStockphoto
Update: Some offers mentioned below may have changed or are no longer available. View current credit card offerings from our partners at CardCritics Here or on the issuer's website.
The AAA Member Rewards Visa credit card offers travel-friendly perks such as common carrier accident coverage, supplemental collision damage coverage and 3 percent cash back on certain travel purchases. If you travel often for business or leisure — or are a current AAA member — this rewards credit card might be a good fit for you.
Here's a look at the various features and benefits of the AAA Member Rewards Visa credit card:
AAA Member Rewards Visa Credit Card at a Glance
Introductory Offer
$75 statement credit after spending $500 within 90 days of opening the account
Purchase APR
14.99% – 24.99%, depending on creditworthiness
Balance Transfer APR
0% intro APR for the first 12 months, then 14.99% to 24.99%, depending on creditworthiness
Rewards

3x points, or 3 percent cash back, on eligible AAA or travel expenses
2x points, or 2 percent cash back, at drugstores, gas stations and grocery stores
1x points, or 1 percent cash back, on all other purchases

Fees

No annual fee
No foreign transaction fees
Up to $38 for late payments
Up to $27 for returned payments

Rates accurate as of Sept. 7, 2018.
Find Out: Best Credit Card Offers, Deals and Bonuses
What You Need to Know About the AAA Member Rewards Credit Card
Credit card customers participate in the Member Rewards program for free. AAA credit card rewards points can be redeemed for AAA Approved Auto Repair vouchers, AAA travel vouchers, cash back or statement credits, which allows for versatility.
If you take advantage of AAA credit card rewards in tandem with the many discounts that AAA offers, you might be able to save a lot of money.
Best Features of the AAA Member Rewards Credit Card
This AAA Visa card offers a simple yet flexible rewards system. The bonus categories for triple and double points don't change, and points won't expire for five years. As a plus, the AAA Member Rewards Visa credit card doesn't cap rewards — there are no annual limits, so you can earn points on every purchase no matter how many you make.
You can also rest assured with this AAA credit card's $0 liability guarantee, which ensures you won't be responsible for fraudulent charges if your card gets stolen.
Additional Considerations of the AAA Visa Credit Card
The AAA Member Rewards Visa credit card comes with 24/7 customer service as well as easy AAA membership renewal. With 36 clubs as well as over 1,000 local offices, AAA has a wide-reaching network that could prove useful to members who frequent the roads.
AAA Member Rewards Credit Card Designed for Travelers
If you find yourself traveling or calling AAA on a regular basis, you might be able to reap significant rewards from this AAA Visa card's triple-point bonus category for eligible travel and AAA purchases. Travelers will also benefit from the lack of foreign transaction fees as well as no annual fee. But, when applying for this AAA credit card, bear in mind that good to excellent credit is required for approval. Also, if you're seeking a credit card with a 0% introductory APR for purchases — which the AAA Member Rewards Visa lacks — there are other cards on the market with stronger introductory offers.
Click through to discover the best low-interest credit cards.
More on Credit Cards
Credit card information was sourced from the Automobile Club of Southern California, which is a member club affiliated with the AAA national federation.
This content is not provided by the companies mentioned. Any opinions, analyses, reviews or recommendations expressed in this article are those of the author alone and have not been reviewed, approved or otherwise endorsed by AAA or Visa.