Cash Back Rewards in High Demand — How To Maximize Credit Card Points as Companies Compete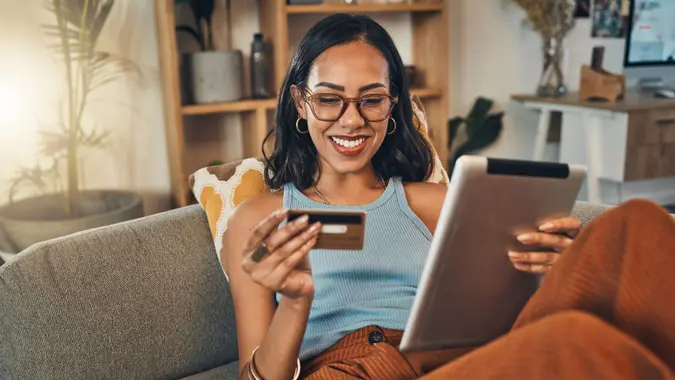 PeopleImages / Getty Images/iStockphoto
A little reward can go a long way toward making consumers happy. Per Fox Business, a new survey conducted by fintech platform Wildfire Systems found that a huge majority of respondents — 90% — are looking for discounts, coupons and especially earning cash-back rewards for all their shopping needs due to rising costs. "Additionally, 63% of respondents expected to receive online shopping rewards from their credit card issuers," the survey indicated. "Rewards programs have become critical to driving customer engagement and retention, as well as online retail revenues," Fox Business detailed.
As well, the Wildfire System survey found that "8% of respondents ranked the ability to earn cash on purchases as their number-one preferred method of receiving rewards," and that 85% of respondents wanted banks to offer the same type of cash-back opportunities for online shopping. In fact, the potential for cash-back rewards on online purchases placed as one of consumers' "top considerations" when choosing a bank.
As such, many banks and credit card companies are responding in kind, expanding their programs or introducing new perks. GOBankingRates recently published a curated list of the top 10 Best Rewards Credit Cards for 2023. Among the criteria looked at were "annual fees, APRs, sign-up bonuses, ongoing rewards, accessibility, redemption options and more."
There are several ways to maximize credit card rewards, including:
Getting a sign-on bonus for new lines of credit.
Targeting category spending (ex. gas station, grocery store, or restaurant purchases) for cash or point multipliers.
Redeeming rewards through the issuer's portal.
Refraining from carrying a balance to avoid interest or late payment fees.
And if you want to have the opportunity to earn even more through retailers, check out GBR's guide to Cashback Monitor, which provides a long list of cash back and rewards portals on a regular basis.
More From GOBankingRates