No Annual Fee Credit Cards: What are the Disadvantages?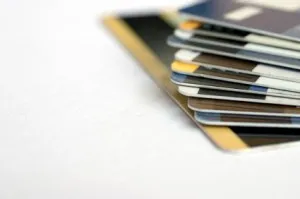 Credit card choices are plentiful, but there's a reason why so many choose a  no annual fee credit card. There are also alternative rewards credit cards where people may choose to pay an annual fee for the additional rewards they can earn.
Typically, credit card companies charge customers annual fees because they can, as they believe that consumers should pay for the luxury of using a logo-based card. More often than not, those with bad credit history get saddled with paying an annual fee. This money may discourage those with less than stellar credit from applying as well as encourage them to be on their best behavior because of the cost involved. Plus, it is also a way for credit card issuers to make a little extra cash in order to hedge the potential loss from credit risks.
More About No Annual Fee Cards
Even those with the best bookkeeping skills should keep a credit card handy for emergency expenses. For those with decent credit, selecting a no annual fee credit card is a way to do so without paying any immediate out of pocket expenses. With this type of card, lines of credit are provided to the consumer with no additional out of pocket expenses for the privilege. However, that does not mean that there are not disadvantages to selecting a no annual fee credit card to include in your arsenal of financial tools.
It is important to realize that credit card issuers are not in business to be nice, they want to make a profit. If card issuers provide you with a no annual fee credit card, you have to make sure that there are no additional charges you will be saddled with later on. High interest is typically the largest disadvantage of no annual fee credit cards. Making purchases and taking cash advances with your no annual fee credit card will cost you more because of the substantially higher interest rates charged for the transaction. Additionally, since the new Credit Card Reform Act has finally passed and started to go into effect, issuers may charge new fees in order to make up budget gaps.