Nearly 1 in 3 Americans Don't Know Their Credit Score: Why You Should Check Yours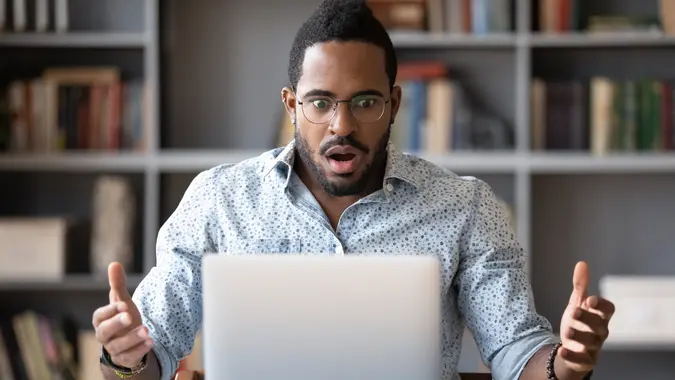 When we're born, we get a Social Security number, and it's arguably the most important number of our lives. But there's a close second, which we get later in life: a credit score.
Though this number — prone to change over the years or even months — is of huge importance, many people are in the dark about it. According to a new survey conducted by BadCredit.org, nearly one-third (31%) of Americans don't know their credit score.
Since everyone should know their credit score, this isn't good news; but one thing to avoid is guilt over not knowing your credit score — or being unaware of just how important this fluctuating number is.
"Some Americans don't know their credit scores or much about their financial standing because our financial system, particularly our credit system, is complicated and nuanced," Lamine Zarrad, CEO and founder of credit-building tool StellarFi.
A Credit Score Is a Financial Snapshot of Your Debt Management History
Though it's not necessarily your fault for not being more in the loop about your credit score and all that it represents and ties to, it is your responsibility to get on top of this matter and know your credit score — always.
Why is it so important to know your credit score? Because, for one, it's a kind of up-to-date portrait of your worthiness to lenders. It captures how efficiently you've managed debt thus far.
"Your credit score is essentially a snapshot into how responsibly you have managed debt in the past," said Kendall Meade, CFP at SoFi. "This gives lenders an idea of how likely you are to pay back any money you borrow or how risky it is for them to lend you money."
Credit Scores Inform Whether — And at What Rate — You Can Borrow Money
Your credit score both shapes and impacts your ability to borrow money — and the rate you will pay if and when you borrow said money from a lender.
"A good credit score will allow you to leverage debt strategically by having access to better rates and terms," Meade said. "A bad credit score will make your financial life more challenging, because when you need credit, you may pay higher rates and have worse terms. Even if you are not planning to use your credit for a while, it is important to check in and try to maintain a healthy credit score, because a bad credit score can take a long time to improve."
Checking Your Credit Score Can Help You Detect Fraud
Not only is a credit score a key indicator of your worthiness in the sense of debt management, it can also reveal fraud that's taken place in your name.
"Tracking your credit score can help alert you to possible fraud," said Matt Schulz, chief credit analyst at LendingTree.
"If your credit score drops significantly and you've done nothing to cause it, it may be a sign that you've been a victim of identity theft," Schulz said. "If that happens, immediately check your credit report at AnnualCreditReport.com to see if anything looks suspicious, and if it does, report it to the credit bureau ASAP."
It's Critical To Have a Good Credit Score
Having a good/high credit score is critical if you're looking to buy a home, lease a car, rent an apartment or even get a new credit card at a good rate. It shows lenders — including landlords and sometimes even hiring managers — that you are reliable and responsible.
"Your credit score will directly affect how much you'll pay for a loan and can help you get better interest rates on credit cards," said Matt Gromada, head of family banking at Chase. "Building credit is about creating good, consistent habits."
Check Your Credit Score Regularly (It Won't Hurt Your Credit)
Credit scores are updated fairly often — usually once a month, Zarrad said. Checking it as it's updated is a perfectly safe move to make.
"Simply checking your credit score won't hurt your score," Zarrad said. "You can sign up for a service that provides real-time alerts on your credit report, so you know when there has been a change."
How To Check Your Credit Score
Ready to finally find out your credit score? Here's what to do.
"You can monitor your credit score in many different places, like SoFi Relay," Meade said. "Tools like this can monitor your score on an ongoing basis and alert you to any changes without a hard credit inquiry. You can also pull a full credit report from each bureau once every 12 months from AnnualCreditReport.com. It is a good idea to check the full report and dispute any inaccuracies. Neither of these options will impact your credit score, and they are both free."
Information Is Power
You may be feeling nervous about finding out your credit score, particularly if you have a lot of credit cards and have a history of any — even just one — missed payment. But keep in mind that this information is power.
"When you know your credit score, you can take steps to improve it, find financial providers that better understand how to work with those with imperfect credit, and/or limit further damage to your credit," said Tim Schlueter, chief revenue officer at Avant.
How To Raise Your Credit Score
Additionally, if your credit score is suffering, there are ways to improve it. Gromada noted the following methods: 
Pay your bills on time and avoid making late payments. "This is the golden rule — one late payment can impact your score."
Build a credit history. "Having available credit — i.e., credit cards with available balance — will show you can be responsible with credit 'utilization,' and when you pay off your credit cards, keep the lines of credit open."
Pay down debts monthly in full. "Pay down your debts and avoid carrying high balances month to month. Not only will this help your credit score, but also, it will help you manage your spending every month."
More From GOBankingRates