Will Your Credit Score Increase When Medical Debts Are Wiped From Records by Experian and the Other Credit Bureaus?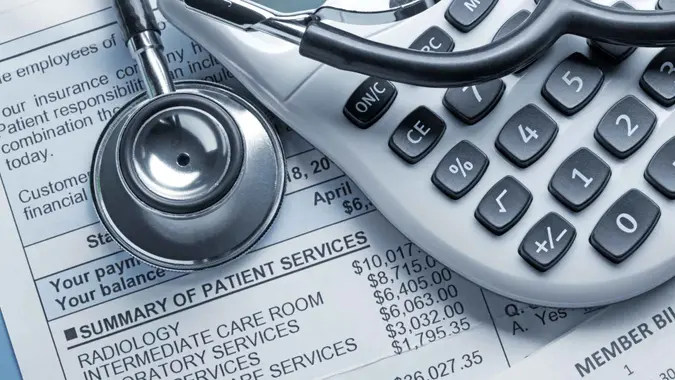 DNY59 / Getty Images/iStockphoto
Medical debt is a major source of financial stress in the United States. The Consumer Financial Protection Bureau estimates that at least $88 billion is reflected on Americans' credit reports, according to a 2022 report from the Kaiser Family Foundation. A separate KFF analysis of Census Bureau data found that as of 2020, one in 10 U.S adults had "significant" medical debt of more than $250.
Under certain circumstances, unpaid medical debt can have a negative impact on your credit score. But that is now less of a threat thanks to a new initiative from the three major reporting agencies — Equifax, Experian and TransUnion — to remove medical collection debt from U.S. consumer credit reports if the initial reported balance is less than $500.
The change, announced last week, means that nearly 70% of the total medical collection debt tradelines reported to the Nationwide Credit Reporting Agencies (NCRAs) are removed from consumer credit files.
One reason medical debt is being removed from credit files is that it is "generally not taken on voluntarily," according to a joint statement issued by the CEOs of Equifax, Experian and TransUnion.
"We are committed to continuously evolving credit reporting to support greater and responsible access to credit and mainstream financial services," the statement read, in part. "We believe that the removal of medical collection debt with an initial reported balance of under $500 from U.S. consumer credit reports will have a positive impact on people's personal and financial well-being."
The most recent announcement builds upon changes that went into effect last year. The NCRAs previously announced that as of July 1, 2022, all medical collection debt that has been paid by the consumer in full is no longer included on U.S. consumer credit reports.
In addition, the period before unpaid medical collection debt appears on a consumer's credit report was increased from six months to one year. This gives consumers more time to address their debt before it is reported on their credit file.
For some consumers, removing unpaid medical debt will have a positive impact on their credit scores.
As Experian noted in a blog last month, medical bills won't affect your credit as long they are paid. After that, a lot depends on how healthcare providers handle the debt. Most don't report medical debt to credit bureaus, which means your debt would have to be sold to a collection agency before it appears on your credit report. Most medical providers won't sell the debt to a collection agency until you are 60, 90 or even 120 days or more past due, according to Experian. It all depends on your specific healthcare provider.
Take Our Poll: Do You Think the US Should Raise the Medicare Tax on High Earners To Help Save the Program?
Even after your bill goes to collections, the account "won't show up on your credit report right away, or possibly ever," Experian noted. The three main consumer credit bureaus typically give you a 365-day waiting period to resolve any medical debt before the collection account appears in your credit history.
That doesn't mean you have carte blanche to ignore unpaid medical debt, however.
"Unpaid medical bills may take a long time to show up on your credit report, but the damage to your credit score can be long-lasting once they do," Experian stated. "Unpaid medical collection accounts over $500 can remain on your credit report for seven years after they become delinquent; however once they are paid, they will be removed from your report."
The best move is to pay your medical bills as quickly as possible — even with the new changes. As soon as you get a medical bill, Experian advised reviewing it to make sure it's accurate. If you see any discrepancies, contact your insurance company and health care provider to resolve them.
If the bill isn't covered by your insurance and you expect to have trouble paying it, Equifax suggested working with your medical provider to either reduce the amount owed or set up a payment plan. You can also check with local agencies to see if you qualify for financial assistance.
More From GOBankingRates