11 Expensive Home-Remodeling Mistakes to Avoid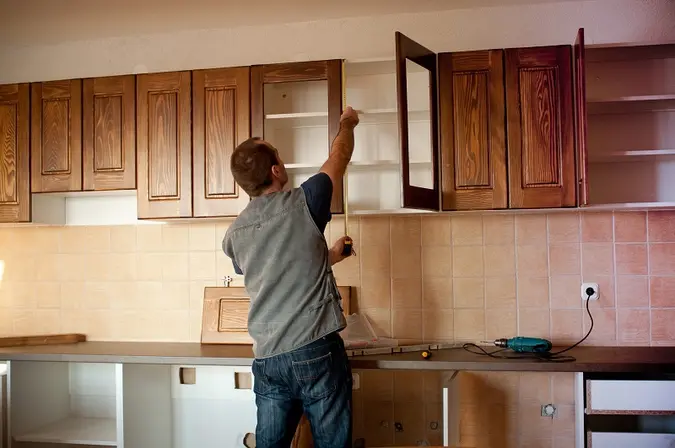 A good remodel should do more than increase the value of your home — it should increase the value of your life. But with the average new deck or bathroom remodel costing well over $10,000, controlling costs is essential to keep remodeling from becoming a financial nightmare.
While some mistakes will only set you back some pocket change, several blunders could generate thousands of dollars in waste. So make sure you avoid these 11 budget-busting home-remodeling mistakes because this is your home — and after the remodel, it should be your dream home.
1. Not Spending Enough
Ironically, cheaping out when it comes to remodeling could end up costing you much more money in the long run, even if everything goes to plan. "Do not cut corners," said Jonathan F. Macias, broker and officer of California's Macias Realty Group. "It sets the mood for the whole house."
For instance, according to online home improvement marketplace HomeAdvisor, you should spend between 5 percent and 15 percent of the worth of your home on a kitchen remodel. Spending more than 15 percent will be hard to recoup during resale, and spending less than 5 percent could lower the value of your home. Remodeling is just too much work to lose money.
2. Expecting to Profit From Remodeling
If you're thinking of remodeling because you plan to sell your house soon and you want to increase its value, you might want to rethink it. Most renovations do not recoup their value upon resale, said J.D. Crowe, president of Georgia's Southeast Mortgage. He advises every client thinking of remodeling to do their research.
One place he recommended is Remodeling Magazine's annual Cost Vs. Value Report. It details 36 popular remodeling jobs and gives average costs and average resale value for each. Here's a sampling: The average midrange bathroom addition cost $39,578 but only returned $22,875 on resale, a more than 40 percent loss. A midrange minor kitchen remodel ($19,266) fared a little better but still only returned 79 percent. In fact, the only profitable renovation on the list was the replacement of the front door, at 101 percent.
On the bright side, if those stats make you think twice, just think of all the money and hassle you just saved.
Read: 10 Best Home Improvement Apps
3. Not Getting Permits
Paperwork when you want to get to woodwork is a hassle. But following the rules and making the city, county or state happy now could save you a lot later, said Macias. "If the city officials become aware of the work being done either from your neighbors or driving by and there have been major additions and major work performed, nine out of 10 times they will make you demolish all of the work and redo it to compliance and with inspections," he said.
But not only will you be out the cost of the work you've completed, you'll have to pay for a demolition permit and be fined, said Macias. "It can total thousands of dollars in fees." So do the paperwork.
4. Automatically Going With the Lowest Bid
The lowest contractor bid might turn out to be more costly than you think. "Few of us buy the least expensive car or smartphone available on the market," said Christopher Hartz, a project architect with Alliance Architects of South Bend, Ind. "Generally, we are willing to spend a little more to get the upgrades or amenities that are important to us."
"Thoughtful planning, good design and quality construction come at a price, and rarely is it the lowest," Hartz said. Unfortunately, the lowest price can come at an even higher cost in the form of subpar work that decreases the value of your home or renovations that need repair or replacement sooner than they should. Choose your contractor based on more than just the number at the bottom of the estimate.
5. Not Ordering Extra Materials
Whether you're doing it yourself or hiring a contractor, make sure you count on 10 to 15 percent wasted materials and buy accordingly. Not doing so can cost you. First, you will have to reorder materials, possibly losing any discount you could have had for a larger order, said Macias.
"And the delays on the project will cost you in labor time for workers that need to come back to the site once materials arrive," he said. So whether it's chipped tile for the bathroom counter or miscut wood for the bedroom floor, order a little extra and sleep a little better.
6. Disregarding Little Things
We're not talking cabinet handles or doorknobs. We're talking the little things that can really add up. "Depending on the project, there can be sales tax, delivery charges, shipping charges, engineering costs, interest costs, permit fees, sewer and water tap fees," said Dean Bennett, owner of Dean Bennett Design and Construction in Castle Rock, Colo.
These can add hundreds or even thousands of dollars and are anything but insignificant, said Bennett. Also remember that material costs can change during your project. Consider that the price of oriented strand board doubled in 2003, in part because of the Iraq War, said Bennett.
7. Not Having a Contingency Fund
If there's one rule in remodeling, whether you or a professional is doing the work, it's that things will go wrong. And when they do, adjustments will have to be made or everything could come to a grinding halt.
"And even if you are 99 percent accurate — which [would be] amazing — that 1 percent inaccuracy will cost something," said Hartz. In fact, with average kitchens, bathroom and decks costing tens of thousands, that 1 percent could cost a lot. A more realistic 5 percent to 10 percent error could throw a financial wrench in your remodel.
Related: 5 Ways You're Decreasing Your Home's Value
8. Not Getting at Least Three Bids
There are more reasons than saving money to get three to five bids for any home renovation project. But money's a pretty good one. Another is that you can learn a lot about how realistic your budget is for the remodel you want, said John Bodrozic, co-founder of HomeZada, an online home management company.
If you can't afford the remodel you hoped for, now is the time to change plans and materials. Depending on the size of the project, finding out later could cost you hundreds to tens of thousands. Other reasons for getting multiple bids are to make sure you get a contractor you trust and with whom you can communicate.
9. Not Getting Details of the Contractor Quote
Imagine asking someone to build you a car, agreeing on a price and then discovering midproject that the steering wheel, seats and brakes will all cost extra. That might put a serious crimp in your summer vacation plans. For similar reasons, you need to see all line items in any quote from your contractor, said Bodrozic.
"Some bids are low because they may have forgotten — on purpose or just by mistake — some material or items on the project," he said. So don't settle for generalities. The devilish details might be the things that cost you the most.
10. Underestimating the Cumulative Effect of Changes
In layman's terms, it's called the domino effect, and whether you're a do-it-yourselfer or have hired a contractor, making changes midproject can crumble your renovation budget faster than a champion domino-tipper. "Moving the location of a wall, for example, may require dealing with an engineer, architect, permitting organization and subcontractors," said Bennett. Add in wasted materials, new blueprints, and lost time, and it could add up to thousands, he said.
Even what might seem like a small change could get expensive fast, he said. For instance, deciding on a different stove could require moving countertops, which could mean shifting a sink, which could mean new plumbing — and what about the electrical outlet that's in the way,  and so on. "Understanding the planning process up front eliminates surprises and can keep costs in check," said Bennett.
11. Not Getting a Contractor's Warranty Program in Writing
Your remodel or renovation is more than a work of art; it's meant to be lived in. And that means wear and tear — and then some. "If you have a good contractor, your remodel should look beautiful when finished, but there is always the inevitable leak, chip, crack, nail pop, cabinet door adjustment, etc., six months after the project completion," said Marcus Toconita, production director of Callahan Ward, a developer and home builder in Havertown, Pa.
Any reputable contractor should guarantee his or her work for a year, said his partner, Nino Cutrufello. Why a year? "Because you should have the chance to use your remodel through the different seasons of the year to see how the craftsmanship and materials react to changing temperatures and changing moisture conditions," said Cutrufello. After all, your dream home is meant to be a dream all year.