Insanely Amazing Homes You Can Actually Afford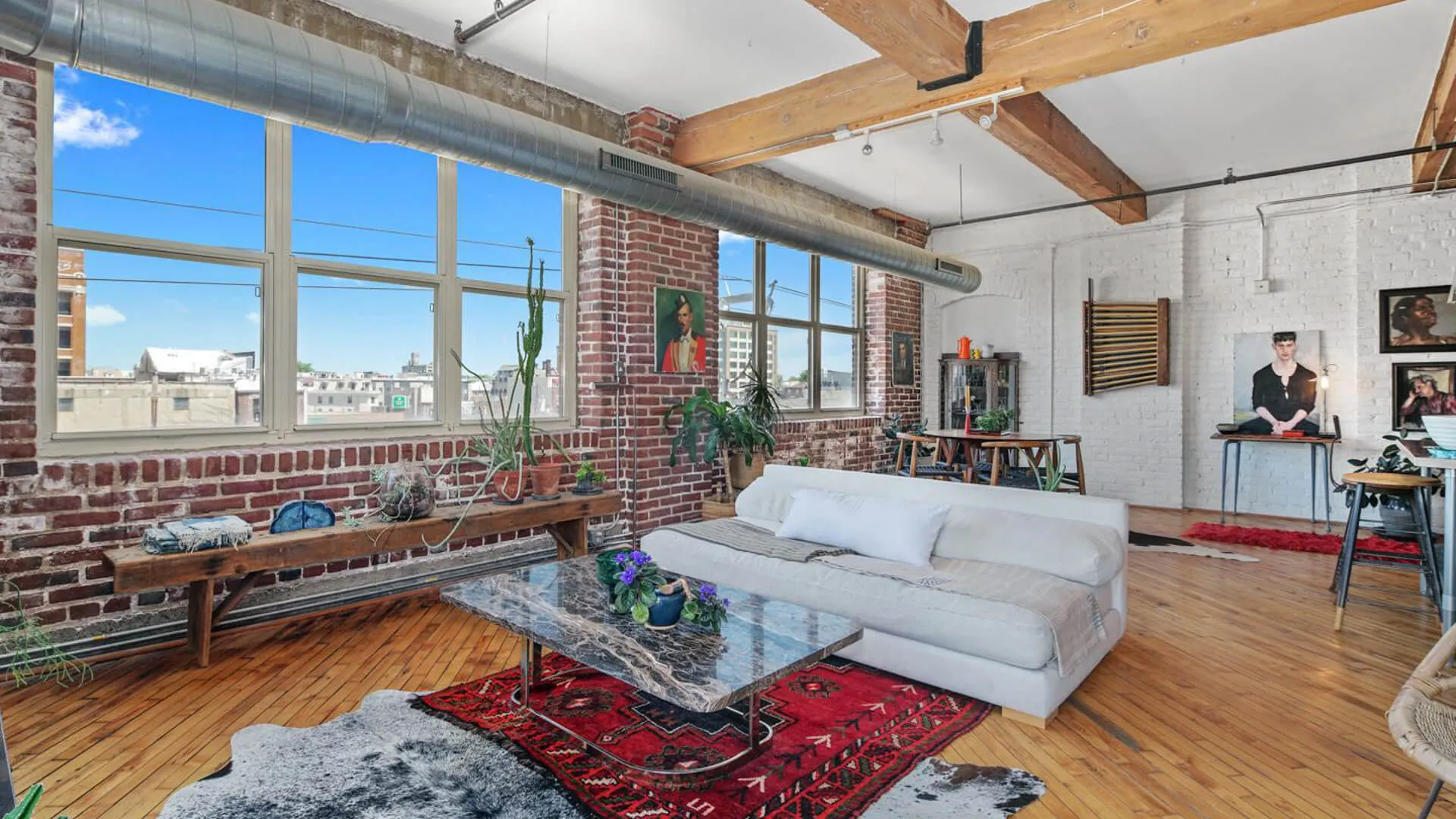 If you're aiming to purchase an affordable home, you might fear that you'll have to sacrifice comfort, style and space to hit your price point. Luckily, affordable homes can be gorgeous if you know where to look. These 14 homes prove that you can get high-end features at a manageable price point if you look in the right places.
Data is accurate as of July 17, 2019 and is subject to change.
Tudor-Style Twin Home in Philadelphia
Price:

$395,000

Home square footage:

2,040
This red-brick charmer in Philadelphia shows that a central location can be surprisingly affordable. It's nestled on a friendly tree-lined street mere blocks away from shopping, dining and the gallery scene on Germantown Avenue. It's the perfect blend of having your own tranquil retreat while having a city vibe just around the corner.
The Interior
Bedrooms:

4

Bathrooms:

2

Amenities:

Hardwood floors, a stone fireplace, stainless steel appliances
When you step inside, you'll feel right at home in the sunken living room with a high ceiling and mirrored wall that adds to the spacious feeling. You'll be able to picture yourself reading in front of the bay window or chatting with guests from the open kitchen as they relax in the dining room. The mix of textures adds interest and appeal, from the hardwood floors upstairs to the hardwood parquet floors in the living space, and the stone fireplace will keep you toasty on wintery nights.
Wooded Oasis in Round Rock, Texas
Price:

$395,000

Home square footage:

2,660 
The unassuming front of this brick home hides a secret in the back: a green oasis of plants and trees and a stunning greenbelt view. It's the perfect spot for relaxation in your own little bit of nature. The shady deck or sheltered porch are great places to have some family fun or individual "me time."
The Interior
Bedrooms:

3

Bathrooms:

2.5

Amenities:

 Oversized bedrooms, fireplace, stainless steel appliances
An open floor plan with abundant windows gives this home a spacious feeling. The cherry cabinets in the kitchen add warmth, as does the amazing see-through fireplace. The master bedroom is massive, with a separate tub and shower and plenty of room to primp and dress. Design your own use for the bonus room, which lends itself to playtime or home office use.
Darling Dollhouse in Saugus, Massachusetts
Price:

$359,900

Home square footage:

850 
This classic Cape Cod home boasts cheery white siding all around and a good-sized grassy backyard. Glass doors in the kitchen open out to where there's room to play, grill or socialize. If you've got a green thumb, bring your dreams to life with your own bright-colored blooms.
The Interior
Bedrooms:

2

Bathrooms:

1

Amenities:

 Recently renovated
You won't have to deal with interior stairs inside this dollhouse. It got a nice facelift in 2018, including a new water heater and heating system, bathroom and kitchen upgrades, and new windows and doors. The basement just got finished to add extra living space as well. The bright white kitchen will warm the heart of any cook.
Spacious Living in Fishkill, New York
Price:

$360,000

Home square footage:

1,560 
This sprawling Cape Cod home in Eastern Fishkill sits on a lot with a rolling green expanse of lawn in front and an in-ground swimming pool for summer fun in the back. A backyard deck adds to an exterior geared toward outdoor family fun. Head over for some fun in the village, which is mere minutes away.
The Interior
Bedrooms

: 4

Bathrooms:

2

Amenities:

Fireplace, stainless steel appliances
With four bedrooms and two full baths, along with a three-season room and a partially finished basement, your family will have all the space it needs to spread out inside this home. When it's too cold to enjoy the outdoors, you can cuddle up in front of the fireplace. The basement can easily house a rec room or family room to increase the already generous living space. The kitchen features stainless steel appliances, and the bathrooms are both newly renovated, and there's a bright yet warm wood look throughout. It's a perfect home for all four seasons.
Parkside Living in Round Rock, Texas
Price:

$384,000

Home square footage:

2,693
This home has its own merits, but when you add its location overlooking the Williamson County Regional Parkland, you've got a true standout. This two-story charmer sits on a cul-de-sac and puts you near major expressways, shopping and dining when you decide to venture out.
The Interior
Bedrooms:

4

Bathrooms:

2.5

Amenities:

Hardwood floors downstairs, quartz counters, game room
The rooms flow in this spacious home with a flexible open floor plan that lets you use the space in ways that make the most sense for your family. The master bedroom is downstairs, with three more bedrooms and a game room that can turn the upstairs into kid central. The deep wood tone of the hardwood floors adds warmth throughout, and a wealth of windows means you'll enjoy the park view from just about anywhere inside.
Loft for Living Large in Philadelphia
Price:

$370,000

Home square footage:

1,062 
The outside has an industrial flair in this centrally-located loft set smack in the middle of a walker's paradise. Roam the local hotspots packed with character and explore Buttonwood Street's amenities, like Rail Park and neighborhood coffee shops, cafes and breweries. You'll barely need your car, but don't worry. This loft comes with a deeded parking space.
The Interior
Bedrooms:

1

Bathrooms:

1

Amenities:

10-foot high ceilings, exposed brick and beams, hardwood flooring
This roomy loft has 10-foot ceilings above and original hardwood flooring below. You'll be reminded of its heritage by touches like exposed brick, beams and ducts, massive windows to let in the sunshine and reclaimed wood shelving in the foyer. It's packed with personality and gives you plenty of space to add the touches that will make it your own.
Cheery Flat in Dorchester Center, Massachusetts
Price:

$379,900

Home square footage:

885 
This totally renovated flat in a three-unit building offers you the chance to claim a piece of an up-and-coming neighborhood. It's a great starter home, with a bright living space and sun-soaked bow windows in front, plus it has a spacious covered balcony for all-weather outdoor relaxation.
The Interior
Bedrooms:

3

Bathrooms:

1

Amenities:

Private balcony, in-unit laundry, premium appliances
The renovations to this flat were done with care. You'll see it shine through in every room and appreciate touches like the two-tone cabinetry in the kitchen, floating vanity in the bathroom and the rare luxury of an oversized laundry area. It's a cozy home, yet spacious enough for three bedrooms and a bonus storage area for toys like bikes or golf clubs.
Fishtown Renovation With a Great Location in Philadelphia
Price:

$320,000

Home square footage:

950
Fishtown is a Philly real estate hotspot, and this cherry red brick townhome sits in the heart of this bustling area. It has big windows all around and a pleasant surprise in the back: your own private yard space. There's enough room to chill and grill and enjoy some outdoor living and entertaining. The open floor plan lets you configure the first-floor living space however you see fit.
The Interior
Bedrooms:

2

Bathrooms:

1.5

Amenities:

Open floor plan, quartz counters, stainless steel appliances
This townhome was recently renovated with contemporary touches like quartz counters, floating vanities and stainless steel appliances. It's on the end, meaning extra windows and light, and a semifinished basement adds to the useable space.
Tranquility Combined With City Convenience in Philadelphia
Price:

$390,000

Home square footage:

1,704
If you're a commuter or you love the city vibe, but you want a peaceful place to call home, this spacious Tudor home in the Mt. Airy neighborhood will give you the best of both worlds. It's situated near the train station and within an easy jaunt to cafes, shops and restaurants. It's a close-knit neighborhood with classic block parties and spots like Fairmount Park to get some exercise by biking or hiking. On the home front, enjoy nature in your shady, serene backyard with its flagstone patio.
The Interior
Bedrooms:

3

Bathrooms:

2.5

Amenities:

 Fireplace, hardwood floors, eat-in kitchen, stainless steel appliances
This house will give you room to spare, with three bedrooms and 2 1/2 bathrooms, a massive dining room made for socializing, sunken living room and a kitchen with expansive countertop space to make any chef's heart sing. Luxury touches include finished hardwood floors throughout, a wood-burning fireplace for crackling winter blazes and a master bath that's more like your own personal spa.
Co-Op Chock Full of Amenities in Bay Ridge, Brooklyn, New York
Price:

$389,000 

Home square footage:

 n/a
If you're looking for a Brooklyn co-op with amenities like a live-in super, porters and doorman, you'll appreciate this co-op in a busy block of brick buildings in the Bay Ridge area. The neighborhood is geared toward walking and biking by day thanks to its waterfront trails, and when the sun goes down it turns into a nightlife hotspot.
The Interior
Bedrooms:

1

Bathrooms:

1

Amenities:

 Stainless steel appliances, fireplace
This co-op is surprisingly spacious for a one-bedroom, one-bathroom unit. The master bedroom boasts enough space for a California king bed. The newly renovated eat-in kitchen has stainless steel appliances that blend harmoniously with the slate gray tile floor. The living room boasts big, sunny windows and a decorative stone fireplace mantel. You'll find enough closets to alleviate the typical New York fear of not having enough storage.
Condo Packed With Comforts in Philadelphia
Price:

$365,000

Home square footage:

915
You'll get a midcentury modern vibe when you see the entrance to this condo, although everything behind the door is renovated to contemporary standards. The building is part of a complex that boasts its own outdoor swimming pool and that sits just outside of Headhouse Square. Imagine strolling over to the farmers market or walking over to dine or shop.
The Interior
Bedrooms:

1

Bathrooms:

1

Amenities:

 Quartz countertops, stainless steel appliances, hardwood floors
This condo's interior was fully renovated in 2016, with touches like an open-concept kitchen, quartz countertops, stainless steel appliances, new carpeting, heated bathroom floors and frameless shower doors. The hardwood floors add a touch of elegance and three massive windows draw daylight into the airy living room. If you need to block out the light, you'll appreciate the custom shades. Light wood and white cabinetry combine to make this a bright, cheerful living space.
Charming Corner Co-Op in Hell's Kitchen, Manhattan, New York
Price: $360,000 
Home square footage:

 n/a
This Hell's Kitchen co-op puts you in the heart of the Manhattan hustle and bustle. It's a classic walk-up situated just outside of the theater district, and Central Park's green oasis is a short stroll away. You won't have to go far to find all the dining, shopping and entertainment you could ever desire.
The Interior
Bedrooms:

1

Bathrooms:

1

Amenities:

 Tall ceilings, hardwood floors
This efficiency-sized co-op will brighten your day with sunlight and give you the perfect home base for your busy New York lifestyle. It has tall ceilings, hardwood floors and classic original touches that add character. The kitchen is well-equipped, and the bathroom boasts colorful tile. Windows throughout give you a view no matter where you are inside.
Tall Townhome in Philadelphia
Price:

$380,000

Home square footage:

2,100 
As soon as you spot this impressive three-story townhome, you'll marvel at the contemporary style and quality construction. It's just waiting for its first residents to transform it into a home. In addition to all the space inside, you can chill on your own private rooftop or step out into the modest but serene backyard patch.
The Interior
Bedrooms:

4

Bathrooms:

3.5

Amenities:

Recessed lighting, stainless steel appliances
This townhome gives you space to spread out, with a sleek feel and open living space. Windows add natural light to complement the recessed lighting throughout. Enjoy an exterior view through the patio doors as you prep meals in a kitchen equipped with stainless steel appliances and a convenient island to complement the counter space. As you head upstairs, you'll find living space on each level that lets family members commingle or have their very own spots.
Quaint, Cozy Co-Op in Queens, New York
Price:

$375,000

Home square footage

: 650 
This Queens condo sits on a sleepy tree-lined street with the Manhattan skyline as its backdrop. Its well-kept 1950s brick exterior belies the modern features hiding inside. It's part of the five-building Donner Gardens cooperative, with a perfect location near Travers Park, subway stations and a LaGuardia Airport express bus.
The Interior
Bedrooms:

1

Bathrooms:

1

Amenities:

Wood flooring, stainless steel appliances, soaker tub
Inside, this condo is just 650 square feet, but sunny windows and light woodwork help it feel open and cheery. It's totally updated from its midcentury modern roots, with stainless steel appliances, modern designer light fixtures and a refinished wood floor. Stress will slip away as you sink into the soaker tub, and you'll love the breathtaking Manhattan skyline views visible from the cozy breakfast nook. Even with this condo's small size, the Elfa systems in the closets ensure that you have plenty of storage.
More From GOBankingRates
Data is accurate as of July 17, 2019 and is subject to change.
About the Author