Could You Afford a Vacation Home in Europe? Check Out the Prices in These 8 Cities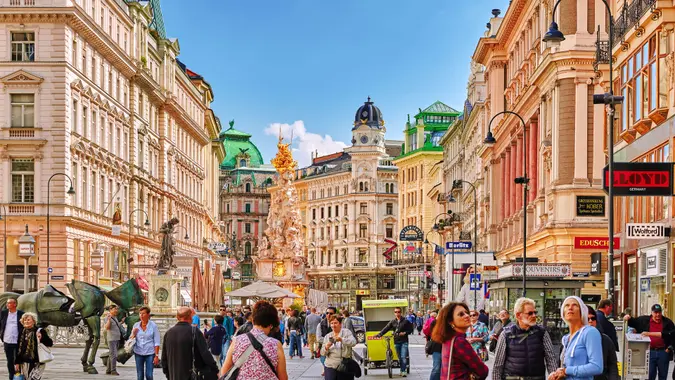 VitalyEdush / Getty Images
More Americans than ever are looking abroad to retire or to invest in vacation homes. After all, what could be more romantic or exciting than owning a home on the banks of the Seine in Paris, or next to the Duomo in Florence? With home affordability in the U.S. at or near its lowest point ever, the thought of buying real estate abroad might also make more financial sense. But what exactly do vacation home prices look like in Europe, and do they vary significantly from city to city?
Here's a look at current average home values in various European cities, from the large and well-known to some that fly a bit under the average American's radar. Bear in mind that home value estimates in European countries may not be quite as precise as in the U.S., which has pricing services such as Zillow. Take a look at what you can expect to spend on a vacation home in these cities.
Paris
Estimated average home price: $286,000
It's hard to start a discussion of European cities without thinking of the City of Lights. The most-visited city in all of Europe, Paris has more than enough cultural, historical, natural and gastronomical attractions to satisfy even the most veteran of travelers. As in most major cities, however, it's important to note that home values across the various Paris arrondissements can vary widely. 
London
Estimated average home price: $690,000
London, along with Paris, is one of the most popular destinations in the world, particularly for Americans. From icons like Big Ben and Westminster Abbey to the city's famous parks, historical locations and the monarchy itself, you could spend the rest of your life in London without exploring every nook and cranny. You won't get much of a break in terms of housing prices, however, as the U.S. average is just $348,853.
Vienna
Estimated average home price: $489,000
As the Billy Joel song says, "Vienna waits for you." On the banks of the Danube River, Vienna boasts an embarrassment of riches, from ornate imperial palaces and opera houses to cultural landmarks, outstanding food and wine, and its reputation as the "City of Music." 
Budapest, Hungary
Estimated average home price: $163,000
Budapest hasn't ever gotten as much love as its more popular European brethren, but that's starting to change. The Hungarian capital is experiencing something of a resurgence among travelers, with passenger arrivals rising every year (with the exception of the global pandemic dip). Even if they couldn't identify it, many Americans are likely familiar with the image of the city's iconic Parliament, right on the Danube River, but the city is also full of cultural riches and is known as the "Spa Capital of the World." Even though prices are rising dramatically, they still remain quite affordable by American standards.
Kotor, Montenegro
Estimated average home price: $336,000-$449,000
Like Budapest, Kotor is another Eastern European gem of a capital that is only now beginning to shine in the light. Thanks in part to the number of cruise lines that now visit this port city, Kotor is having its moment. Known primarily for its beautiful, Medieval Old Town, Kotor is also blessed with a gorgeous location right on the bay of Montenegro. Average pricing is given in a range due to the difficulty in getting accurate pricing for this overlooked city.
Florence, Italy
Estimated average home price: More than $1 million
Florence is a city that needs no introduction. As the heart of the Renaissance, Florence houses countless cultural treasures, let alone culinary delights. With the Tuscan countryside as its backyard, Florence is and will always remain a highlighted destination for travelers from around the globe, including Americans. Of course, if you want to buy a home there, you'll have to pay up for the privilege.
Dublin
Estimated average home price: $559,000
The birthplace of Guinness Beer and the rock band U2 is also full of Irish charm and history. As one of the closest European destinations to the U.S., Dublin makes a convenient spot for a vacation home. The capital of the Emerald Isle has something for everyone, from its 1,000-plus-year history to its lively pub scene. The small island is also just a short road trip away from the gorgeous Irish countryside. 
Barcelona, Spain
Estimated average home price: $1 million
Barcelona is one of the most popular destinations for American travelers, and it has become an almost compulsory stop on the Mediterranean cruise circuit. Known for its vibrant Catalan culture and food, the architecture of Gaudi and a pleasant Mediterranean climate, Barcelona has also become a hub for digital nomads and startup companies. This bounty of riches has also helped push up the average price of a home in the city to the seven-digit range. 
More From GOBankingRates