Dave Ramsey Says Homebuyers Need Agents, Not 'Google Searches' — Is He Right?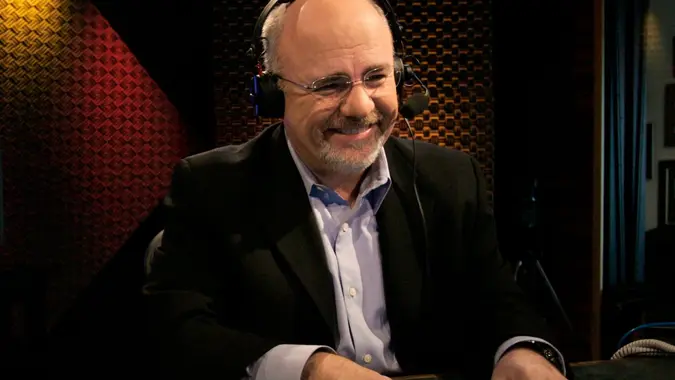 Mark Humphrey/AP / Shutterstock.com
Financial guru Dave Ramsey recently tweeted: "Finding the right home takes more than a Google search. You need an agent you can TRUST to help find a home that's right for YOU."
There's a solid takeaway in his words — a buyer's agent can help by advocating for you, guiding you through the pre-approval process and tapping into their trusted network of professionals to assist you with every aspect of buying a home, from the mortgage to closing and everything in between.
Why You Should Use Your Own Realtor
Often, homebuyers rely on seller's agents, simply connecting with the listing agent when they find a home online that they like. But this isn't the best way to approach such a major financial decision, according to experts.
"A homebuyer should always have their own Realtor to guide them through the process effectively while keeping their needs at the forefront," said Jason Gelios, Realtor at Community Choice Realty and author of the book Think Like a Realtor.
Get Connected With Experts for Every Stage of the Process
A good buyer's agent can help you even before you find the home of your dreams, helping you determine your budget and guiding you through the mortgage pre-approval process.
"It's popular for homebuyers to think they should get the pre-approval after they locate the home. Truth be told, the pre-approval is the first step homebuyers should take to ensure they know what price range to shop in and what they feel comfortable with in terms of potential payment and loan type," Gelios told GOBankingRates in an exclusive email interview.
You'll want to ask your Realtor for options, so you can find the professional who's the best fit for you.
"Before you even start looking for your home, ask your agent to provide the names of several mortgage brokers and lenders you can call to discuss financing and the loan amount you can qualify for," said Judy Tierney, an Austin, Texas-based Realtor with Perfect Tree Realty.
Get Help Finding Your Ideal Home
When it comes time to narrow your options of homes on the market, a Realtor's knowledge can save you time and money.
"Often, buyers start out with a preconceived idea of exactly what they want or a total lack of focus. With expertise of the local market, a Realtor can suggest neighborhoods that might suit a client based on walkability, school districts or other important factors," Tierney said. "Your agent can show you homes that meet your criteria, help you evaluate options and answer your questions."
While it's easy enough for prospective buyers to search Redfin or Zillow for homes within the area and in their price range, a buyer's agent may have access to homes that aren't listed publicly yet. In today's still-warm market, this represents a huge advantage.

"Some Realtors have pocket listing, which are listings that the seller has requested not to be listed on the MLS database for some reason or another," said Will Wheaton, broker at Will Wheaton Real Estate. Other times, an agent may work in an office with colleagues who can share upcoming listings even before they go to market, he added.
More: Dave Ramsey's 7 Tips for Paying Off a Mortgage Faster
Get the Best Price With an Advocate in Your Corner
If you're working only with the seller's agent, you could be putting yourself at a disadvantage when it comes to negotiations and paying more than you have to for your new home. Agents work on commission, so it's in their best interests, as well as their client's, to sell a home at the highest price possible.
On the other hand, while your agent also receives commission on the sale, their reputation depends on keeping your best interests in mind. With knowledge of the market and comparable sales in the area, plus an eye on real estate trends, your agent is likely to negotiate a fair price that can save you thousands of dollars over the life of your loan.   
"Homebuyers should avoid working with the Realtor that is representing the seller's interests, because that Realtor could potentially work more in the favor of the seller," Gelios explained. "This is not to say that every listing agent will lean more towards their seller's interests. However, considering that it doesn't cost a homebuyer much, if anything, to hire their own Realtor, it makes perfect sense to have someone in their corner negotiating on their behalf."
Get Connected With the Experts You Need
The best Realtors will have a database of experts they can turn to for everything from home inspection and lawyers to assist with closing. It's often easier to rely on your Realtor's experts than to find your own. Because of your agent's established relationships, you could save time and money using their recommendations.
"A great Realtor will have many financial resources in their arsenal: Lenders, home inspectors, home improvement contractors, financial advisers, accountants, attorneys, title companies and other experts," Wheaton said.
This is especially important through the home inspection process and at closing. "The home inspection process is one of the most important aspects of buying," Wheaton explained.
During the inspection, the home inspector will evaluate the house for issues such as roof leaks, weak foundation, termites and other red flags. The inspection report can be complicated to read, and the next steps might be uncertain for a prospective buyer if the inspection found issues.
"A good home inspector is worth their weight in gold. Most Realtors have several recommendations for home inspectors that are trustworthy and thorough," Wheaton said.
The buyer can use the information in the report to ask the seller to make the repairs prior to closing, lower the purchase price to cover the cost of repairs, or pay the buyer to get the work done in the future. That's where your agent comes in, because they can help negotiate these aspects of the sale.
Likewise, the closing process can make or break the deal. Your real estate agent can work with the lawyers and mortgage company to ensure that all the documentation is in place to close smoothly.
Learn: 5 Expensive Renovations Homeowners Always Regret
Find: Can I Reduce My Mortgage Rate Without Refinancing?
"I often tell my homebuyers to consider me part Realtor, part therapist because I am there when they need me the most. Purchasing a home is a big decision and lengthy process with many homebuyers feeling some level of anxiety. That's why it's so important for a homebuyer to choose a Realtor who is not only an expert, but also a person who makes them feel comfortable," Gelios concluded.
More From GOBankingRates