Elon Musk Predicts Home Prices Will Crash Next, Tweeting Commercial Real Estate Is 'Melting Down Fast'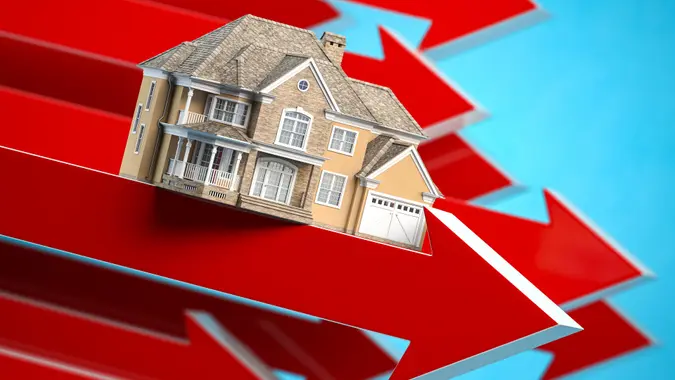 Bet_Noire / iStock.com
Elon Musk is reiterating his warning that the most serious economic looming issue is commercial real estate debt, saying in a tweet that it "is melting down fast." And the issues, he added, won't stop there.
"Home values next," Musk added in his May 29 tweet.
Musk was replying to a tweet by Craft Ventures founder David Sacks, who posted a Bloomberg article noting that "almost $1.5 trillion of U.S. commercial real estate debt comes due for repayment before the end of 2025."
As GOBankingRates previously reported, Musk had already raised the alarm about the sector, saying that the commercial real estate debt held on some banks' balance sheets could push the economy to the brink of disaster.
Replying to industry commentary newsletter the Kobeissi Letter, Musk said in an April tweet: "This is by far the most serious looming issue. Mortgages too."
According to the Kobeissi Letter's tweets, over the next five years, more than $2.5 trillion in commercial real estate debt will mature — "by far more than any 5 year period in history."
Indeed, rising interest rates, tighter lending conditions due to the turmoil in the regional banks sector and low office occupancy could make for an explosive mix.
Chris Zaccarelli, chief investment officer, Independent Advisor Alliance, told GOBankingRates that while the recession many are forecasting is farther into the future than anyone would expect, "there are many risks to the economy and markets ahead: the debt ceiling standoff, the ongoing issues with the regional banks and a potential for a commercial real estate bust." And other experts agree.
A JPMorgan report noted that since the Silicon Valley Bank and Signature Bank's failures, "investors have begun voicing concerns about the balance sheet vulnerabilities of regional banks — and more specifically, their exposure to commercial real estate."
Those concerns are not without merit, according to the report. "Compared to big banks, small banks hold 4.4 times more exposure to U.S. CRE loans than their larger peers. Within that cohort of small banks, CRE loans make up 28.7% of assets, compared with only 6.5% at big banks. More worrying, a significant percentage of those loans will require refinancing in the coming years, exacerbating difficulties for borrowers in a rising rate environment."
As for the U.S. housing market, Musk said that the issues in the commercial real estate market will spread to that sector as well. As Insider noted, Morgan Stanley said that home sales have bottomed as higher borrowing costs hindered demand. Some experts warn that prices could fall 15% to 20%.
More From GOBankingRates