Home Ownership Dreams Crumble as Real Estate Turnover Drops to 1%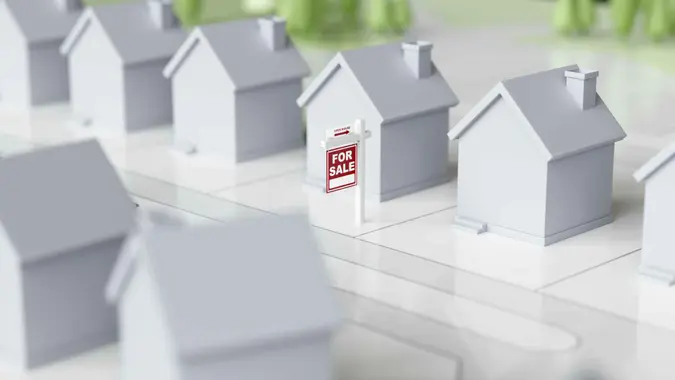 mphillips007 / Getty Images/iStockphoto
As if the road to homeownership was not difficult enough for many Americans — partly due to sticky Inflation and high mortgage rates — another issue is compounding the matter. A new Redfin report found that real estate turnover is at its lowest point in a decade. And if you dream of buying a home in California, the chances of finding one are even slimmer as the state has the smallest pool of options.
Redfin found that 14 of every 1,000 U.S. homes changed hands during the first six months of 2023, down from 19 of every 1,000 during the same period of 2019.
"Just 1% of the nation's homes have changed hands this year," Redfin indicated. "That means prospective homebuyers have 28% fewer homes to choose from than they did before the pandemic upended the U.S. housing market."
The pandemic homebuying boom depleted supply, and it hasn't been replenished because homeowners are hanging on to their relatively low mortgage rates, according to Redfin.
As of July 18, the average 30-year fixed mortgage interest rate was 7.23%, falling 14 basis points from a week ago. With the Federal Reserve expected to hike rates once again at its next Federal Open Market Committee (FOMC) on July 25-26, mortgage rates will likely increase as well.
"The quick increase in mortgage rates created an uphill battle for many Americans who want to buy a home by locking up inventory and making the homes that do hit the market too expensive. The typical home is selling for about 40% more than before the pandemic," Redfin deputy chief economist Taylor Marr stated in the report.
Peter C. Earle — economist, American Institute for Economic Research — echoed this sentiment, saying that the inventory squeeze is exacerbated by the tremendous change in interest rates, which went from record lows to highs not seen in years recently.
"Individuals who locked in rates at lower levels are just that: locked in. It's also worth noting that areas with the strictest zoning laws, like cities on coasts, are seeing the most profound freeze in turnover," he added.
Where do homebuyers have the smallest pool of options?
Northern California had the lowest turnover rate in the country. Redfin found that just six of every 1,000 San Jose homes had turned over to a new owner so far this year — the lowest rate of the 50 most populous U.S. metros.
It's followed closely by Oakland, San Diego, Los Angeles, Sacramento and Anaheim, all places where about eight of every 1,000 homes turned over to a new owner.
Where do homebuyers have the biggest pool of options?
If you're looking to buy a house in Newark, Nashville, or Austin — you're in luck.
Redfin found that Newark had the highest turnover rate in the U.S., with 24 of every 1,000 homes changing hands during the first six months this year. Nashville followed suit (23 of every 1,000 homes), as did Austin (22 of every 1,000 homes).
More From GOBankingRates