6 Home Renovations Proven To Help You Sell Your House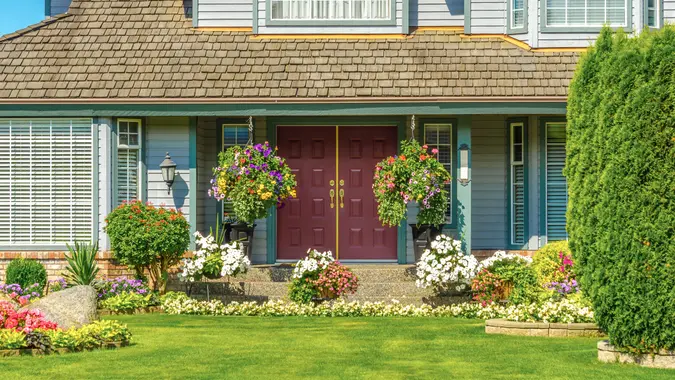 romakoma / Shutterstock.com
If you're a homeowner, your house is likely to be one of your biggest assets. As such, there might come a time when you decide to put it on the market for a large lump sum of cash.
But before you do, it might prove advantageous for you to make some home renovations or improvements. Not only can this increase the value of your property, but it can also make it easier to sell.
Here are the biggest home renovations you can make that are worth the initial time and monetary investment because they can maximize your profits.
Add Square Footage or Finish Existing Rooms
One of the best ways to modernize and add value to your home is to increase its overall square footage. "Anything that adds square footage or increases the bed/bath count instantly raises the value of a home," said Kurt Carlton, the president and co-founder of New Western. "This could mean finishing an unfinished basement, converting an attic into a bonus room, or reconfiguring the layout to allow for more bedrooms or bathrooms."
The cost of knocking down a non-load-bearing wall can be under $1,000. However, you could be looking at a higher price tag if you want to fully renovate existing rooms or change the layout of your house.
Finishing an existing room can add value without breaking the bank. "Finishing those unfinished areas, such as your basement, is a great way to give your home's value a significant boost. Not only does it add valuable square footage, but it also maximizes the usable space and enhances the overall appeal and potential of your property," said Brandon Rand, a licensed realtor with Coldwell Banker Realty.
Modernize the Kitchen
The kitchen is the heart of many homes, so if yours could do with an upgrade, now's the time. Consider investing in some sleek new appliances or better lighting or cabinetry — anything to modernize it and make it more appealing to prospective buyers.
"Updating your kitchen is one project that will add value to your home. Modernizing the kitchen materials like countertops and cabinetry can provide significant ROI," said Maureen McDermut, realtor at Sotheby's International-Montecito.
Nicole Beauchamp, senior global real estate advisor and licensed associate real estate broker with Engel & Völkers, added, "Some of the most impactful areas to renovate are kitchens, bathrooms and flooring. These three are also some of the things that can overwhelm even the experienced buyer — and if a seller can make the investment (or offer a relevant and potentially meaningful credit) it can be something where the ROI is maximized."
But use care when renovating these areas. Generally speaking, it's best to go with a more neutral approach that's aesthetically pleasing to a broad array of buyers. In other words, avoid making it too customized or personalized.
The average cost of replacing new cabinets and countertops is $150 per square foot, according to Forbes. A modern appliance like a new refrigerator can cost anywhere from $500 to $3,000.
Renovate the Bathroom
Renovating your bathroom can also drastically increase your chances of selling your home, potentially at a higher price. A full remodel can cost around $11,413.
"Updated kitchens and bathrooms can make or break a listing. A renovation doesn't have to be a major undertaking, though," said Scott Orich, a real estate agent at Flyhomes. "Recently, I've seen some great examples of minor kitchen and bath renovations achieving 70% to 80% of what sellers are looking for at half the cost. A minor remodel typically involves cosmetic changes such as repainting kitchen or bathroom cabinets, replacing outdated countertops and hardware or installing new flooring."
Rachel Goldman, associate advisor for SVN Commercial Advisory Group, corroborates this: "A full bathroom renovation typically gives a 75% return on investment, but also replacing an outdated vanity, old finishes, and lighting fixtures or adding a new tile floor will give a modern upgrade."
Update the Landscaping and Curb Appeal
Another great way to increase your home's value and make it purchase-ready is to update the exterior — specifically the landscaping and overall curb appeal.
Paul Brundell, the CEO and founder of Brundell Property Group and Kosy Living, said, "One of the first things you should do when marketing your house is to improve the curb appeal of your home's exterior. Repaint the front door, plant some thematic flowers, trim the bushes, and maintain a clean landscape in the garden. This will leave a strong first impression on potential buyers and make the overall image of your home more inviting."
But make sure you calculate the costs before getting started. Depending on the numbers, you might only want to do one side of the house — the front side.
"Landscaping can be expensive, so either redoing your front and back lawns/gardens before selling or keeping them maintained while in the home, can significantly increase your house's appeal on the market," said Rebecca Awram, mortgage advisor at Seniors Lending Centre. "Be sure to take quality pictures of the home before listing it, as this is often the first impression potential buyers have of your home before deciding to check it out."
Depending on the size of your property, general landscaping can cost anywhere from $2,000 to $14,000. And if you need to do more extensive renovations, expect to spend more. According to HomeAdvisor, updating the exterior siding of a house can cost anywhere from $5,000 to $14,050.
There are ways to cut costs here, though. This includes pulling weeds, mulching your garden beds, planting new shrubs or trees, and general lawn maintenance. Even small things like these can add value to your home.
And finally, don't forget about the roof. "An appealing update that not many think of is the roof," McDermut said. A new roof can cost anywhere from $5,000 to $15,000, on average. "While it can be expensive, depending on the materials you choose, a nice roof can add significant curb appeal as well as take a lot off the minds of potential buyers."
Floors, Paint and Other Aesthetics
Updated floors, paint, light fixtures, and other aesthetical changes can yield a higher return-on-investment than you might think. "According to our New Western investors, who are experts in the area of home renovation, the key is to pay attention to what's in style and what's selling quickly in your market," said Carlton. "Typically, you want to go with more neutral styles that have broad appeal. You can also do simple upgrades such as new outlet covers, installing new kitchen cabinet handles, and doing landscaping to improve curb appeal."
Also, if you have old, creaky floors, an update may be in order to boost your property's appeal. "Examine the flooring — see if there are any loose floorboards or creaks and make efforts to fix them before anyone views your house," said Brundell. "Any new flooring will dramatically improve the overall look of your house." The average cost of replacing 500 square feet of flooring is $3,000.
Upgrade to Energy-Efficient Appliances or Smart Technology
Another thing that can increase a home's value is energy-efficient appliances and smart technology. Just be aware of any regulations or restrictions in your area before making changes.
"Upgrading your home for energy efficiency can save you a lot of money while you are still in the house and increase its value when you sell," Awram said. "You can also make some less-costly upgrades such as re-insulating your windows, upgrading to double-pane glass, and even adding insulation to your attic or basement to help keep the home's desired temperature."
"I'd advise checking your heating systems and seeing if there are any replacements or improvements that could be made," Brundell said. "Consider upgrading your insulation, or replacing older appliances with energy-efficient models."
You can also install some smart home technology upgrades to make your home more attractive to the modern buyer. "From smart thermostats and lighting systems to security features and automated controls, these modern amenities not only make life more convenient but also appeal to buyers seeking a connected and efficient living environment," Rand said.
The cost of these upgrades depends on several factors, such as the type of appliance you're getting and how much space you're renovating. For example, the cost of insulation is around 50 cents to $1.25 per square foot. An eco-friendly washing machine, meanwhile, costs between $500 and $2,500.
More From GOBankingRates