How Home Equity Can Help You Pay for Fall Home Renovations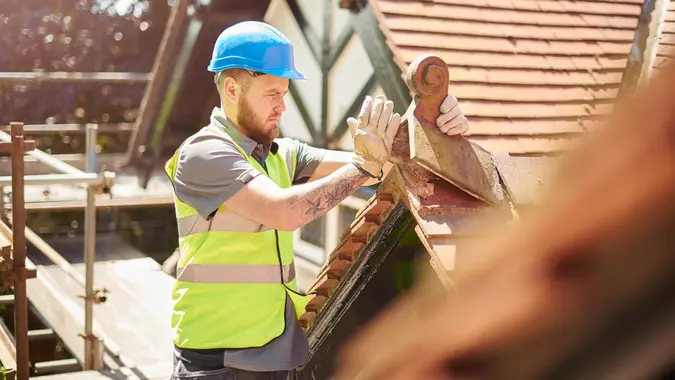 sturti / iStock.com
Fall is the perfect time to tackle renovations that prepare your home for harsh winter weather. Some of the projects that produce the best returns in terms of protecting your home, making it more energy-efficient and maintaining its value are expensive, but paying for them with the equity you have in your home will make the work more affordable.
See: 3 Things You Must Do When Your Savings Reach $50,000
How Home Equity Can Help You Pay for Renovations
Equity is the portion of your home's value that you own free and clear. One of the benefits of having equity is that you can borrow against it to finance major expenses, such as home renovations. You can tap into your equity in one of two ways.
The first is with a home equity loan, which is a one-time lump-sum loan against your equity that you pay back in monthly payments, usually over 10 to 30 years. Rates are typically fixed, so your payment never changes.
The other option is a home equity line of credit, which is a revolving credit line. It's similar to a credit card in that you can pay down the balance and then reuse the credit, up to your credit limit, which makes it a good choice if you're spreading multiple renovation projects out over a longer period of time. But unlike with a credit card, you can only access the credit line during the loan's draw period, which usually lasts 10 years. After that, you typically have 20 years to pay off the loan. HELOCs usually have a variable rate that changes periodically, but many lenders allow you to change part of your outstanding balance to a fixed rate.
Your home secures, or serves as collateral for, the home equity loan or line of credit. If you already have a mortgage loan on your home, the loan or line of credit would be a second mortgage.
Benefits of a Home Equity Loan or Line of Credit vs. Other Loan Options
The primary benefit of a home equity loan or line of credit is that the interest rates are lower than rates on other credit options, such as personal loans and credit cards. The most recent data from the Federal Reserve shows that credit card rates are averaging 22.16% interest and 24-month personal loans are averaging 11.48%. However, it's not unusual to find home equity loans charging highly qualified borrowers less than 8% annual percentage rates and HELOCs charging less than 9% APR.
Another benefit of home equity loans and lines of credit is that they let you draw against your equity without refinancing your current mortgage. That's a major plus if you took out your current loan when rates were lower or you've been paying down your mortgage for many years.
What Are the Downsides of a Home Equity Loan or Line of Credit?
The major drawback of a home equity loan or line of credit is that your home secures the loan. That means you can lose your home to foreclosure if you default on the loan.
Another downside is cost — even though rates are lower than for credit cards and personal loans, the loans are long-term, so interest really adds up over the life of the loan. In addition, home equity loans and lines of credit always have closing costs and other fees. Those that claim to have no closing costs actually mean that they have no out-of-pocket closing costs. You will pay those costs, but in the form of a higher interest rate. The danger of this type of loan is that you might have to reimburse the lender out of pocket if you pay the loan off early.
One more thing to consider is the long loan term — you'll be paying the loan for anywhere from 10 to 30 years. As a result, you could wind up paying as much or more interest over the life of the loan than you'd pay with a higher-rate, but shorter-term, personal loan.
What Kinds of Fall Renovations Can I Pay for With Home Equity?
You can pay for any renovation you want with a home equity loan or line of credit, but the best fall projects are those that prepare your home for winter. Think in terms of energy efficiency and protection against harsh weather.
Roofing
The lifespan of an average asphalt roof ranges from 15 to 20 years for three-tab shingles to 20 to 30 years for architectural shingles, according to Fixr. If yours is getting close to that — or you see trouble signs such as sagging or leaks — it might be time to replace it. The price for a new roof depends on the type of shingles you get and whether or not the plywood sheathing also needs replacement. The job could cost anywhere from $5,000 to $14,000 for a standard replacement.
Window Replacement
Twenty-five percent to 30% of residential heating and cooling energy use comes from heat gain and heat loss through windows, according to the U.S. Department of Energy. Replacements aren't cheap — installing double-hung vinyl windows runs $825-$1,400 per window, according to Home Depot. But the energy savings could pay off in the long run, plus you'll recoup most of the cost in added value to your home.
Furnace Upgrade
If your furnace is approaching 15 or 20 years of service and is struggling to maintain the thermostat setting, heating unevenly and making unusual noises, it might be time to replace it with a new, energy-efficient model. Replacing an electric furnace can set you back $2,000 to $7,000 — and $6,750 to $10,000 for oil — according to Angi.
Deck Refinishing
Rain, snow and freezing temperatures can damage your deck if its protective finish is worn. Depending on the size and materials, the cost to have it refinished can range from less than $4 per square foot to more than $8, not including a deep wash, according to Homewyse. It's an expensive job, but not as costly as replacing the deck.
Is an Equity Home Loan for Fall Renovations a Good Idea?
An equity home loan is a great idea for a homeowner who has plenty of equity and needs to make expensive repairs or renovations. A home equity loan gives you the cash you need for a one-time expense, whereas a line of credit lets you spread the projects out over time. Regardless of which is better for you, shop around before selecting a lender, and read the fine print to make sure you understand how your loan works and what costs and fees you'll have to pay on the money you borrow.
Information is accurate as of Sept. 25, 2023.
Our in-house research team and on-site financial experts work together to create content that's accurate, impartial, and up to date. We fact-check every single statistic, quote and fact using trusted primary resources to make sure the information we provide is correct. You can learn more about GOBankingRates' processes and standards in our editorial policy.