Housing Market 2023: Credit Score Needed To Buy Home May Not Be as High as You Think — Here's Why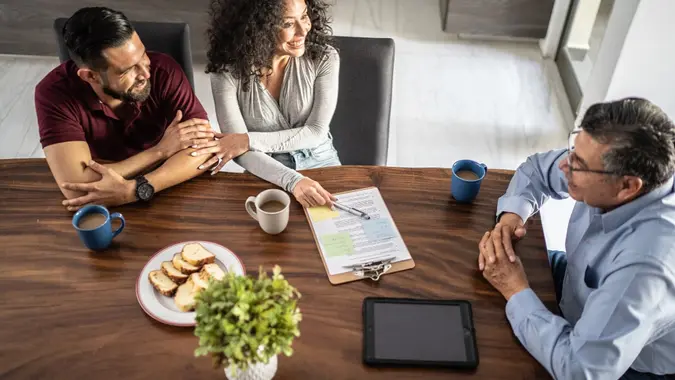 FG Trade Latin / iStock.com
Rising interest rates typically lead to a tightening of credit, which could make it harder for consumers to secure loans and mortgages. But if you're in the market for a house right now, you may not need to be as concerned about your credit as you might imagine, according to experts.
Of course, the higher your credit score, the lower your interest rate. Credit bureau Experian reported that you typically need a minimum credit score of 620, which falls into the range of "Fair" credit — just one step above a poor score.
However, you may be able to qualify for an FHA loan with a credit score as low as 500, with 300 being the lowest FICO score possible.
Key Factors That Lenders Evaluate When You Apply for a Mortgage
Other factors come into play besides your credit score when you're seeking to qualify for a mortgage. You can improve your standing in any of these areas and your credit score might become less important, especially if you can show that you're working on improving your score.
1. Debt-to-Income Ratio
Lenders look at your overall debt-to-income ratio, or how much debt you carry versus how much money you bring in. Lenders look at your DTI in two regards:
How much total debt you have compared to your overall income
How much debt your mortgage would contribute to your DTI
Lender preferences vary, but most lenders want to see an overall DTI of 43% or less, with no more than 28% of that 43% coming from your mortgage payment, which includes principal, interest, taxes and insurance. Some states with high housing costs, however, allow a higher percentage of your debt to go toward your mortgage.
You can reduce your DTI by paying down debt or by finding additional income streams. Paying down debt will also help increase your credit score.
You can reduce your DTI (and your monthly mortgage payment) by putting more money down. A larger down payment may also contribute to mortgage approval at a lower interest rate. The more money you put down, the less risk you are to lenders.
2. Value of the Property
Similarly, if you can purchase a home for less than its market value, you are walking into the deal with equity. Again, this makes the mortgage less risky for lenders. In the event of a foreclosure, there is already value built into the home.
If you can purchase a home for less than its appraisal price, it might help you get a mortgage approval.
3. Steady Income
Lenders also look for a steady, long-term income stream. They will also evaluate other assets and investments, which would indicate financial stability showing that you can pay your mortgage even if you lose your job.
How To Improve Your Approval Odds
That's not to say you will definitely get a mortgage with a credit score of 500 — or even 620. Nearly 25% of Americans under the age of 35 feel bad credit is keeping them from their dreams of homeownership. But there are steps you can take to improve your chances of a mortgage approval.  
Working to pay down your credit cards and pay off other loans will not only reduce your DTI — making you more desirable to lenders — but improve your credit score.
Continue making credit card payments on time, as well, since on-time payments make up 35% — the largest percentage — of your FICO score. If you're shopping for a mortgage, now is not the time to open new credit accounts, since that can reduce your score.
Finally, shop around to multiple lenders for your mortgage. You may have to find a lender that specializes in high-risk borrowers or apply for an FHA loan if your credit score falls below 500. But with some persistence and ingenuity, you may find that you can secure a mortgage payment that's within your budget and achieve your dream of homeownership.
More From GOBankingRates