Housing Market 2023: The Average Homeowner Has $200K In Equity; 6 Ways To Use It To Increase Your Home's Value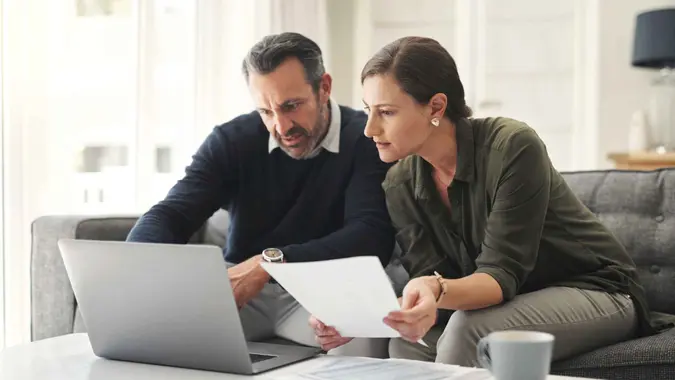 shapecharge / Getty Images
The housing market has been kind to home values over the past few years, giving the average homeowner $200,000 in equity as of June 2023, according to a new report from Black Knight Inc. With that much money at your disposal in the form of refinancing or home equity lines of credit, it could be tempting to spend it in any number of ways.
But one of the smart ways to use your money is to reinvest it in your home to increase your home's value so that down the line, should you wish to sell, or refinance again, you could have even more equity at your disposal. Real estate experts suggest six of the best ways to use your equity to improve your home value.
Invest in High ROI Upgrades
If you're going to put your equity into upgrades, Rod Khleif, a real estate investor, and podcast host, suggested renovations that offer a high return on investment (ROI). "Kitchens and bathrooms are often the best places to start. Upgrading appliances, countertops, and fixtures can significantly boost your home's value," said Khleif. 
Energy Efficiency 
Another area to invest your equity in, which benefits you in the short-term, and potential buyers in the long-term, especially with increasing weather extremes, is energy efficiency. Khleif said, "Invest in energy-efficient upgrades like insulation, HVAC systems, or solar panels. These not only improve your home's value but also save you money in the long run." 
Housing Market 2023: These 15 Cities Are Poised for the Most Stable Growth and Are Likely To Keep Their Value
Improve Curb Appeal
When it comes to homes, first impressions absolutely matter, according to Willie Smith, a Realtor and real estate industry professional, and the founder of Smith and Associates Real Estate Solutions. "Invest in landscaping, a new front door, or exterior paint to make your home stand out in the neighborhood," said Smith.
Add Aditional Living Space
If yours is a small home, to begin with, converting an attic or basement into a living area or adding a room can significantly increase your home's value, Smith pointed out. Just be sure you get the proper permits so you can count the additional space legally in your square footage when it comes time to sell.
Invest in Tech Upgrades
More and more buyers are demanding tech upgrades, which would increase your home's value, according to Colby Hager, a licensed Realtor and owner of Capstone Homebuyers. "As smart homes become more mainstream, installing integrated home automation systems (like advanced security systems, smart thermostats, and voice-controlled lighting) can appeal to tech-savvy buyers and increase your home's worth," Hager said.
Consider a Roof Replacement
Your house may be spacious and modern, but if your roof is nearing the end of its life, according to Lenka Fridrich, real estate agent and owner of Italica Rentals, "a new roof can prevent potential issues and boost home value." Typically you only have to replace a roof every 12 to 30 years, depending on the type you have.
Refinancing Considerations
Now, if you've decided you're ready to dip into that equity in the form of refinancing your current mortgage loan, there are some considerations you want to keep in mind to get the best deal, Khleif explained:
Interest Rates. Keep an eye on interest rates, Khleif said. "If you can secure a lower rate than your current mortgage, it could save you money over the long term." If the rates are higher than what you're already locked into, it's probably worth it to wait until they drop.
Loan Length: If you're going to refinance your mortgage loan to take the equity out, pay close attention to the length of your refinancing loan and what that means for your financial goals, Khleif said. "A shorter loan term may have higher monthly payments but can save you on interest in the long run. A longer-term will reduce monthly payments but may result in higher overall interest costs." 
Fixed vs. Adjustable Rate: There are different types of mortgages, as well, to think about, Khleif explained. "Fixed-rate mortgages offer stability with consistent monthly payments. Adjustable-rate mortgages can start with lower rates but come with the risk of future rate hikes. Choose the one that aligns with your financial strategy and risk tolerance."
Home Equity Line of Credit
Other ways to access your credit include taking out a home equity line of credit (HECL), which can be used to finance improvements and renovations on your home without taking out a loan, according to Jonathan Faccone, managing member and the founder of Halo Homebuyers. "HECL is secured by the equity in your home, so you'll need to make sure you have enough to pay it back if there is an unexpected change in circumstances."
It's also important to note that using equity loans or HECLs can increase risk, Faccone said, so make sure you do your research and work with professionals who can help guide your decisions. "With careful planning and preparation, you can  use your equity wisely to improve and maximize the value of your home."
Whichever route you go, be sure you're clear on how much higher your mortgage payments will be, and how much more interest you'll be paying over time. There's no sense in putting yourself into financial hardship for a promise of future equity. You can always wait until later.
More From GOBankingRates