Housing Market 2023: Natural Disasters Will Make Affordability Crisis Even More Dire, Expert Says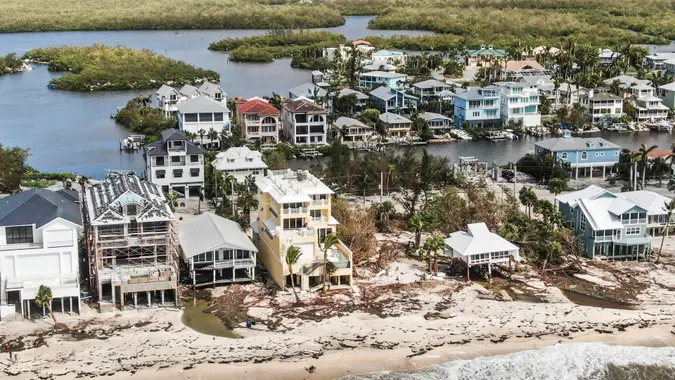 TANNEN MAURY / EPA-EFE / Shutterstock.com
Nearly 20% of homes in high-risk flood and wildfire areas in states like Florida and California are currently overvalued by as much as 30%, Newsweek reported. And unfortunately, things may get worse as natural disasters become more commonplace.
GOBankingRates spoke with Kurt Carlton, co-founder and president of New Western, a private marketplace for residential investment properties, about how natural disasters will impact the future affordability of the housing market.
A Natural Disaster Can Cause an Immediate Spike in Housing Costs
When a flood or wildfire strikes, housing costs will inevitably rise in the areas surrounding the affected region.
"When a disaster strikes that creates a large, immediate need for housing, rents can literally double overnight due to displaced residents, putting a strain on areas where inventory is already low," Carlton said.
Areas Prone to Natural Disasters Will See Long-Term Increases in Housing Costs
"Classic at-risk areas that are simultaneously the most overvalued — including markets like, most recently, Maui, as well as California, Florida and Southern Texas — face a dual challenge of being vulnerable to natural disasters, like fires and climate impacts, while also grappling with inflated property values," Carlton said. "Couple that with the fact that we haven't seen a slowdown in terms of demand in many of these areas, despite the risks."
If natural disasters deplete supply while demand remains high, this means that prices could skyrocket.
"The intersection of environmental risks with an already tight and overpriced real estate market creates a precarious situation," Carlton said. "Climate impacts not only pose direct threats, but also indirectly contribute to a reduction in housing inventory, intensifying the strain on the real estate market and driving prices even higher."
Florida could be particularly affected by this phenomenon.
"Florida, with its confluence of environmental risks, highly desirable coastal markets and an aging population, could be considered most at risk," Carlton said.
Mandatory Disaster Insurance Could Add to Overall Homeowner Costs
Being a homeowner is already expensive, and having to tack on an additional insurance policy can make affording a home out of reach for some buyers.
"Mandatory disaster insurance could have a significant impact on the overall affordability of being a homeowner in areas that are prone to natural disasters," Carlton said. "Since insurance premiums are based on risk, homeowners in these areas would likely pay higher premiums than homeowners in areas that are less prone to natural disasters, making it difficult for some people to afford to buy or keep their homes in areas that are already expensive."
More From GOBankingRates