How Much House Could $500K Buy in the 80s vs. Today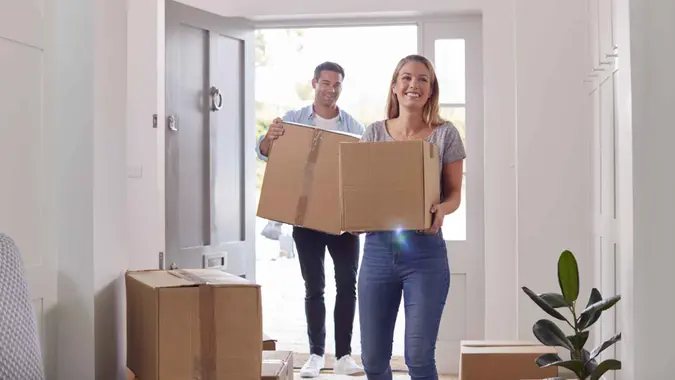 monkeybusinessimages / Getty Images/iStockphoto
The concept of a half-million-dollar home has changed quite a bit over the last 30 or 40 years.
"In the 1980s, $500,000 could buy you a mansion in many parts of the country," said 17-year real estate industry veteran, Teddi Schill of Portland Area Home Group. "Today, that same amount of money will barely buy you a starter home in many major metropolitan areas."
Since inflation reduces the purchasing power of currency over time, prices from decades earlier always feel ridiculously low contemporarily — but housing inflation between the 1980s and today has been in a category all its own.
Here's how far a half-million bucks could take you then vs. now.
6 Houses Back Then Shrunk to 3 Houses Today
Department of Housing and Urban Development data shows that the median single-family home in the U.S. was worth $84,300 in 1985, or $241,140 in 2023 money.
That means that 38 years ago, $500,000 could buy just shy of six middle-of-the-pack houses.
Adjusted for inflation, $500,000 in 1985 dollars has the purchasing power of $1.43 million today. If housing inflation had kept pace with general inflation and today's median home sold for $241,140, the ratio would have tracked nearly to the dollar — $1.43 million would be almost enough for six houses.
But according to the St. Louis Fed, the median home price in the United States is $431,000.
That means the 2023 equivalent of $500,000 in 1985 money — $1.43 million — can buy only a little more than three houses today.
In short, a dollar bought about twice as much real estate in 1985 than it does today.
Demand Was Growing While Your Housing Dollars Were Shrinking
So, how could the same comparative amount of money buy half as much real estate today as it could 38 years ago?
"This dramatic shift in price is due to a number of factors," said Schill. "The dollar has lost significant purchasing power over the past few decades. In 1980, $500,000 was equivalent to about $1.7 million in today's dollars."
But inflation sends prices up economy-wide, so why did housing inflation outpace the overall rate by a multiplier of almost two over the last four decades? Part of the reason is that while your purchasing power was shrinking, the number of people competing for four walls and a roof was growing.
"The population of the United States has grown by over 100 million people since the 1980s," said Schill. "This increased demand has driven up housing prices across the country."
And while they keep making more people, they're not making any more space to put them all now that America needs houses for 335.64 million people instead of 226.54 million.
"Land is a finite resource, and the supply of developable land in many areas is limited," said Schill. "This has also contributed to rising housing prices."
$500,000 Then and Now
Putting inflation aside, here's a look at how the concept of a half-million-dollar home has changed in a few famously expensive real estate markets since the 1980s.
Salt Lake City, Utah
In 1980, the median home in the U.S. cost $64,600 — $72,300 in the West. That same year, the median home price in expensive Utah was $113,400, and the capital city is pricier than the state as a whole.
Even so, a half-million bucks still went far back then.
"In the 1980s, $500,000 could have bought you a beautiful four-bedroom house in Salt Lake City, with a big backyard and stunning mountain views," said licensed realtor, Joshua Martin of Atticus Home Buyers.
Today, $500,000 would leave you nearly $40,000 short of the home in the middle of the pack — according to Zillow, the median house in Salt Lake City costs $539,809.
"You might be looking at a two- or three-bedroom home in the same area," said Martin.
San Diego, California
In 1989, the LA Times ran an article lamenting the stunning increase of housing costs in booming San Diego. The median new home in a subdivision was going for $205,000 — 37% more than just one year earlier.
It was the end of a wild decade of rapid job growth, rapid population growth and a meteoric rise in housing prices — and it didn't cool off in the '90s.
"In September 2023, the median listing home price in San Diego was $999,900," said Peter Evering, business development manager with Utopia Management, one of California's largest property management companies.
"This means a house priced at $500,000 would typically be less than 1,000 square feet. Most will have two beds and two baths, but the nearer you get to the city center, you will find $500,000 properties with only one bed and one bath and with floor areas of 500 to 800 square feet.
"According to data from S&P Dow Jones Indices LLC, the median home price in San Diego in the mid-1980s stood at around $40,000. This would mean that a $500,000 house in San Diego today would have cost just a few tens of thousands in the '80s. Conversely, a $500,000 house then would amount to several millions in today's market."
Oahu, Hawaii
According to Hawaii Public Radio, the Aloha State has been one of America's most expensive housing markets since at least the 1950s. The 1980s were no exception and neither are the 2020s — but the value of $500,000 has changed significantly along the way.
"In the Oahu market, where I have my expertise, $500,000 won't get you a single-family home nearly anywhere but the most remote areas of the island," said Michael W. Barker, a real estate agent with Compass in Oahu and founder of Hawaii Condo Source.
The median home on the island currently goes for $1,050,000.
"In the formerly blue-collar neighborhood of Kaimuki in East Honolulu, a 1,350-square-foot, four-bedroom, two-bathroom, single-family home, which sold in the mid-'80s for $130,000, recently sold for $1.7 million."
Barker also offered some context about what a half-million dollars could buy in Hawaii in the 1980s.
"Recently, a 4,000-square-foot, six-bedroom, 4.5-bath single-family home in the exclusive gated community of Hawaii Loa Ridge, which sold in the mid-'80s for a little over $500,000, sold for $3,700,000."
More From GOBankingRates