How Much House Can I Afford on a $75K Salary?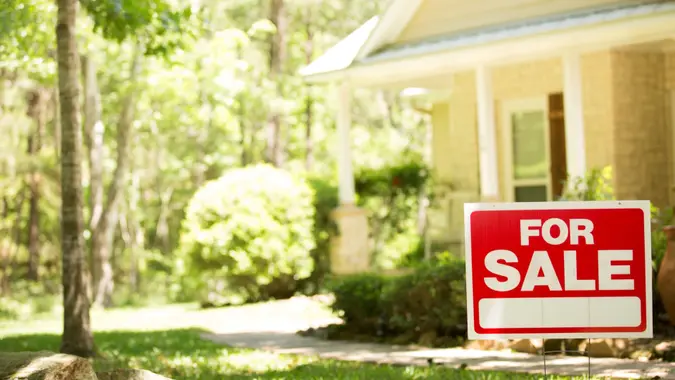 According to the Census Bureau, the median household income in the U.S. is around $71,000. Even if you make a few grand more, you might feel priced out of today's challenging housing market — but don't give up.
"Even though home prices are high compared to where they were a few years ago, don't assume that you can't afford one just because you make under $100,000 a year," said Delaney Juarez of Keller Williams City View in San Antonio, Texas. "There are actually things like down payment assistance programs and tax exemptions that could help you get into a home you love."
Your income might be the primary consideration, but it's certainly not the only one. Many other factors go into what you can afford on a salary of $75,000. Here's what you need to know.
Aim for $150,000-$250,000, but There's a Lot To Consider
Your credit score will affect how much house you can afford, as will any other assets you own, the size of your down payment and many other factors. But you can establish a general range with some basic math.
"Allocating around 25%-30% of monthly income towards housing expenses is recommended," said Hubert Miles, certified master inspector, HUD 203k consultant and owner of Patriot Home Inspections and Home Inspection Insider.
Since current mortgage rates are now over 6.5%, he gave an example of a 30-year loan with 7% interest.
"Individuals with a salary of $75,000 a year should aim for a home price ranging from $150,000 to $225,000, which would yield a mortgage payment of $998 to $1,497," said Miles, who cautioned to budget for costs beyond the loan itself.
"When allocating 25%-30% of monthly income to housing expenses, this includes mortgage payments and other expenses such as property taxes, homeowner's insurance, and any potential HOA fees," he said.
Take Our Poll: Are You Planning To Buy or Sell a House This Year?
The Bank Might Agree To Go Higher, but Be Wary
Boyd Rudy, team leader and associate broker with MiReloTeam Keller Williams Realty Living, says that a $75,000 salary could get you beyond the threshold Miles outlined.
"Assuming an average interest rate and reasonable debt-to-income ratio, someone with a $75,000 salary could potentially afford a home in the range of $225,000 to $275,000," he said.
Considering modern lending practices, it's not an unreasonable assumption — but trust your math over a lender's offer.
"Banks will often approve you for a loan that's on the higher end of your budget than is actually wise," said Juarez. "So, when deciding on a price point to look at, only go with what you can actually afford, not what the bank says you can afford."
When Crunching the Numbers, Think Like a Lender
Ignoring what the bank says you can afford is good advice, but the best way to work up your numbers is from the bank's perspective — and the bank will be very interested to know what you do with the 70%-75% of your income that isn't allocated for housing.
"Mortgage providers will typically approve a homebuyer with a back-end debt-to-income ratio of 45%," said Charles Vanderstelt, real estate broker with Quadwalls. "This means the monthly cost of the home, including insurance and property taxes and other recurring debts such as car payments, student loan repayment, revolving credit, child support and alimony payments must total 45% or less than the buyer's monthly income."
Focus on Monthly Income, Not Annual Salary
Vanderstelt's math concludes the debt-to-income maximum for a $75,000 annual salary is $2,813 per month — and per month part is what really matters.
"Mortgage providers approve a homebuyer based on the recurring monthly cost of homeownership," he said. "These include principal and interest repayment, property taxes, and homeowner's insurance. To more accurately determine your housing costs, build in 1% of the purchase price for annual property taxes and $125 per month for homeowner's insurance."
The key when planning is to break down your $75,000 salary into 12 units of $6,250.
"It's going to be a lot easier to figure out how much home you can afford when you look at your monthly income rather than your yearly income," said Juarez. "That's actually how banks figure out how much they're willing to loan out, so I recommend you use that metric as well."
Remember the Three Ls
According to Zillow, the median U.S. home value is $339,084, which is well above even the upper reaches of the affordability range on a $75,000 income — but it all depends on where you're looking to buy.
"In some high-cost regions, this salary may limit affordability to smaller properties or less expensive neighborhoods," said Joshua Haley, founder of Moving Astute. "However, in areas with more affordable real estate, it may still be possible to purchase a modest home or condo within this salary range."
According to America Mortgages, the following 10 cities are the best places to buy a home for under $250,000:
Pittsburgh, Pennsylvania
Rochester, New York
Little Rock, Arkansas
Detroit, Michigan
Dayton, Ohio
Buffalo, New York
Memphis, Tennessee
McAllen, Texas
Florence, Oregon
St. Louis, Missouri
More From GOBankingRates