How To Re-Price Your Home To Adjust for Rising Interest Rates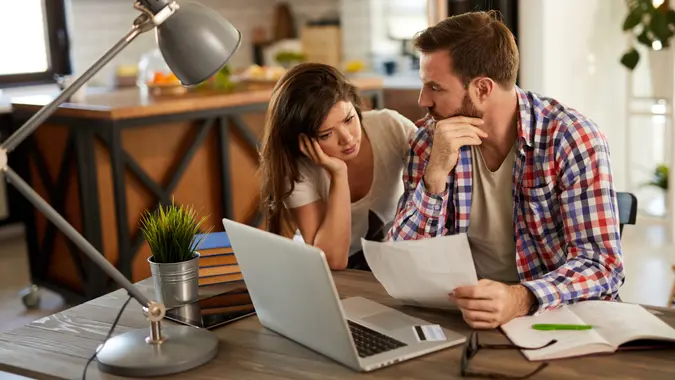 EmirMemedovski / Getty Images
It wasn't too long ago that the real estate market was so hot that sellers could stoke bidding wars and sell above list despite asking buyers to waive contingencies and forgo inspections. But the Federal Reserve's action to fight inflation made money much more expensive to borrow, which cooled demand and shifted that power balance back toward equilibrium.
The result is that sellers are watching the weeks tick by with barely a nibble on their listings, and many of them are realizing the one immutable truth of buying and selling — when demand falls, so do prices.
"It's important to be realistic in any market, and you may need to make price adjustments," said Beatrice de Jong, broker and consumer trends expert with Opendoor. "Especially with the current state of interest rates. The longer a home sits on the market, the tougher it can become to sell it."
Keep reading to find out the changes you should make to get your home sold.
A Lower Price Equals More Eyes on Your Listing
When searching for houses, buyers filter the results to ignore anything above their maximum budget. Thanks to rising interest rates, those price ceilings are getting lower and lower. If your asking price follows them down, it's all but certain that your listing will get more views.
"A lower price can open the listing up to a new pool of buyers since people often set their search parameters based on the price range they're shopping in," de Jong said. "Lower prices can get seen by more potential buyers."
A Lower Asking Price Could Bring a Higher Sale Price
Lowering your price might earn your listing more attention, but the tradeoff is a lower sale price, right? Not necessarily.
"Right now, price reduction is not the enemy because we are in a very different housing market than we were five months ago," de Jong said. "In some cases, a strategic price reduction can be an effective tool, starting a bidding war that could potentially result in an offer that is over your original asking price."
If you do decide to cut your list price, it's important not to hold out for too long.
"A strategy that I am seeing work across the board is not waiting more than a few weeks — three to four — after listing your home to make a price reduction if you're not receiving offers," de Jong said. "While you could be doing multiple showings and getting interest in the first few weeks, that does not always guarantee offers. Moving quickly to make a price adjustment can push buyers who were maybe on the fence to act quickly on this new deal."
Include Lenders and Realtors When Adjusting Prices
Kevin Watson, a senior loan strategist with Churchill Mortgage, does not necessarily agree that sellers should rush to lower prices, despite the anxiety that comes with today's longer average days-on-market time.
"Although the length of time it takes to sell a house has risen, if sellers have the house priced correctly, they should not have to lower it to make up for higher mortgage rates," Watson said.
But if you do decide to dial down your asking price, Watson is adamant that there are two very important steps you have to take — and two very important people you have to involve.
"First, consult a trusted realtor to get relevant comps to see what the market value should be – not six months ago, but what it is today," he said. "Second, consult with a trusted mortgage lender on how they can help a prospective borrower buy the interest rate down to a level where the borrower will be comfortable with the payment. There are special tools mortgage lenders have that can show how buying the rate down can be much more beneficial than lowering the price of the home itself."
So, What's the Strategy for a Downward Price Revision?
Aislynn Radley, a licensed realtor and broker/owner of Acrosstown Realty Inc., has a three-step system for finding your Goldilocks listing price that's not too high and not too low.
First, find a high-water mark to avoid lowering your asking price by too little, which could land you in the same tight spot again a few weeks from now.
"Find a comparable home that sold for a higher price last month and use that as a ceiling," Radley said. "You do not want to be in the position of chasing the market down as constant price reduction erodes your negotiating power."
Second, make yourself part of a group that's small enough for buyers to notice you, but large enough that you're not an outlier.
"Pay attention to how many homes appear in the same price range and area as yours when a buyer searches for a comparable home online," Radley said. "Ideally, there are not more than five — max 10 — homes to choose from. Otherwise, buyers will not make a very quick decision."
Finally, choose a price that puts you as close to the pack's center as possible.
"Position your home no higher than the middle of the comparables you have found," Radley said. "Sitting at the top of the price range means a buyer will not see any urgency to make an offer on your home and may sit and wait to see if a price reduction happens."
Or, Just Let Buyers Worry About Interest Rates
Another option, of course, is to remain confident in your original number, let your asking price ride and wait for the market to see the wisdom in your valuation.
"Sellers should not be too concerned with interest rates," said real estate broker and business funding expert Catina Willis. "Sellers should price their home according to where the market is going. Having a good local agent who specializes in working with home sellers will make the pricing process much simpler. A good seller's agent will have a great strategy to get your home under contract fast."
More From GOBankingRates