9 Private Islands You Can Buy For Less Than a California House

8 min Read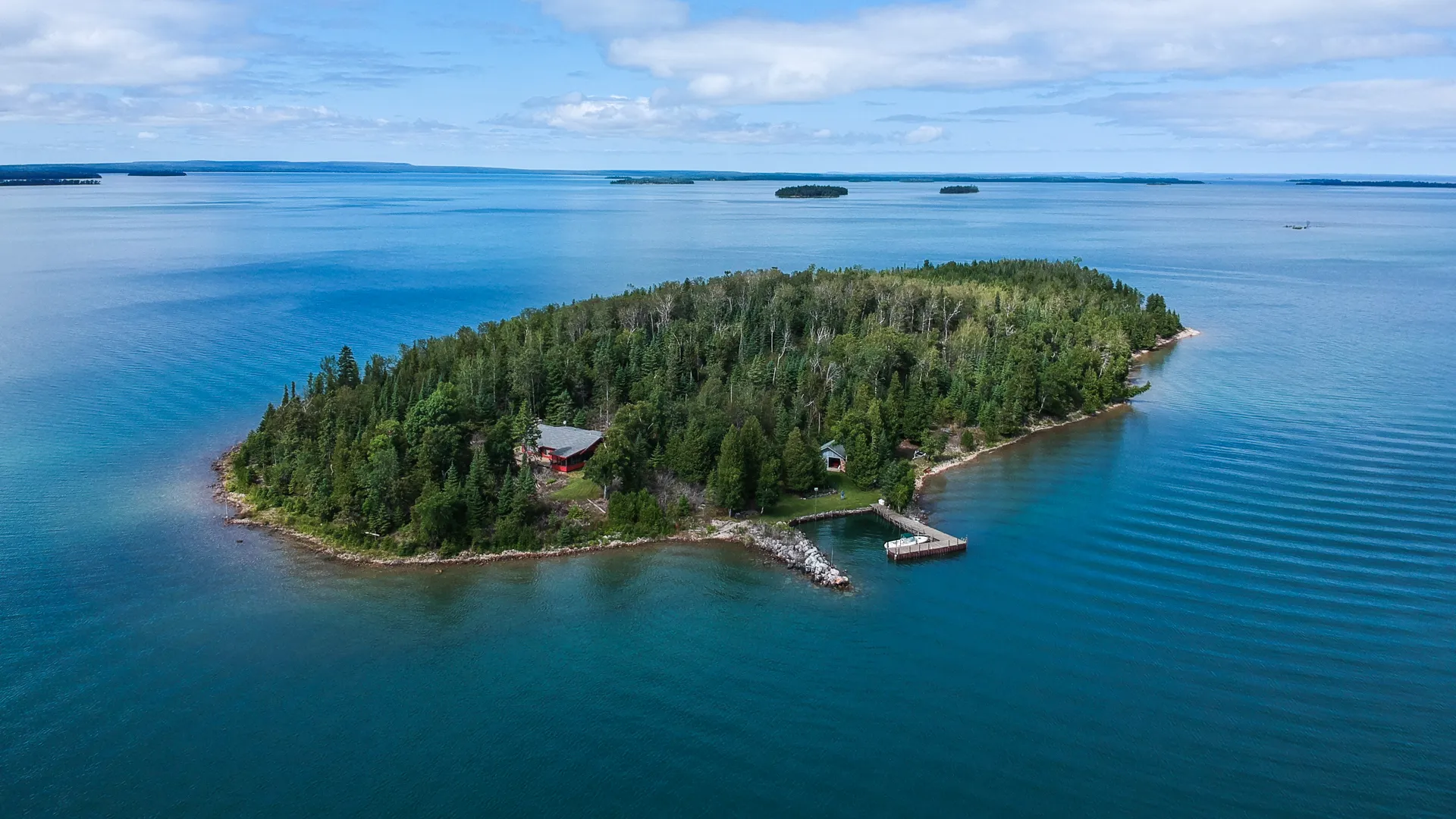 Imagine island living — but not the type of island life where you're constantly surrounded by other islanders. Instead, picture your own private island getaway. At this point, you're probably thinking this is nothing more than a pipe dream. But this lifestyle could be more attainable than you might think.
To prove it, GOBankingRates selected private islands for sale with developed homes on them — many of them costing less than the median price of a California Bay Area home of $940,000. Check out these nine private getaways — one of which you might be able to make your own.
Pricing is accurate as of May, 19, 2019, and is subject to change.
Natural Inlet Island, Ontario
Price: $208,096.86
Island size: 1.9 acres
Located at the mouth of Collins Inlet, Natural Inlet Island provides the perfect location for enjoying breathtaking views of the surrounding Georgian Bay and landscape from all directions. Stately white pine trees and massive boulders dot the shores of this fisherman's paradise, which includes two cabins, a woodshed and a dock shed. Access to the island by boat is easy: Launch from Killarney Park along Collins Inlet.
The House on Natural Inlet Island
In addition to the other structures on the property, this island hideaway comes with a four-bedroom, four-bath cottage, complete with a gravity-fed water system. The home features a roomy living area anchored by a quartz stone fireplace, as well as a large kitchen and a spacious porch.
Maple Island, Nova Scotia
Price: $425,000
Island size: 37.5 acres
If you desire a private getaway with plentiful acreage, Maple Island might be the perfect fit. Located on the Tusket River, this property is perfect for those who like to hunt and fish — or anyone who just enjoys being surrounded by nature. A boat dock and boathouse are also located on the island.
The House on Maple Island
Accommodations on the island include a turnkey 1,800-square-foot, 1-1/2-story home, tucked away amongst the trees. The house features four bedrooms, two bathrooms and knotty pine interiors. The kitchen's highlights include maple cabinets with granite countertops and a large island. And when you're ready to enjoy the outdoors, the home's expansive screened-in and outdoor deck areas are perfect for taking in the beautiful river views. A small guest house is also located on the island.
Howard Island, Michigan
Price: $449,000
Island size: 2 acres
About 12 miles from the Canadian border, just north of Drummond Island in Potaganissing Bay, lies this little island escape. Its unique location allows residents to view glorious sunrises and sunsets with ease and includes two outdoor fire pits and walking trails for outdoor enjoyment. A protected docking area in deep water, featuring an L-shaped crib dock and a boathouse is also included.
The House on Howard Island
The 800-square-foot, two-bedroom, one-bath main cottage features vintage furniture and a rustic knotty pine interior with a well-equipped kitchen. The living area boasts a slate fireplace and large windows that offer gorgeous bay views. The property also includes a guest cottage, hidden in the center of the island, which sleeps four.
Phoebe Island, Maine
Price: $459,000
Island size: 2.11 acres
Bordered by impressive stands of glacial rock, Phoebe Island, located on Sebec Lake, represents the perfect lake getaway — especially for people who enjoy excellent fishing and spending time on the water. Boats and docking equipment are included.
The property also comes with 22-acres of shoreside land that includes private fishing ponds. One pond is located on a 12-acre pond lot, and another is on an 8-acre pond lot, which includes an additional house. A parking or storage lot spanning 2 acres is also part of this plot.
The House on Phoebe Island
The turnkey, 800-square-foot island home features one bedroom and one bath, as well as a kitchen, dining area and living area. Knotty pine interiors and hardwood floors are located throughout. The house also includes plenty of windows, which allow for natural light.
Bocal Island, Nicaragua
Price: $560,000
Island size: 2.5 acres
If you've ever dreamed of owning a Hawaiian island but don't have the budget, the Nicaraguan island of Bocal might be the next best thing. Its white, sandy beaches and tropical flora will have you feeling like you're in an island paradise 24/7. This rare find is located on Nicaragua's Caribbean coast — about 90 minutes south of Bluefields via boat. A cement pier is located on the west side of the island for boat docking.
The House on Bocal Island
No island paradise would be complete without comfortable accommodations. A furnished, two-bedroom concrete home with a generator, water well and septic system is located on the north side of the island. You'll have your own infinity pool where you can enjoy priceless views of the surrounding sea and lush landscape. As a bonus, a small house that could be used by a caretaker or possibly guests is located on the east side of the island.
Freedrinks Island, Georgian Bay, Ontario
Price: $453,272.80
Island size: 8.5 acres
Located on Georgian Bay near Henvey Inlet, this private hideaway featuring a granite shoreline surrounded by deep waters offers breathtaking views, which could provide the ideal setting for someone looking for a place to relax and rejuvenate. The expansive bay area offers opportunities for boating or kayaking, and a pier and docking area is included.
The House on Freedrinks Island
The main house features two bedrooms and a spacious living area with a granite fireplace, gravity-fed water system and propane appliances. The kitchen is in a separate, but attached building. In a detached cabin, you'll find a three-piece bath, including a shower. A separate cabin with a covered deck is also located on the property, which could be used for guests.
Johnson Island, West Virginia
Price: $500,000
Island size: 36 acres
Johnson Island, located in the Greenbrier River, is one of the pricier private islands for sale on the list but also boasts a nice amount of riverfront acreage. The island features a wooded area, gravel road, bridge and an RV hookup. Other amenities included are a water well, septic system and a newly constructed dock.
The House on Johnson Island
The boathouse-style home is located on the south side of the island, which allows for complete privacy. The structure was built to maximize natural light with 25 windows and five skylights. The house features luxury finishings, such as granite, marble and tile, as well as cherry floors. Wrap-around decks and a patio suited for outdoor entertaining are also included.
Brown Island, Michigan
Price: $874,900
Island size: 48 acres
You'll find Brown Island located north of Alpena, Michigan on the expansive Grand Lake. The island features dense tree cover, including cedar, white pine and white birch, but a trail system is present. Outdoor enthusiasts will enjoy opportunities for deer spotting and bald eagle watching.  A 30-by-40-foot pole barn is located on the property for storage and a barge and pontoon boat are included in the sale.

The House on Brown Island
Out of all of the islands for sale on this list, this one is probably the most unique in terms of accommodations. Instead of a house, Brown Island has a furnished 3,000 square-foot lodge, featuring a great room that seats 35 people. The property comes complete with a commercial grade kitchen, septic and drain system. With a little work, the lodge could be converted into a private residence. Two 16-by-20-foot heated guest cabins are also included. 
Gull Island, Michigan
Price: $549,000
Island size: 15 acres
Located in the middle of Potagannissing Bay, near the Canadian border, is this private island getaway that will delight nature lovers. Imagine being able to view a bald eagle's nest while exploring the island or taking in expansive bay views enhanced by beautiful sunsets. A spacious 20-by-24-foot boathouse — perfect for watercraft and equipment — and a crib dock located in deep water are included.
The House on Gull Island
The 1,600-square-foot, three-bedroom, one-bath home features a living room highlighted by a unique stone fireplace and tall, expansive windows designed to bring the outside in. The home is fully furnished in a rustic fashion and includes an outdoor deck — perfect for panoramic viewing of the surrounding wooded landscape and bay areas.
More on Homes
About the Author