Real Estate 2023: A Look at What Has Happened to Home Values in Every State This Year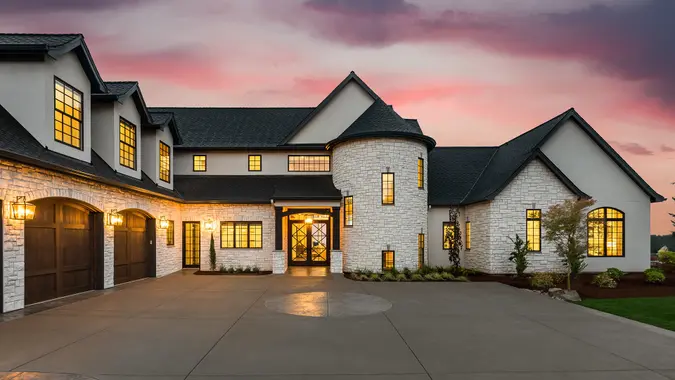 Breadmaker / Shutterstock.com
Do you know the typical home value in every U.S. state? 
GOBankingRates took a closer look at these home values using data provided by the Zillow Home Value Index (ZHVI). This index measures the typical home value and market changes across a given region and housing type. The ZHVI is published for all single-family residences, condos/co-ops and homes with one, two and three or more bedrooms, reflecting the typical value for homes in the 35th to 65th percentile range. For the purposes of this article and its infographics, GOBankingRates will cover home values for single-family homes, condos and three-bedroom homes in every state. 
If you're curious about where home values stand now in your state or how values have changed in some states since 2020, here's what the typical home value looks like in every state.
Single-Family Home Values Across the US
It will come as no surprise to potential homebuyers that Hawaii and California are the most expensive U.S. states for single-family homes. ZHVI data shows single-family home values in Hawaii have been above $950,000 as of April 2023. In California, single-family home values run between $700,000 and $800,000.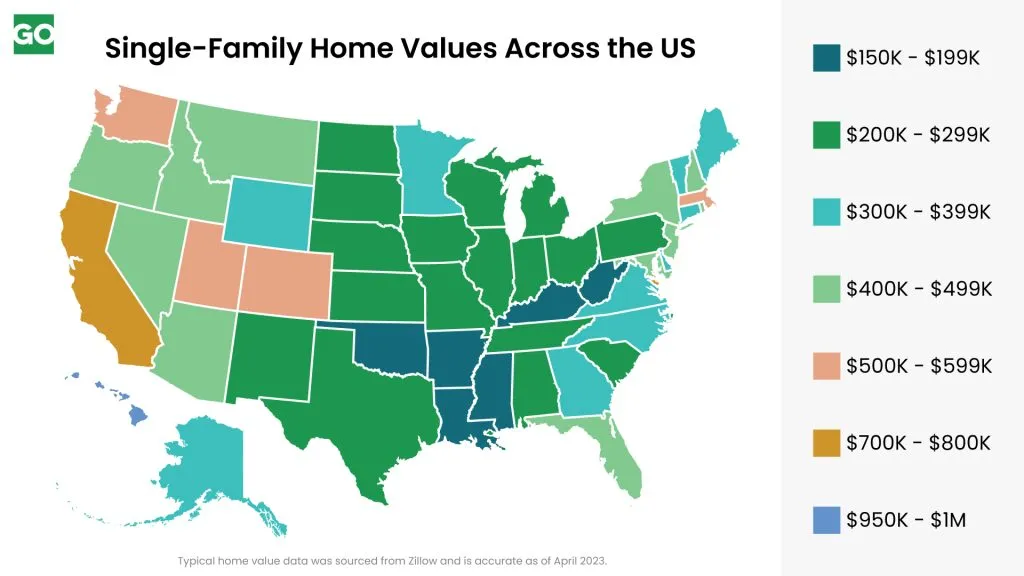 Most of the states where home values are considerably lower — under $200,000 — are located in the Southern portion of the United States. This includes Oklahoma, Arkansas, Louisiana, Kentucky and West Virginia.
Many Midwestern states, including Missouri, Iowa, Illinois and Indiana, share similarities in claiming single-family home values anywhere between $200,000 to $299,999. However, there are a few exceptions in the South and East Coast. Texas and Pennsylvania, for example, both have similarly priced single-family home values despite not being part of the Midwest.
Condo/Co-op Home Values Across the US
When considering condo/co-op home values across the U.S., California and Hawaii flip sides. Here, California is the most expensive at $600,000 to $699,999 while Hawaii takes the second spot for its $500,000 to $599,999 condo/co-op home values. New York also joins Hawaii in this ranking — surprising considering it has much lower $400,000 to $499,999 single-family home values.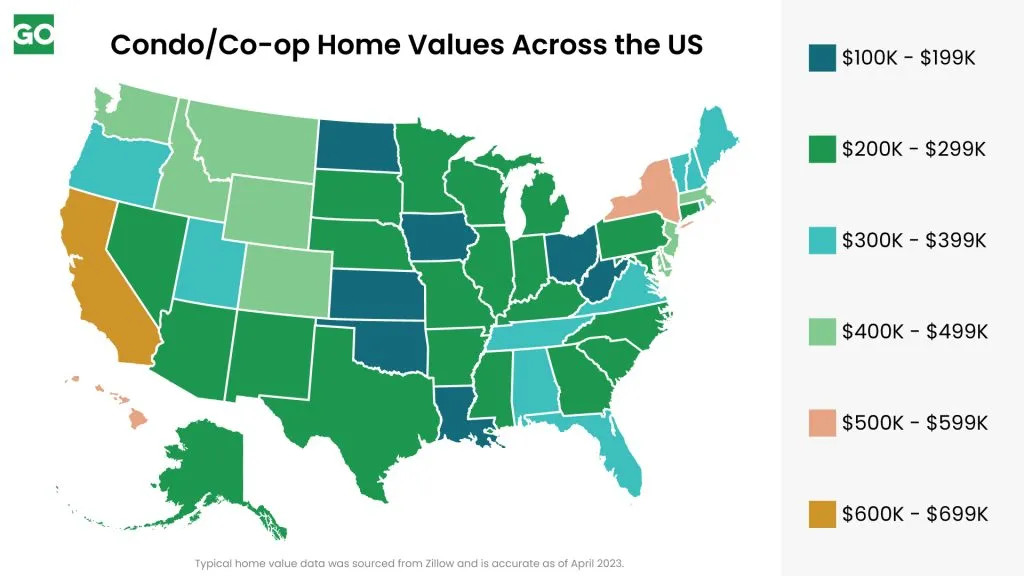 The states with the least expensive condo/co-op home values are also largely Midwestern states. These include North Dakota, Kansas, Iowa, Louisiana and Ohio. Exceptions include Oklahoma and West Virginia as Southern states with the most affordable condo/co-op home values. 
On the East Coast, Maine, New Hampshire and Vermont all share regional similarities in $300,000 to $399,999 condo home values. In the previous infographic, the trio of states differed when it came to single-family home values. The $200,000 to $299,999 home values for condos and co-ops is once again reflected among most Midwest states, but potential buyers may want to turn their attention to Southwest states including Nevada, Arizona and New Mexico. 
Another surprising inexpensive addition in the $200,000 to $299,999 range? Alaska. 
Three-Bedroom Home Values Across the US
There are a few items that immediately jump out upon reviewing the ZHVI data on three-bedroom home values. Aside from Hawaii taking the top spot at $800,000 to $899,999 and California in second place at $600,000 to $699,999 — slight bump from its single-family amount — several states across the U.S. have three-bedroom home values within the $300,000 to $399,999 range.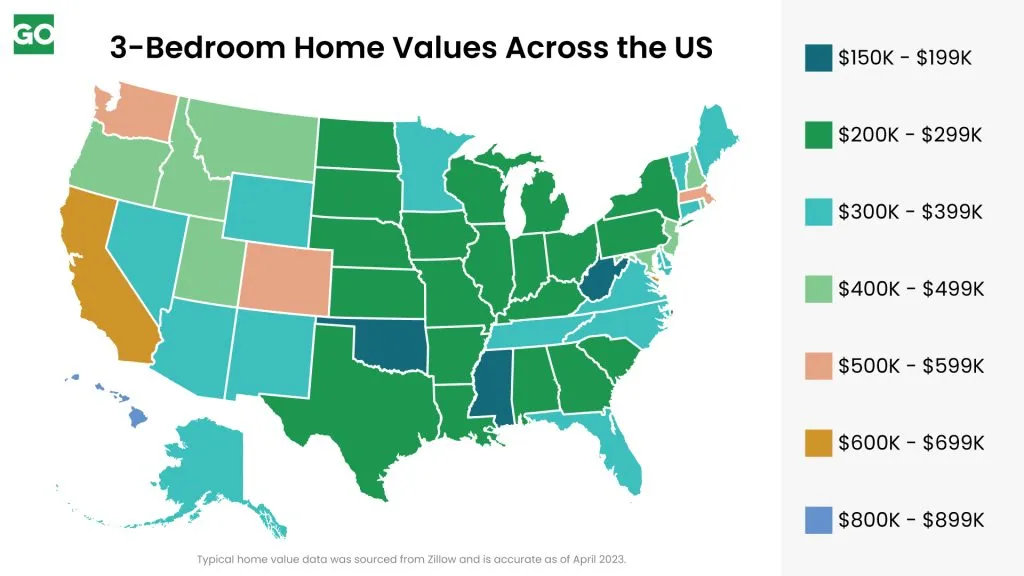 These states include Nevada, Florida, Arizona, New Mexico, Wyoming, Minnesota, Alaska, Maine, Vermont, Connecticut, Rhode Island, Delaware, Maryland, Virginia, North Carolina and Kentucky. This kind of scattering across the United States means home values on three-bedroom homes are fairly affordable, giving families many options on where to consider moving or relocating. 
Similar to the data in other infographics, most Midwestern states have a lock on three bedrooms with $200,000 to $299,999 home values. However, many Southern states that did not previously have these values, like Alabama, Georgia and South Carolina, also receive the same inclusion.
What about the lowest home values at $150,000 to $199,999 for a three-bedroom? These are limited to just three U.S. states: Oklahoma, Mississippi and West Virginia. 
Across all three infographics, West Virginia receives the most notable mention as the state with the lowest home values for single-family, condos/co-ops and three-bedroom homes.
Home Values Pre-Pandemic Versus Now
Before we wrap up, how do home values compare pre-pandemic versus now? According to ZHVI data, home values are much higher in April 2023 across these six popular states that we looked at — California, Florida, Nevada, New York, Tennessee and Texas — than they were in February 2020. 
Of these six states, California and Florida experienced a close to $200,000 jump respectively over the last three years. The jump was around $100,000 for Nevada, New York, Tennessee and Texas. 
More From GOBankingRates