I'm a Real Estate Agent: These Are My 7 Favorite Cities for High-End Real Estate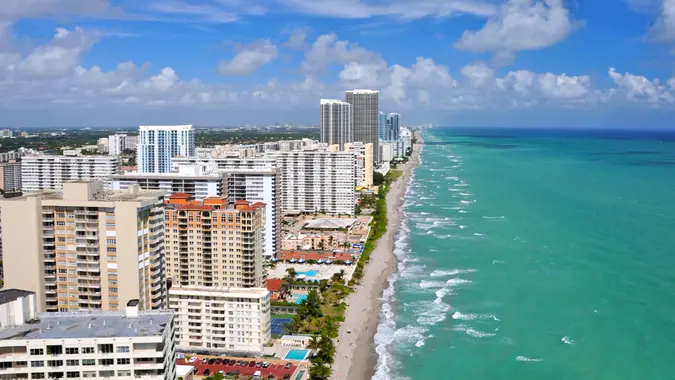 Richard Cavalleri / Shutterstock.com
Several factors make high-end real estate what it is, including the cost, the square footage, the location, the view and the amenities — to name a few. Many of these properties go for at least $1 million, though some can be priced far higher than that. They also tend to be several thousand square feet, if not more, and have features that give them both the high price tag and the look and feel of luxury.
Of course, defining high-end properties isn't always so simple. After all, the location and market can have a big impact on whether a home is considered "luxury" and "high-end" or not.
GOBankingRates spoke with real estate professionals Noel Figueroa, a realtor associate with the Keyes Company, and Rachel Goldman, a commercial real estate professional and associate advisor for SVN Commercial Advisory Group, to get their favorite locations for high-end real estate.
Here are the top locations they shared.
Miami
In Miami, the median home value is just over a half-million dollars. However, there are many high-end communities within Miami that go for a far higher price point than that. In Snapper Creek Lakes, for example, the median home price is over $6 million.
"Miami is growing exponentially, and developers of luxury high rise residential units seem to be outdoing themselves with the amenities being offered on new projects," Goldman said.
Another high-end neighborhood in Miami is Brickell.
"Brickell is the financial hub of Miami," Figueroa said. "It has these amazing modern high-rise buildings that just offer some of the best skyline views you could imagine. It has a lot of other benefits as well, like top of the line hotels, shopping and nightlife, and trendy neighborhoods. It reminds [me] of Manhattan in New York City in some ways."
New York
In New York, the median home listing price is around $795,000. However, you can easily find homes in the millions.
"New York, the city that never sleeps, has lots of diversity, luxury shopping, and endless energy," Goldman said. "It is not only Manhattan, but Brooklyn and Queens now offer more affordable luxury residential options."
Homes in Manhattan regularly sell for around $1.5 million. The median listing price in Brooklyn is just shy of $1 million, according to Realtor.com.
Los Angeles
Home to many celebrities and other affluent individuals, Los Angeles is another high-end city to purchase real estate. The median home listing price in Los Angeles is around $1.2 million.
"L.A. has lots of land on which to build luxury residences and has a unique culture. For example, when it comes to food, L.A. has no rival when it comes to curated and creative vegetarian and vegan meals. I mean, what other city can you go to in America where there are ten different ways to serve brussel sprouts?" Goldman said. "The rolling hills and city lights are the perfect environment for new luxury homes with floor to glass ceilings, which never gets old."
Sunny Isles, Florida
Part of the Miami metropolitan area, Sunny Isles is a small community located on a barrier island. The median home listing price is around $1.1 million, though you can also find properties in the tens of millions of dollars.
"Sunny Isles has been the talk of the town lately because one the hottest soccer players, Lionel Messi, recently purchased at the Porsche Design Tower," Figueroa said. "I recommend Sunny Isles in Miami because it has some of the most desirable condo buildings in South Florida, including Porsche Design Tower, Bentley Residences (coming soon), Jade Ocean, Estates at Acqualina, Ritz-Carlton Residences, and many more. With the best ocean views, top of the line amenities, and exclusivity, you get to surround yourself with some of the most successful people in different industries."
Park City, Utah
If you love hiking, mountains and snow skiing, then Park City, Utah, is the place to be. It's also home to a couple of major resorts — Deer Valley Resort and Park City Mountain Resort.
Park City, according to Goldman, is a "city where you get to experience all four seasons, where new residences have an excellent foundation of bedrock with stone facades." It also boasts "skiing for a novice to off-piste, and homes with some of the largest square footage in the county."
The median listing home price in Park City is $2.1 million.
Fort Lauderdale, Florida
Another Florida location where you can find luxury real estate, as well as upscale restaurants, beautiful beaches, stunning landmarks and more, is Fort Lauderdale. 
"Without a doubt, South Florida has some of the hottest properties in the country and some of the most successful people in the world live here," Figueroa said. This includes Fort Lauderdale. "Some of the most high-end real estate can be found in Broward County, with homes in Seven Isles, Coral Ridge, Harborage Isle, Las Olas Isles, and Harbor Beach."
In Fort Lauderdale, the median listing price is $735,000. However, some properties go for anywhere from $1 million to $30 million in the area.
Abu Dhabi, United Arab Emirates
For those looking for a place a little further from home, there's Abu Dhabi, the capital of the United Arab Emirates.
"Abu Dhabi," Goldman said, is "a true visionary city with limitless capital [that] attracts tons of international investors [and has] entertainment experiences and luxury homes that will make any investor feel like a prince or princess."
Bottom Line: Defining Luxury or High-End Living Is Subjective
Ultimately, what defines "luxury" or "high-end" is unique to each individual's preferences and tastes. With that said, here's how Goldman and Figueroa define it.
"My take on luxury homes features large windows, anything with a view, rain heads in showers, steam/saunas, heated toilet seats, double-wide refrigerators, wine coolers, induction stove tops, smart home technology, energy-saving appliances, and large outdoor living spaces or balconies," Goldman said.
"Often, people will associate million-dollar homes with high-end real estate, but luxury real estate is about more than that. It's also about the exclusivity you get that comes with a high-end property. Start with the amenities, then also evaluate your neighbors, nearby attractions, and access to opportunities. Ultimately, it's about creating the exact life you want," Figueroa said.
More From GOBankingRates