Real Estate Expert: Don't Buy a Home Solely as an Investment — Here's Why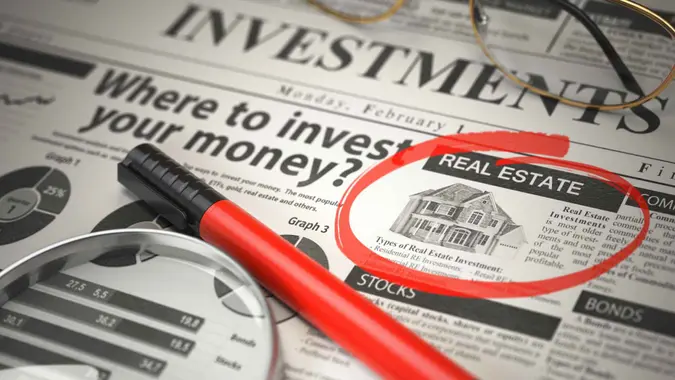 Bet_Noire / Getty Images/iStockphoto
While real estate can be part of a diversified portfolio, viewing the purchase of a home solely as an investment might not be entirely beneficial at the moment, according to some experts.
"Stocks and bonds have both been dropping for several months, so it's understandable that some investors are taking a closer look at real estate," said Jason Sorens, senior research faculty, American Institute for Economic Research. "Buying rental property can make sense. But treating your place of residence as part of your investment portfolio is a bad idea for several reasons."
For one, mortgage rates have been hovering around 8% and are continuing to climb. As of Oct. 26, the average 30-year fixed mortgage rate stood at 7.87%, according to Mortgage Daily News. To put this in context, rates were at 2.98% for the same week in 2020.
Danger: Mortgage Rates Could Continue To Rise
In turn, mortgage rates that could continue to rise could cause the value of the equity in your home to decline, said Sorens.
Low inventory — partly due to homeowners feeling "locked in" by the lower mortgage rates they secured a few years back and therefor also feeling hesitant to sell — is also putting tremendous pressure on prices.
In fact, the median home price for the third quarter of 2023 is $431,000, according to the Federal Reserve Bank of St. Louis data — up from $337,500 in the third quarter of 2020, a whopping 21.7% jump.
"These higher home prices mean a significantly higher upfront cost for buyers and investors," said Yancy Forsythe, owner of Missouri Valley Homes. "When you factor in the long-term holding costs and the unpredictable appreciation rates, the return on investment becomes much less certain. Doesn't seem like the safest or smartest investment to me in the current real estate market."
According to Forsythe, buying a home solely as an investment in the current market is a risky investment. He noted, however, that multi-family homes and apartment complexes may be another investment to explore.
Finally, another aspect to consider when pondering whether to buy a home as an investment, is the associated costs.
Omer Reiner — a realtor and president of Florida Cash Home Buyers — noted that while many times, buying a home can be a good investment, you also should consider other expenses for which you will be responsible for paying (whether you keep the home for six months or 16 years).
"Things like utilities, taxes, maintenance and repair costs and possibly homeowners association fees make a home less attractive over the years as solely an investment," said Reiner.
More From GOBankingRates