Real Estate Experts Reveal the Best Money You Can Spend on Your Home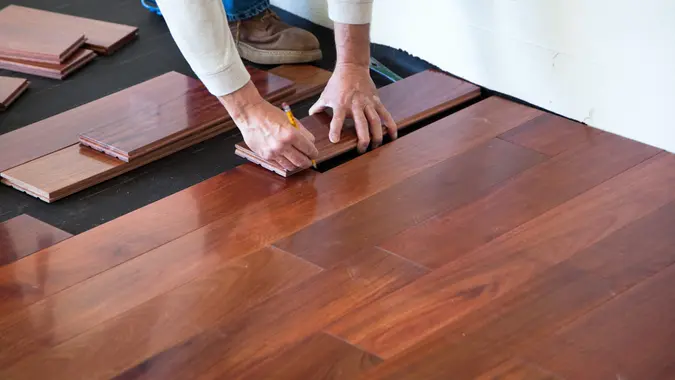 slobo / Getty Images/iStockphoto
Thinking about renovating your home? More than half (55%) of American homeowners are, too, according to a 2022 Houzz & Home Study.
Home upgrades and remodels can be a great investment — if you choose a project that will eventually allow your home to sell for more. As the cost of labor and materials rise, here's how real estate experts recommend making the most of the money you spend on your home.
First, Determine Your End Goal
Before choosing a project, decide why you're investing in your home, says Allison Timothy, a buyer agent with Homie in Utah.
"Before beginning a home remodel or adding to your home, it's best to know who you are trying to please," she said. "Unique finishes that you really love are great if you plan to stay and enjoy them. However, if you're remodeling to get ready to sell, look for new neutral trends that buyers are seeking right now."
Experimenting with trendy colors is fine, as long as you do so with easily replaceable décor such as accent pillows, wall hangings or rugs. For permanent pieces or upgrades — like light fixtures, backsplashes, tile flooring or anything that's glued or bolted down — Timothy recommends sticking with neutral colors.
Next, Plan Your Budget and Choose a Project
Renovating and upgrading your home may be exciting, but don't rush into a project too quickly. Take your time to research and map out how much you can spend.
"For those looking to improve their home, I would recommend first establishing what your budget is and make sure to factor in unexpected costs," said Beatrice de Jong, consumer trends expert at Opendoor. "From there, determine how big or small this home renovation or improvement project will be and what fits within that budget."
She also recommends doing your research before buying materials and getting multiple bids from various landscapers or contractors.
Wondering which project to choose? Based on research and their own experience, Timothy and de Jong recommend the following projects if you're looking to get the best return on your investment.
Kitchen Remodels
Timothy added a second full kitchen to her family's basement, and she uses it regularly. This helpful addition will also increase her home's appeal if she eventually decides to sell.
"Updating color schemes, cabinets, countertops or paint will tend to expand a seller's buyer pool," she said. "Also, a new fun trend is to add a second dishwasher, especially in an area that tends to have bigger family gatherings."
Bathroom Updates
"Bathroom remodels are also one of the most effective ways to increase a home's resale value, which can range from a full remodel to just a fresh coat of paint or upgrading faucets and shower heads," said de Jong. "Regardless of how big you go here, a bathroom facelift typically goes a very long way."
Buyers agree, with 66% citing outdated bathrooms as a major turn-off, de Jong added, citing a 2022 Opendoor home décor report.
Outdoor Touch-Ups
Thinking of updating your home's overall curb appeal? Homes with a good landscape saw a 5% to 11% increase in perceived value, according to a study in the Journal of Environmental Horticulture.
"For the backyard, adding a nice patio or deck will increase buyer interest and usually result in a higher selling price with fewer days on the market," said Timothy. "Another great trend to improve the value of your home is to add outside lighting."
Whether you go with solar yard lights or permanent holiday LED lights, you can expect an increase in buyer interest.
Timothy also recommends keeping your yard well maintained with regular trimming, mowing and weeding.
"Curb appeal is a powerful tool," she said. "We know that prospective buyers value a clean neighborhood and home."
Floor Replacements
"One of the best investments I've seen clients make is to rip out old, dingy carpet and replace it with new flooring," said Timothy. "Most current buyers are looking for the sleek look of hard floors. Hardwood, vinyl and tile are all current popular flooring trends."
Not only do hard floors hold less dirt, but they also are resistant to stains and easy to clean. To get the best of both worlds, some of Timothy's clients who want plush flooring in certain rooms have instead opted for attractive area rugs that are easy to replace.
More From GOBankingRates