Real Estate 2023: Here's What $1M Buys in New York City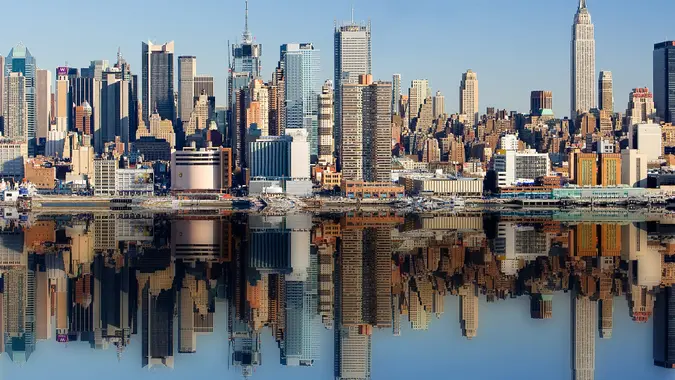 Donald RSwartz / Shutterstock.com
The average home value in New York City is $629,516 — nearly half the $1.3 million the average buyer pays in San Francisco.
Despite New York's reputation as one of the least affordable cities on Earth, a million bucks can still get you a bite of the Big Apple.
The trick is to know your neighborhoods.
Each of the five boroughs — Manhattan, Brooklyn, Queens, the Bronx and Staten Island — is divided into dozens of sections. One million dollars can go a long way in some of them. In others, not so much.
The following borough-by-borough breakdown uses data from Zillow to show you what one million bucks will buy in New York City in 2023.
Manhattan
Roughly 750 properties are listed for around $1 million in Manhattan — and they get smaller as the neighborhoods get posher.
If you want to spend eight figures or more on a place to live, you won't have any shortage of opportunities — last year, a Central Park Tower penthouse listed for a quarter-billion.
In the heart of the Financial District, just adjacent to Wall Street, is unit 19A at 40 Broad Street, which is currently listed for $1.07 million. A condo built in 1982, it's a one-bedroom with two bathrooms that spans 930 square feet at a cost of about $1,151 per square foot. Buyers can expect to pay around $7,595 per month for the mortgage — but don't forget the $1,213 monthly HOA fee.
Brooklyn
Around the $1 million price tag, there are currently about 730 properties for sale in Brooklyn, and the most affordable are concentrated in the center of the borough in neighborhoods like Flatbush, Crown Heights and Bedford-Stuyvesant.
A property currently listed in the Midwood neighborhood puts the difference between Lower Manhattan and Central Brooklyn on display. Here, $1.08 million buys you five bedrooms, three bathrooms and a finished basement spread across 1,677 square feet — that's just $644 per square foot. Beautiful hardwood floors and a large backyard are all part of the package.
But the closer you get to Manhattan geographically, the more the prices start to converge. On the East River in Williamsburg, $996,000 buys you only a 712-square-foot one-bedroom apartment.
Queens
In desirable, Manhattan-adjacent Queens neighborhoods like Long Island City and Astoria, one-bedroom apartments with sub-700 square footage can command $1 million, same as in "the city."
But just as in neighboring Brooklyn, prices fall in the borough's center. In neighborhoods like Jamaica, you can get a 2,200-square-foot five-bedroom house with four bathrooms for around $900,000.
The Bronx
The Bronx is the only borough connected to the U.S. mainland, and it's also one of the most affordable in the city. Even in famously expensive neighborhoods like Riverdale, the median home value is just over $300,000 — a bargain by New York City standards.
On the other hand, if you have $1 million in the South Bronx, you don't need to settle for an apartment — you can buy the whole building. A 10,425-square-foot multifamily building with 30 bedrooms and 10 bathrooms is listed for exactly $1 million — $96 per square foot.
Staten Island
According to UpHomes, Staten Island joins the Bronx as one of the more affordable boroughs in the city despite being the second-wealthiest.
A little more than 200 homes are currently listed there for around $1 million, which is much more than the borough average of $624,603.
About 20 properties are on the market for around $1 million in the posh Todt Hill neighborhood, but several listings double that asking price or more.
In neighborhoods like Great Kills, on the other hand, a 2,300-square-foot, six-bedroom, four-bathroom two-family home can be yours for less than $970,000.
More From GOBankingRates