Robert Kiyosaki: 7 Pros To Real Estate Investing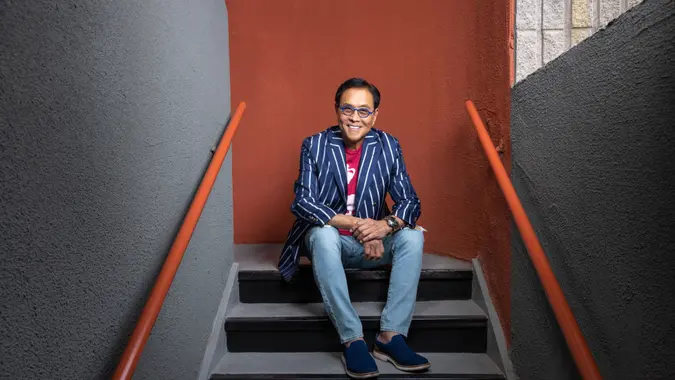 ©Robert Kiyosaki
Can you guess which asset class is personal finance expert Robert Kiyosaki's favorite? It's real estate — and Kiyosaki knows certain types of investors thrive when they choose real estate investing.
What are some opportunities real estate investors might experience once they decide on this investment? Kiyosaki identified seven major advantages to real estate investing on his Rich Dad blog.
Here are the seven pros that come with real estate investing.
Appreciation
Kiyosaki writes in the blog post that he doesn't believe investing strictly for appreciation is a smart move. However, the Rich Dad post also notes he agrees there's an important revenue stream found in property values and rent increases.
Mason Whitehead, a Dallas-based branch manager for Churchill Mortgage, said real estate investors benefit from appreciation on their property and equity buildup over time. This is because the majority of tenants are paying principal down on the mortgage of the home.
Cash Flow
Kiyosaki uses the example of a real estate investor who buys a rental property and manages it. If an investor manages this rental property well, the person will benefit from its steady and significant cash flow.
Michael Margarella, commercial real estate investor at Next Play Investments, enjoys real estate's ability to provide cash flow on a rolling basis. Margarella said this type of cash flow is inflation resistant (as inflation increases, so do rental rates) and allows investors to realize substantial tax benefits.
"Unlike a stock or a bond where you must pay substantial tax when you sell or cash out — which is the the sole way to lock a profit — you do not have to sell your real estate to realize returns," Margarella said. "Typically, your returns are taxed in a much more favorable manner."
Comprehension
If you have ever bought real estate, you're likely to understand some of the basics associated with calculations and purchases. This is a pro to real estate investing.
Control
Compared to other investors, those who invest in real estate have more control over their income, Kiyosaki writes. This control also extends to any expenses associated with their investments.
"In real estate, you are able to control your investments and invest in what you want to invest in," said Charlie Hardage, managing principal at H&K Investment Group. 
Hardage uses the example of someone who invests their money into a 401(k) or an IRA. In these situations, the money — your money — is locked away for 20 to 40 years. The advantage of real estate investing means controlling your money allows you to velocitize your money and have it compound quickly.
Stability
Kiyosaki wrote that when compared to other investments, properties with significant cash flow tend to be less subject to the ups and downs of the market. There's stability to be found in real estate.
Tax Advantages 
A few tax advantages to real estate investments include, but are not limited to, depreciation and write-offs.
According to Jeremy Keil, financial advisor at Keil Financial Partners, tax deferral through depreciation is when an investor deducts a certain percentage of the purchase price as an expense.
To be clear, this does not provide the investor with free income. Rather, Keil said, if an investor sells the property, the person will have to "recognize" the income that was "depreciated" earlier.
Using Other People's Money (OPM)
In previous Rich Dad blog posts, Kiyosaki has written about successful investing via acquiring other people's money (OPM). Some helpful spaces where you can get OPM include traditional financing and bank loans. Once you tap into OPM, you can leverage it to build your wealth. 
OPM may be used when investing in real estate. As Kiyosaki wrote in his post, most of the money for real estate investments comes from the bank, whereas a smaller percentage is the investor's capital.
"The truth is investors rarely use their own capital to fund deals," said Tresa Todd, founder and real estate investing expert at Women's Real Estate Investors Network. "With OPM, you can reduce financial risk and increase scalability. By leveraging the resources and expertise of others, you can fund larger projects, acquire more properties and expand your investment portfolio more quickly."
More From GOBankingRates