Can You Roll Closing Costs Into Your Mortgage?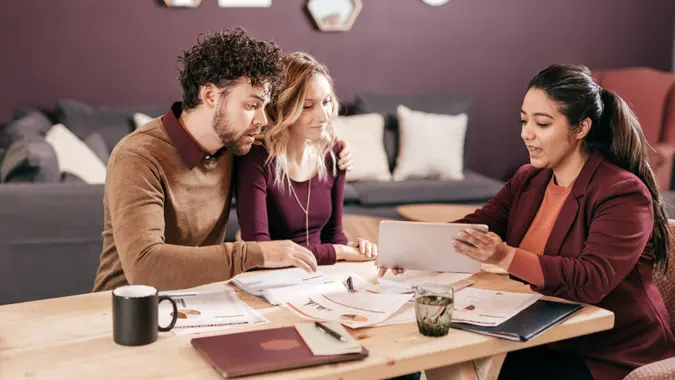 kate_sept2004 / Getty Images
Closing costs are the loan fees and other costs you incur when you purchase or refinance a home. There's no escaping them, but depending on the type of loan you use, you might be able to roll closing costs into your mortgage.
What Does It Mean To Roll Closing Costs Into Your Mortgage Loan?
Rolling closing costs into your loan means you'll finance them using the same loan you use to finance or refinance your home.
The benefit is that you'll need less cash or no cash at closing. The consequence is that you'll have to either borrow more money — which increases your mortgage payment and the amount of interest you pay over the life of the loan — or pay a higher interest rate.
How To Roll Closing Costs Into Your Mortgage Loan
How you go about rolling the costs into your loan depends on the lender and the type of loan. However, there are two primary ways — you can finance them or you can accept a lender credit.
How To Roll Closing Costs Into Your Purchase Loan
When it comes to rolling closing costs into a loan, purchase loans have an advantage refinance loans don't — a seller who can make the process easier.
Financing Your Closing Costs
Some loan types, including those backed by the U.S. Department of Veterans Affairs and U.S. Department of Agriculture, allow borrowers to add at least some of their closing costs to their loan principal.
If you go this route, you'll borrow the amount you need to pay for your home plus the amount you need for closing costs, up to certain limits that vary by loan type. In the case of a U.S.D.A.-backed loan, however, you can only borrow up to the appraised value of the home.
In some home sales, the financing is a seller concession. With a seller concession, you ask the seller to pay part or all of your closing costs. However, no money changes hands, and the seller typically won't pay the closing costs out of pocket. Rather, they'll give you permission to finance your closing costs. The closing costs then get paid from the seller's sale proceeds, which reduces their net proceeds from the sale. In most cases, you'll have to pay a higher sale price to make up for the concession.
Lender Credit
True to its name, a lender credit is money a mortgage lender credits to a borrower to pay closing costs. It's not free money, however — the lender recoups the cost by charging the borrower a higher, "premium pricing" interest rate.
How To Roll Closing Costs into a Refinance Loan
No-closing-cost refinance loans work the same way as similar purchase loans. The lender does charge you for closing costs, but it does so by charging you a premium mortgage rate.
Alternatively, you can add some or all of your closing costs to the amount you borrow — assuming you have enough equity.
Cash-out refinance: With a cash-out refinance, you borrow the amount you need to repay your current loan and take an additional amount in cash. You can have closing costs paid from that cash.
Limited cash-out refinance: A limited cash-out refinance loan lets you take a small amount of cash, such as $2,000 or 1% to 2% of the loan amount, depending on the loan. That could be a good option if don't need to cash out equity for a reason other than to pay closing costs. The cash might not cover all your closing costs, but it'll offset them.
No-cash-out refinance: If you don't need cash from your mortgage refinance, you can add closing costs to a standard, no-cash-out refinance loan. The benefit is that standard refinance loans typically have lower rates.
Pros and Cons of Rolling Closing Costs Into Your Mortgage Loan
Rolling closing costs into your mortgage loan has some clear benefits. However, it's important to weigh them against the consequences before you make a decision.
Pros
Here are some pros of rolling in your closing cost:
If you're unable to save the cash you need for a down payment and closing costs, rolling in closing costs can help you buy a home sooner.
Lower out-of-pocket expenses leave you with extra cash to put toward home repairs or an emergency fund.
Cons
Beware of these downsides of rolling closing costs into your loan:
You'll have to keep the total loan amount within the amount you're approved, for, so financing closing costs usually means having less to spend on the home.
You'll pay more interest over the life of the loan than if you'd paid the closing costs in cash.
The extra principal and/or interest payments increase your debt-to-income ratio, which could make it difficult to get a car loan or other credit.
A higher principal will increase your loan-to-value ratio. If it increases the LTV to more than 80%, you'll have to pay mortgage insurance.
What Closing Costs Are Commonly Charged on a Mortgage Loan?
Closing costs for the buyer can run anywhere from 2% to 7% of your loan amount. The specific closing costs you're responsible for paying depend on whether you're buying or refinancing a home, but common ones include:
Loan origination fee
Appraisal
Credit report fee
Discount points (prepaid interest)
Title search and mandatory title insurance for the lender
Title insurance for yourself, if you purchase it
Closing agent's fee
Real estate transfer tax
Insurance and property tax that must be paid upfront
How Do You Calculate Closing Costs?

A few days before closing, you'll receive a closing cost disclosure listing the exact amount of each closing cost due on closing day.

In the meantime, you can estimate what the costs will be by talking to your loan officer about the specific fees charged by the lender.

You can also contact the third-party vendors you work with, such as the title company, to find out their fees.
Should You Roll Your Closing Costs Into Your Mortgage Loan?
Rolling in closing costs usually means you'll have larger payments for less house than you could buy if you were to pay closing costs in cash. It might be worth the extra interest and higher loan payments if it'll save you money in the long term — by putting an end to high rent payments a year or two earlier, for example. If, on the other hand, you're considering rolling closing costs out of convenience, you might be better off saving up for a while longer before you purchase or refinance your home.
Our in-house research team and on-site financial experts work together to create content that's accurate, impartial, and up to date. We fact-check every single statistic, quote and fact using trusted primary resources to make sure the information we provide is correct. You can learn more about GOBankingRates' processes and standards in our editorial policy.