14 Undervalued Real Estate Markets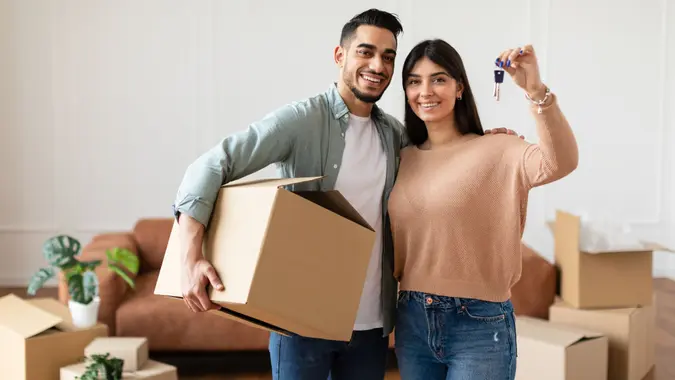 Prostock-Studio / Getty Images/iStockphoto
The U.S. Department of Housing and Urban Development recommends that households spend no more than 30% of their gross monthly income on their total housing expenses. But across the nation, the average household spends closer to 37%.
In spite of the massive spike in home prices across America over the past two years, there remain many real estate markets that can be considered undervalued. Though prices and incomes are constantly changing, there are about 14 major U.S. markets with a payment-to-income ratio below HUD's recommendation of 30%, according to data from the U.S. News Housing Market Index.
Here's the current list, in order from the most affordable to the least.
Affordable Metropolitan Statistical Areas
Data from U.S. News & World Report indicates that these 14 MSAs have payment-to-income ratios of less than 30%, marking them as the most affordable in America:
Metropolitan Statistical Area
Payment-to-Income Ratio
Detroit-Warren-Dearborn
Mich.
17.4%
Cleveland-Elyria
Ohio
18.9%
St. Louis
Mo.-Ill.
21.7%
Philadelphia-Camden-Wilmington
Pa.-N.J.-Del.-Md.
22.3%
Cincinnati
Ohio-Ky.-Ind.
23.6%
Chicago-Naperville-Elgin
Ill.-Ind.-Wis.
24.4%
Indianapolis-Carmel-Anderson
Ind.
24.6%
Oklahoma City
Okla.
25.4%
Omaha-Council Bluffs
Neb.-Iowa
25.9%
Kansas City
Mo.-Kan.
28.2%
Baltimore-Columbia-Towson
Md.
28.8%
Houston-The Woodlands-Sugar Land
Texas
29.6%
Minneapolis-St. Paul-Bloomington
Minn.-Wis.
29.7%
Columbus
Ohio
29.7%
Unusual Times in the Real Estate Market
If you're just starting out in the world of real estate investing, you might have to undergo a reality check before you jump in with both feet. The boom in housing prices in many markets from 2020 to 2022 was an incredible aberration, at least historically speaking. If you're planning to buy a home and watch it double over the next five years, you might be in for an unfortunate surprise.
Over the long run, housing prices generally perform in line with inflation, with many markets slightly outperforming it. From 1960 to 2022, the average inflation rate in the U.S. was 3.8%.
Although there are many variables that go into housing prices, this means that it's reasonable to anticipate a long-term average return of about 4%-5% from your real estate investment. At that rate, the average home price will double in about 13 or 14 years, a far cry from the 2-5 years seen in some markets recently.
Caveats About Cheap Real Estate Markets
In some cases, real estate markets are cheap simply because they haven't yet caught up to the general trend. However, in many cases, markets are inexpensive because they have negative characteristics or economic fundamentals.
The Detroit-Warren-Dearborn MSA is a perfect example. Certainly, homes there are cheap. With an average price of just $64,414 according to Zillow, even with lower incomes in the area, the payment/income ratio is just 17.4%. But while the Detroit MSA actually has a low unemployment rate, there is incredibly low housing demand, thanks in part to a huge decrease in population over the past decades caused in part by the loss of jobs in the area.
The point here is not to pick on the Detroit MSA but rather to highlight that home prices in some regions are cheap for a reason. While home prices in Detroit may indeed recover — and in fact they have nearly tripled over the past five years — you need to understand the economics of a real estate market before you blindly dive in just because prices seem low.
Why the Real Estate Market May Keep Going
The real estate market as a whole has taken a bit of a pause thus far in 2023, due in large part to persistently high mortgage rates hovering around 7%. But while some analysts feel that the real estate market has still come too far, too fast, many others think that the next leg of the housing market will be up.
One of the reasons for this is the incredibly low supply of available homes. Just like the stock market, the real estate market operates on supply and demand. Even if demand has fallen a bit, supply still remains extremely tight. In fact, according to the National Association of Realtors, the supply of homes for sale in the U.S. was at an all-time low in January 2022, and it has increased only slightly since then.
One of the key reasons that supply isn't increasing is that many current homeowners have "golden handcuffs" in the form of ultra-low-rate mortgages. According to Redfin, a whopping 62% of homeowners now have mortgages with rates below 4%, and 23.5% have a rate below 3%.
Few homeowners want to swap a rate that low with a rate closer to the current 7%, so it's entirely possible that the supply of available homes will remain low for the foreseeable future. This, in turn, can provide a floor for real estate prices or even fuel them to run higher.
More From GOBankingRates