What Do Expert Predictions for the 2022 Housing Market Really Mean for Buyers?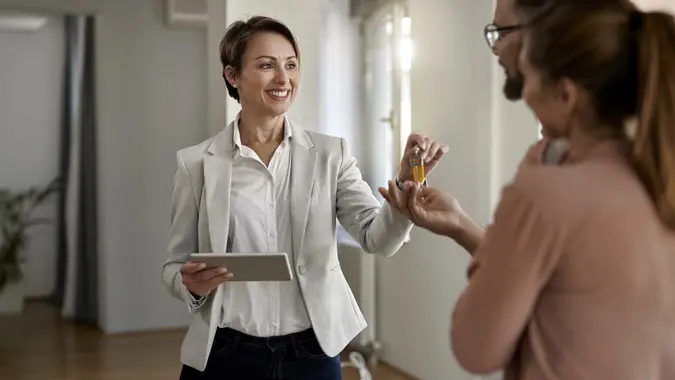 Drazen Zigic / iStock.com
For nearly two years now, the COVID-19 pandemic has made the real estate market a major headache for buyers in many parts of the country. Low inventory, paired with high demand, has caused home prices to skyrocket and bidding wars to become the new normal.
Read More: Experts Predict What the Housing Market Will Look Like in 2022
Good Question: Are We in a Housing Bubble?
If you're planning to buy a home in 2022, you're probably feeling a mix of emotions — excitement at the thought of moving to a new space, mixed with the anxiety of navigating the wild real estate market.
What To Know About Rates
For starters, mortgage rates are on the rise. As of Jan. 6, the 30-year fixed-rate mortgage was 3.22% — the highest it's been since May 2020.
Real estate experts predicted the rate hike and they also believe the U.S. market, in general, will experience solid growth this year. While inventory is expected to remain low in 2022, Andrina Valdes, COO of Cornerstone Home Lending, Inc., thinks the rate at which home values are appreciating could slow down.
While mortgage rates are already on the rise, Valdes said they're still expected to remain historically low. Compared with 2021, she also believes the market will likely cool, creating more opportunities and negotiating power for buyers.
Read More: 17 Dumb Home-Buying Mistakes That Hurt Your Wallet

Get Creative
If you've been saving for a home, but keep getting priced out, David Eisenberg, a licensed associate real estate broker with The Sukenik|Glazer Team at Compass in New York City, suggested getting creative.
"Work with a broker that understands the negotiating process in highly competitive markets," he said. "Sellers don't always take the highest price."
When weighing offers, he said emotion often outweighs logic.
"Be prepared to write a letter to the seller when you submit your next offer and let them know who you are beyond the numbers," he said. "Create an emotional connection with the seller so your offer stands out."
Find Out: 8 Affordable Ways To Upgrade Your Primary Bedroom
Eisenberg also recommended considering waiving certain contingencies that could hold up the deal.
"For example, waiving the home inspection or the financing contingency, if you feel completely confident you can secure a mortgage," he said. "Always consult your broker and mortgage specialist on this."
Garrett Derderian, director of market intelligence at SERHANT., a New York City-based real estate brokerage, also recommended working with a local agent who really understands the market.
"Knowing when properties are going to be listed can give you a leg up, and you may have the opportunity to purchase the home before it hits the open market, avoiding a bidding war," he said. "Buyers may also have to expand their search to a broader area if their top choice has either limited inventory or prices are too high."
Look: States With the Highest Property Taxes
To Wait or Not To Wait
If inventory is low, you might consider pausing your search to avoid bidding wars or see if prices go down. However, Caleb Spears, a luxury real estate agent with Spears Group, based in Santa Rosa Beach, Florida, advised against this.
"If you're a buyer who has struck out or backed out of the current market due to the high demand, multiple offers or constantly rising prices, waiting is unlikely to yield a better result," he said. "Unless you're willing to wait three to five years for the supply chain to be fixed, then supply will continue to lag behind demand."
However, if you're only thinking taking of a short pause, Derderian said doing so could be beneficial — especially if there isn't anything in your local market that fits your needs right now. As interest rates rise, he said activity may start to slow in the second half of the year, which could present more purchase opportunities and fewer bidding wars.
"Still, with higher rates, keep in mind the overall cost burden will be higher than it is today," he said. "While higher rates should slow activity, the estimated rate at the end of 2022 will still be lower than the rate we saw just before the pandemic gripped the nation."
Good To Know: 20 Home Renovations That Will Hurt Your Home's Value
Finding the Right House for a Remote Work Life
Or course, if you work remotely, you might also be considering putting down roots elsewhere to find more affordable housing.
"This will allow you the opportunity to relocate to a market that meets your family's needs, financial needs or to be in your dream location," Spears said. "In my home market of Santa Rosa Beach, Florida, we have seen a massive influx of new homeowners for this very reason."
Generally speaking, he said many people are trading in big city lifestyles for the beach, the mountains or whatever an area offers that brings them their highest quality of life.
"Doing this allows you to curate your lifestyle in a multitude of ways," he said.
If you take this route, Eisenberg recommended looking in an area with a high demand for rentals. 
"This way, if you ever get tired of living outside the city, you can always rent it out and offset your mortgage and tax payments with your new rental income," he said.
Whether it's your first home or your fifth, buying a new place to live is a very big deal. No matter how crazy the 2022 market gets, try to be patient and avoid settling for a property that doesn't make you truly happy.
More From GOBankingRates