What Millennials Really Think About Today's Real Estate Market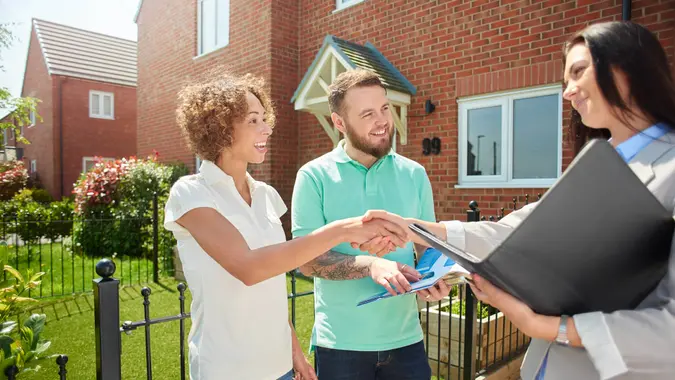 sturti / iStock.com
The pandemic shook up the housing market more than any other corner of the economy just as the millennial generation was entering peak homebuying age. So is homeownership still the cornerstone of the middle-class dream, and are today's young people willing to take on decades of debt to achieve it the way their parents did? 
That depends on whom you ask.
To find out what millennials think about their prospects in today's real estate market,  GOBankingRates turned to real estate professionals who work with millennials on a regular basis, as well as millennial renters and homeowners themselves.
Disillusioned? You Bet. Giving Up? No Chance.
Tomas Satas, the founder and CEO of Windy City HomeBuyer, has found that millennials are "disenchanted with the American middle-class dream" of homeownership.
"In the current climate, with high housing prices, inflation and interest rates having just risen, many of them see homeownership as a pipe dream," Satas said.
Instead of giving up, however, they're finding creative ways around those roadblocks.
"I recently sold a rural property to a couple who works remotely," Satas said. "They loved it for the privacy and price, and there was a great 5G signal so that they could have fast, reliable internet access for their work. They left their apartment in Chicago to live in an RV and build their own home piece by piece."
In other cases, Satas sold fixer-uppers to millennials looking for low-cost paths to owning their own homes.
"These alternate routes to homeownership may not be viewed as middle class, but they are still the American dream," he said. "People are resilient and will find ways to get what they want regardless of what you put in front of them."
The Dreams of the Parents Don't Always Come True for the Children
Ravi Davda, CEO of Rockstar Marketing, is a millennial who tried his parents' vision of the middle-class dream on for size.
It didn't fit.
"When I was younger, I thought that owning my own home would be everything that I wanted," Davda said. "That's what my parents taught me. I bought my first property at 24 years old, and later, a home with my wife by the time I was 27. I didn't enjoy homeownership at all. There was so much to do in the house, which cost a lot of time and money. I felt stuck and tied down."
He decided to sell the home and invest in a rent-to-own property instead.
"I now travel the world while working and renting, and I enjoy it," he said. "A lot."
Amenities and Community Trump Square Footage
Jason Gelios of ItsAllAboutTheRealEstate.com is a top-producing Realtor with Community Choice Realty in Southeast Michigan and the author of "Think Like a Realtor." He cites data from the National Association of Realtors (NAR) as evidence that the aspiration of homeownership is alive and well among the millennial generation. According to the NAR, millennials in 2021 accounted for 43% of all home purchases, up from 37% just one year prior.
The dream of homeownership, it turns out, is still kicking — but that dream has taken on a different shape.
"With an increase in millennials entering the housing market, you will see many home trends being affected by this," Gelios said. "Millennials aren't the type of homebuyers who seek out larger spaces, opting instead for smaller square-footage homes that are efficient and smart with energy-efficient appliances and smart-home technology."
Millennials aren't concerned only with tech inside of a home, they make purchasing decisions based on the area within walking distance around it, too.
"The majority of millennials tend to focus on what the local community has to offer in terms of social networking," Gelios said. "We will continue to see more millennial homebuyers flocking to cityscapes versus suburban homes."
Today, the Middle-Class Dream Often Includes a Check to the Landlord
Luisa Favaretto, founder and editor of the travel site Strategistico, is a millennial renter by choice.
"I have absolutely no desire to own a home," Favaretto said. "We simply cannot repeat the homeownership experiences of older generations since the structure of the whole world has changed. I actually view homeownership as a burden in today's society, which is infinitely more dynamic compared to previous generations."
Favaretto believes that in many cases, older sets chose homeownership simply because they didn't have the options for things like entrepreneurialism and travel that today's millennials enjoy.
"I realize the need for more flexibility and would be unlikely to stay in one city forever," Favaretto said. "I desire to explore more and not get tied down to one location like my parents did. Additionally, I prefer to invest my time and money in something that I can better control to build wealth, so I started my own business."
More From GOBankingRates