What Your Real Estate Agent Wishes You Knew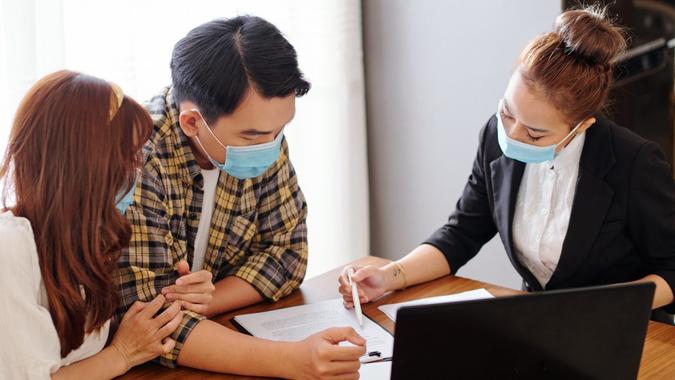 DragonImages / Getty Images/iStockphoto
Buying or selling a home is a very big deal. Most people only go through this process a handful of times in their life — if that — but real estate agents guide clients through it for a living.
Buying a House: 17 Dumb Home-Buying Mistakes That Hurt Your Wallet
In the News: Prices Surge 5% as Inflation Rises with No End in Sight
Therefore, they've seen just about everything on both sides of the transaction and have plenty of wisdom to impart to their clients. No matter which side you're on, it's important to trust the agent you've enlisted to help and listen to their advice.
For example, when searching for a new home, buyers often rely on price estimates from real estate sites like Redfin and Zillow to understand what different properties are worth. However, Mary Fitzgerald, a real estate agent with The Oppenheim Group, based in West Hollywood, California, said this isn't the best approach.
"[Buyers] cannot rely on Zillow 'Zestimates' as they don't take in account remodel work that has been done since the last sale, and also can't differentiate between types and values on view homes," she said.
See: 20 Home Renovations That Will Hurt Your Home's Value
Like many other parts of the country, Fitzgerald, who also stars on the Netflix reality television series "Selling Sunset," said Los Angeles is currently experiencing a sellers' market in the $2 million-$3 million range and under.
"Sellers should price aggressively and get the most traction as possible for the initial property launch," she said. "With low inventory, buyers are fighting over properties and nine times out of 10 the seller will land at a higher sale price in a multiple offer scenario than if they list high and sit on the market."
Of course, presentation is also hugely important in real estate, so Fitzgerald advises sellers to make sure their home looks its best.
"Staging, even if minor, is extremely important," she said. "Many sellers don't want to absorb the cost for this, but it is essential in many homes and sellers will almost always get this money back plus some — while gaining more buyers' attention to the property and higher offers."
Check Out: 45 Great Cities With Shockingly Cheap Real Estate
Yawar Charlie, director of the estates division at Aaron Kirman Group, Compass, based in Los Angeles, reiterated that sellers need to make sure their home is ready to be presented to the world in its best light.
"Always remember, buying houses like going on a first date," said Charlie, who is also a series regular on the CNBC reality series "Listing Impossible." "First impressions matter."
He said it's important to make sure the curb appeal is nice, noting that little touches go a long way.
"If the house needs a fresh coat of paint, do it," he said. "If the grass needs to be planted in a certain area, do it."
More: Renovations To Make — and Skip — Before Selling Your Home
Before listing the property, Charlie said sellers should meet with a handyman to tackle minor household items that need repairs.
"If there are larger ticket items, get a general inspection report, know what those items are and consider disclosing them to any particular buyer who comes your way," he said. "This way, it'll prevent any surprises down the line in terms of asking for a request for repair or credit."
Additionally, Charlie said this is a great time to get rid of items you no longer need.
"You want to depersonalize the house in general, to make sure that it's neutral enough to appeal to any potential buyer," he said. "This may include painting certain rooms a neutral color rather than something bold, in order to appeal to the generic buyer."
Read: 40 Cities That Could Be Poised For a Housing Crisis
As for buyers, Eric Nerhood, owner of Premier Property Buyers, based in Orange County, California, emphasized the importance of choosing the right real estate agent.
"Just because you know someone doesn't mean that they should be your agent," he said. "Uncle Joe's best friend's son's wife might be okay, but you need someone that you can trust to work with you."
When searching for the right home, Nerhood also said buyers shouldn't rush the process, but noted there's also such a thing as being too selective.
"You might not find you dream house right away, and that's perfectly okay," he said. "You also don't need to see at least 100 homes to make your decision."
See: 32 Insider Tips for Buying and Selling a House
Financing is one of the most important aspects of the process for most home buyers, so Nerhood said it's important to get preapproved before looking at properties. This allows both the real estate agent and the buyer to have a realistic price point to work with.
"Tell us about everyone involved with the purchase," he said. "Don't suddenly bring in your uncle who may help with financing. We need to know that from the start."
No matter which side of the transaction you're on, keep in mind that your real estate agent helps clients buy and sell homes for a living. Therefore, you'll likely realize best results by taking their advice seriously, because they know what they're talking about.
More From GOBankingRates
Last updated: Sept. 28, 2021